The hustle and bustle of life require and impels people to rush forward to keep pace with social development. But everyone needs a minute of rest, needs a place to balance and enjoy what we've achieved. Understanding that, we will provide the top 10 most worth living apartment buildings in Hanoi to readers as a reference source for those who are and are about to find a suitable space in the heart of the narrow capital.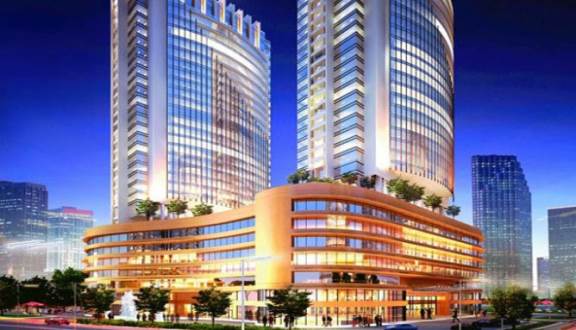 Located in a prime location in the heart of the capital, connecting with the main roads of commercial centers, schools or parks like West Lake (1.5 km), Lotte Center building (50m), Thu Le Park (300m), Foreign Trade University (1km), Vinhomes Metropolis deserve a masterpiece that best meets the requirements of the most demanding customers.
Vinhomes Lieu Giai is especially suitable for a modern, dynamic and classy lifestyle. Design apartments in Singaporean style, open and airy. System of accessories such as wall cabinets, hinges, door handles is imported to help close the door gently, avoid collision and protect the interior. Besides, the apartment area is provided with a 4-layer security system, integrated door lock system with 3 modern control features: fingerprint, backup mechanical key and code.
As a product built by Vingroup golden hands, it is not surprising that Metropolis meets the criteria of fully and comprehensively integrating human needs such as:
Community living area.
Vinmec International Clinic.
Vinschool elementary school from kindergarten to high school.
Area for playing sports and exercising.
View more at https://alphahousing.vn/project/vinhomes-metropolis/
2. Penstudio Tay Ho
PentStudio Tay Ho owns the golden position in Tay Ho district with outstanding utilities, luxurious apartment design, and beautiful views that have brought a perfect living space for residents.
PentStudio is one of the first Condotel projects in Hanoi invested by Vietnam Construction and Investment Joint Stock Company. The project is built on a 2.7 ha scale, in a prime location of Tay Ho District, right next to Ciputra urban area. Condotel PentStudio brings over 300 luxury apartments to customers with novel and luxurious design and extremely beautiful views towards Ciputra urban area, West Lake, Red River …
With the purpose of bringing an upscale resort life to its customers and residents, PentStudio Apartment is equipped with a range of high-end facilities such as Sky-high Hanging Gardens, Rooftop Bar, indoor swimming pool, or Gym, Spa … Besides, the unique design of PentStudio with 5m high ceilings and a smart mezzanine will help optimize the living space and create a unique feature of each apartment.
View more at: https://alphahousing.vn/project/pent-studio-tay-ho/
Kosmo Tay Ho is considered a golden position and extremely favorable in the center of Hanoi. Most of the apartments at the project have views of the large West Lake, Noi Bai Airport, Red River. It can be said that no apartment area in the center of the Capital has got such a beautiful location and landscape:
A convenient transportation position and a political-economic development axis of Hanoi.
From the location of the apartment, residents can easily connect to the city center and Noi Bai airport through the roads of Nguyen Van Huyen – Pham Van Dong – Vo Chi Cong – Nhat Tan Bridge quickly. and the most convenient.
Besides, Kosmo Tay Ho project has a great advantage of owning the available facilities of the Diplomatic Corps area such as international schools, universities, hospitals, parks, entertainment areas…
Tay Ho Kosmo project is located right next to a lot of big projects – big projects: Tay Ho Tay urban area, Huu Nghi Park, Hoa Binh Park, Metro, Urban City Exchange, surrounding households with Many green parks, shopping centers, schools, hospitals, supermarkets, bus stations are very convenient for living and transportation of all residents in the project.
View more at: https://alphahousing.vn/project/kosmo-tay-ho/
Sun Grand City Ancora is a brand, a living standard and more than a heritage Group Sun Group wants to send to customers of the capital who want to find a modern, comfortable and spacious living space right in the middle of old Hanoi.
Sun Grand City Ancora owns a rare central location in the heart of Hai Ba Trung district, just 5 minutes drive from Sword Lake and adjacent to the poetic Red River, near the frontline hospitals nationwide; famous traditional markets, large-scale commercial centers, … to meet all needs of enjoying the culture and essential services for life.
The highlight of Sun Grand City Ancora is the design of a multi-story square system separating the entertainment space of the residents and the internal transport system. Coming to Sun Grand City Ancora, you will have a world-class comfort life with a system of commercial centers, gyms, spas, swimming pools, community areas, schools, … shops. branded shopping in many countries of the world, luxury services are located right in the building. Certainly will not disappoint people who spend money to own an apartment here.
View more at: https://alphahousing.vn/project/sun-grand-city-ancora/
5.1 Sunshine Riverside
Sunshine Riverside is located in Ciputra, inheriting all the leading utilities of this most rated urban area in Hanoi such as Ciputra Club, Ciputra Mall, International Golf … This is also the gathering place of a rich and civilized residential community – the tangible values ​​that make up the level of an upper-class settlement.
Sunshine Riverside is an apartment complex combining high-end commercial services, including 3 apartment towers located on the whole including international schools, shophouses system, entertainment centers. community and friendly landscape … By sustainable design solutions, researching the harmony between residential space and commercial facilities – useful services, Sunshine Riverside creates a population that transcends the Available advantages, set up an upscale, classy living space
Inheriting traffic advantages due to two sides of access to modern urban roads, at Sunshine Riverside, the internal transportation system is organized continuously and diversely including Two large basements used as parking lots. vehicles, vehicle-specific routes with direct access to each building, high-speed elevator assemblies, and a well-organized and separated walkway system in interwoven landscape layers … Solutions The overall traffic design of the project is calculated to ensure convenience and ventilation for circulation, and establish landscape routes, lively views, and skillful installation of paths.
View more at: https://alphahousing.vn/project/sunshine-riverside/
5.2 Sunshine City Ciputra
Sunshine brings to the Westlake housing market a Sunshine City Hanoi with 06 high-class apartment towers (S1 – S6) and villas, meeting the diverse needs and financial capabilities of all customers.
At the hands of the leading architects, 6 apartment towers with about 1800 apartments are embellished with the sophistication of modern yet classic architecture from France. In particular, 6 Sunshine City apartment towers are built with different themes, creating the appearance of a beautiful riverside urban area and bringing out the royalty.
Location of Sunshine City Ciputra 
Located in the complex of Nam Thang Long urban area (Ciputra Hanoi), Sunshine City Ciputra is the symbol of richness and prosperity, representing a high-class and convenient life. Firstly, this project is built on the southern bank of the Red River, adjacent to VietinBank tower – the new financial center of Hanoi. As a result, it can easily connect to main traffic axes such as Thang Long Bridge, Nhat Tan Bridge, Ring Road 2 and Ring Road 3, etc.
In the future, there will be the No. 02 Nam Thang Long – Tran Hung Dao Metro Line, connecting central Hanoi and Sunshine City.
Best amenities to offer at Sunshine City
Thanks to its location in Ciputra Nam Thang Long urban area, Sunshine City project inherits all the available facilities such as Spa, Gym, Bar & Café, Shopping Center, International Clinic, and so on. This project is also integrated with a more comprehensive system of utilities inside the area, promising a top-notch enjoyment for all families.
The infinity swimming on the roof is the perfect highlight for the Sunshine City Tay Ho tower. From here, residents can zoom in to see the beautiful landscape below, with water music, flowers, and European-style miniatures. The swimming pool always brings value to the fullest of life.
5.3 Sunshine Golden River
Sunshine Golden River is one of the most high-class residential project of Sunshine Group in Tay Ho District, Hanoi. It consists of 200 luxurious apartments with a large area of ​​130 – 200m2
Location: West Lake West – Hanoi
Total land area: 9,004sqm
Total construction area: 69,173sqm

Number of floors 35 (High rise) & 5 (Shophouse)

Number of apartments: 217 (High-rise) & 27 (Shophouse)
Premium Utilities System
With 2 floors dedicated by the investor to develop utilities, Sunshine Golden River optimizes the upscale living experience with top-notch service values, first appearing in Hanoi. All needs of living, working, entertaining, taking care of health… of each family member are met with the highest standards.
Golf training ground on high: This is the place where the upper-class community gathers to enjoy luxurious pleasures.
Asian-European cuisine area
World-class health care: Gym, Massage, Spa, Yoga meditation area…
Green space: separate upper garden from balcony to terrace
Full Smart home system
6. D'. El Dorado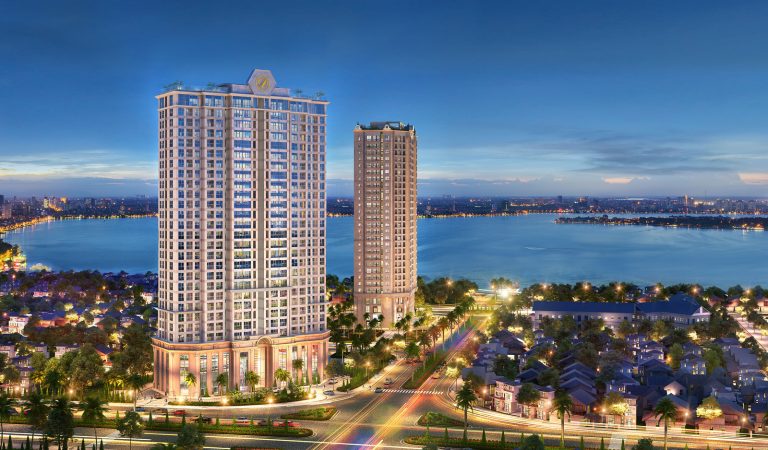 D '. El Dorado is like a golden land because this is one of the rare projects in the West Lake area that brings together valuable elements: located near the head of a prosperous feng shui dragon land, right next to the lake. Enjoying the fresh air, the design has a Neoclassical beauty that expresses the elegance and personality of the future owner.
For thousands of years, West Lake has always been a famous landscape of Hanoi. The unique location of feng shui, the convergence of traditional quintessence and national beliefs, the place of thousands of years of legend and myth, … all of these have made West Lake become a sacred place of the nation, the prosperous convergence of heaven and earth in Hanoi, the most worthy place to live in Thang Long.
West Lake – A peaceful land in the heart of the city
The idyllic beauty of West Lake has been clearly depicted through ancient folk songs. All suggest to listeners a peaceful feeling, a peaceful life in the crowded city. Not only is the most spiritual and feng shui land in Vietnam, West Lake is also a place where the landscape and the fresh atmosphere bring to the people here a very high quality of life. With more than 500 hectares of water surface and thousands of willow trees lining the lake, West Lake is like the green lung of the capital to help regulate and purify the air for a large inner city. It is not natural that many people wish to own a "golden land" in the West Lake but the difficulty is that the land in the West Lake is always in a very expensive and scarce condition because of the unwillingness of the residents. here.
Therefore, owning the land in the center of Hanoi, where enjoying the full prosperity to develop and develop, is always the desire of many people. " El Dorado – The fusion of all elements, where peace of mind
perfect.
View more at: https://alphahousing.vn/project/d-el-dorado/
7. Golden Westlake – 151 Thuy Khue street
The project of apartments and high-class villas Golden Westlake is located on an area of ​​2 hectares, between Hoang Hoa Tham and Thuy Khue overlooking the West Lake. The location of the land seen from all directions is very beautiful. The front is Thuy Khue street, the back is adjacent to the West Lake and the belt road along the lake.
This 370 apartment project has been designed to become one of the most luxurious residential complexes in Hanoi. The apartment area consists of 2 23-story towers, all with 370 apartments, apartments ranging from 68m2 to 285m2, in addition to 2-storey and 3-story apartments with a garden for the first time appearing. Vietnam.
Facilities with swimming pool, 1km jogging track, Golf practice ground, tennis court, beach volleyball, children's play area.
View more at: https://alphahousing.vn/project/golden-westlake/
8. Keangnam  Hanoi Landmark Tower
Keangnam Hanoi Landmark Tower is a prominent real estate project of Hanoi and is noted for being the tallest building in Vietnam with a height of 336m. The project came into operation in 2010 with 2 apartment buildings and 1 service office building with the most luxurious and modern facilities in Hanoi. The total area of ​​the project is 46,056m2, including 922 apartments with an area of ​​107-433m2, meeting the housing needs of everyone from the middle to the upper reaches.
Owning a high-class apartment in Keangnam, you will have great facilities such as a park dedicated to Keangnam apartment area, a sports center with gym, tennis court, long ball court, table tennis, swimming pool. high-class swimming pool, indoor climbing wall, children's playground and gifted classrooms, landscape garden, sky garden, Parkson shopping center, Lotte Cinema … almost create an "ecosystem" Thai "complete service daily life of residents.
View more at: https://alphahousing.vn/project/keangnam/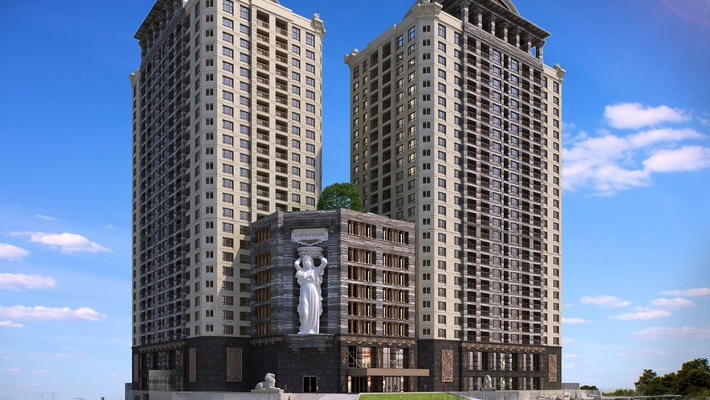 A standard of living for successful people
With the most prime location in Hanoi, sophisticated and classy neoclassical design, project D '. Le Roi Soleil of Tan Hoang Minh Group is rated by real estate connoisseurs as a "worth living" project for successful people.
D '. Le Roi Soleil – A meeting place full of elements that give homeowners the highest level of life
D '. Le Roi Soleil – Quang An is located at the junction of Xuan Dieu Street, Dang Thai Mai – Tay Ho is considered a luxurious and classy project. Built on an area of ​​nearly 10,000 m2 located on the West Lake with 2 25-story apartment towers, 1 service tower 8 floors and 5 basements for parking.
The project is a complex of public service, commercial, international kindergarten and apartment building with neoclassical European architectural style. This is the first high-rise housing project on the Quang An peninsula that is allowed to build houses for sale with permanent red books. D '. Le Roi Soleil is created as a place of outstanding living values, giving residents moments of authentic life with high-end amenities of modern life.
View more at: https://alphahousing.vn/project/d-le-roi-soleil/
10. The Link Ciputra Hanoi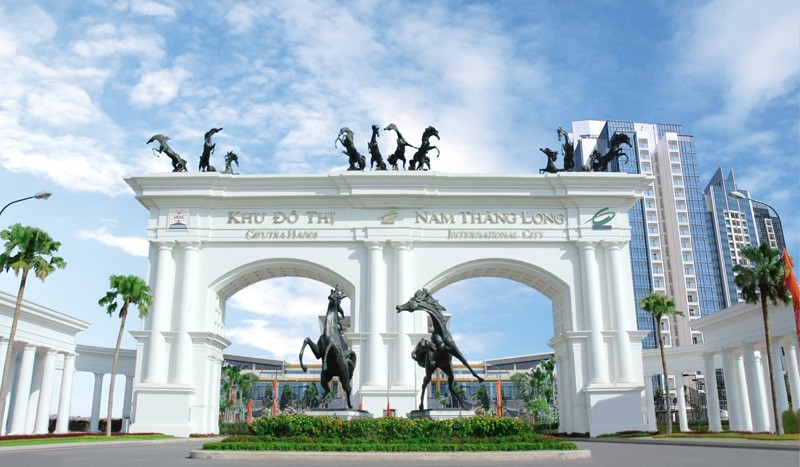 The Link Ciputra Apartment is a complex of 2 high-rise apartment buildings L1 and L2 with a height of 20 floors, a perfect combination of modern architectural style, green landscape, professional management, services and High-class utilities bring residents an ideal living space.
Located right on the banks of the West Lake, this urban area inherits the natural beauty inherent in the West Lake landscape complex, as well as being guaranteed environmental conditions.
View more at: https://alphahousing.vn/project/the-link-ciputra/