Pent Studio – High-Class Residences
Once the first appeared on the market, Pent Studio and Sunshine Riverside Project becomes a super hot housing product in Hanoi City. Pent Studio is the first Codotel residence in Hanoi.
 Peny Studio' Scale:
Peny Studio has total 18 floor for residence, 03 basements for parking vehicles, 02 serviced floor with total 321 apartments are designed from 18 – 21 unit / floor.
All Duplex apartments in Pent Studio Tay Ho Project will be handed over and operated the first quarter of 2019 will provide variety high-class rental Apartments in Tay Ho District.
 Why Should expats choose Pent Studio to live in?
 Features that make Pent Studio stand out
Pent Studio is the place that should not be missed when finding an apartment for the following reasons:
Location: It is located alley 699 Lac Long Quan Street, Tay Ho District where is considered peaceful place for expat due to the largest expat community, friendly neighborhood, the harmony environment.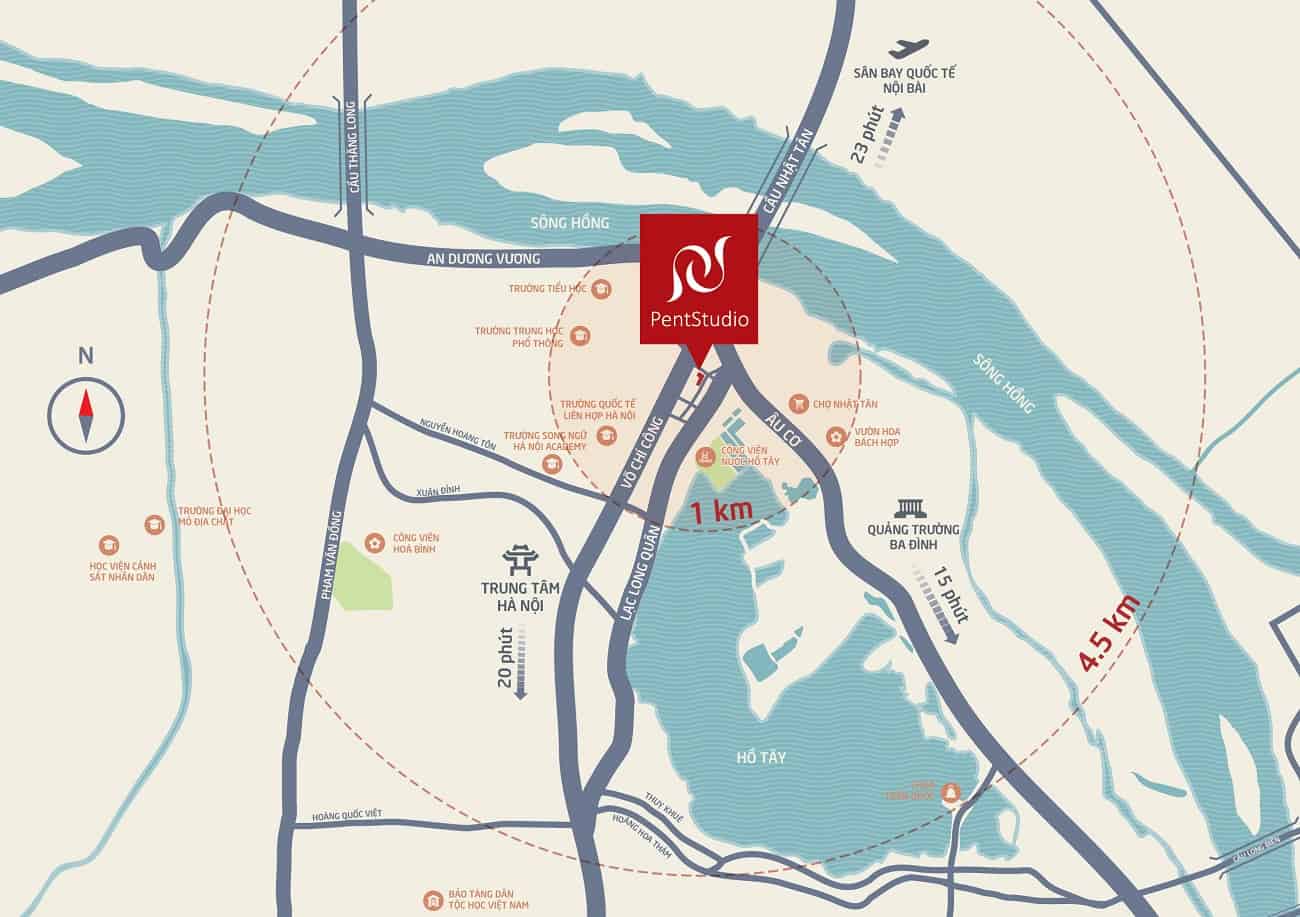 Impression of a modern and unique design within a lake view and  environment
Looking from afar, you can see unique blocks of 18 storeys, located at the head of Nhat Tan Bridge (the side of Tay Ho area, Hanoi). The first impression catch your eyes is big glasses from floor to ceiling instead of construction of brick & concrete blocks.
Impression from Pent Studio's apartments
Duplex apartment in Pent Studio is a two-floor apartment connected by stairs. Two floors mean separate spaces for living areas and bedrooms. The upstairs/downstairs nature of a duplex can add a literal extra dimension to a boxy Hanoi apartment.
The first impression when you step inside Pent Studio apartment is duplex space of living room with more than 5.3 meters high of ceiling covered by large sound-proof glasses where you can overview Westlake, overall City view and Nhat Tan Bridge.
Under the construction of carefulness and sophistication, featured design of Pen Studio is duplex apartment with high ceiling make the living room more luxurious
A Complex of Everything You Ever Need
As targeted, the owner of CTX Holdings, the operator of The Ascott and Kaze Japan consultant, said: "We do not build a condominium. We have developed a luxurious living space with many emotions. Penthouse in Tay Ho has high standard facilities including: Business Center, Sky Bar, Spa, BBQ garden, four swimming pools. Season, Gym … In addition, the future residents of the Pentstudio project in Hanoi also experience the service level: Reception 24/7, 24/7 security, 24/7 security camera, elevator management floor magnetic card, inbound and outbound ticket management, airport pick-up and drop-off, airport pick-up and drop-off.
 Let Alphahousing help you find your duplex apartment
As a new and modern place for expats to residence in, Pent Studio has been a hot offer for you to rent an apartment in Tay Ho Area. If you are looking for an apartments for yourself or you're your family, please contact us and we will try our best to help you.
This is Pent Studio apartment for rent: