To help you choose a restaurant that sells delicious Vegetarian dishes in Hanoi, Alphahousing has given some criteria to choose a suitable restaurant for this collection, you should refer!.
I. Suggestions on how to choose a Hanoi vegetarian restaurant
1. Choose restaurants with space towards gentle purity: spacious, airy, simple style sound close to nature. These restaurants make you relax your mind, promote the nutritional efficiency of your dish more.
2. Choosing Hanoi vegetarian restaurant with clear and reasonable menus: When you refer to a vegetarian restaurant, you can preview the menu of that restaurant on their website. It is advisable to choose restaurants that have an arrangement of items by category, offering the most choices for customers but with the shortest menu.
The vegetarian menu is usually rice according to each meal, office vegetarian rice, vegetarian tray (especially on the full moon day, pagoda ceremony), vegetarian hot pot, and vegetarian buffet. Vegetarian dishes must be processed diversely, ensuring both deliciousness and full nutrition for regular users according to the criterion "really is to nourish."
3. The service factor in the restaurant is also one of the things to consider. To find out, you can refer to the reviews of customers reviews about the restaurant at some channels such as Fanpage, review pages, …
II. Top 10 vegetarian restaurants in Hanoi
1. Uu Dam Vegetarian – "Buddha" space is pure and cozy
Address: 34 Hang Bai Street, Hang Bai, Hoan Kiem, Hanoi
Get directions to the Hanoi Uu Dam restaurant
Opening hours: 10:30 – 21:30
Reference price: 50,000 – 200,000 VND
Uu Dam Vegetarian is a high-class vegan restaurant with a Buddhist style in Hanoi. The restaurant uses Buddhist motifs, even majestic Buddha statues, to create a respectful and sacred space. Quality vegetarian dishes from around the world between incense and pure music make you completely relax and enjoy.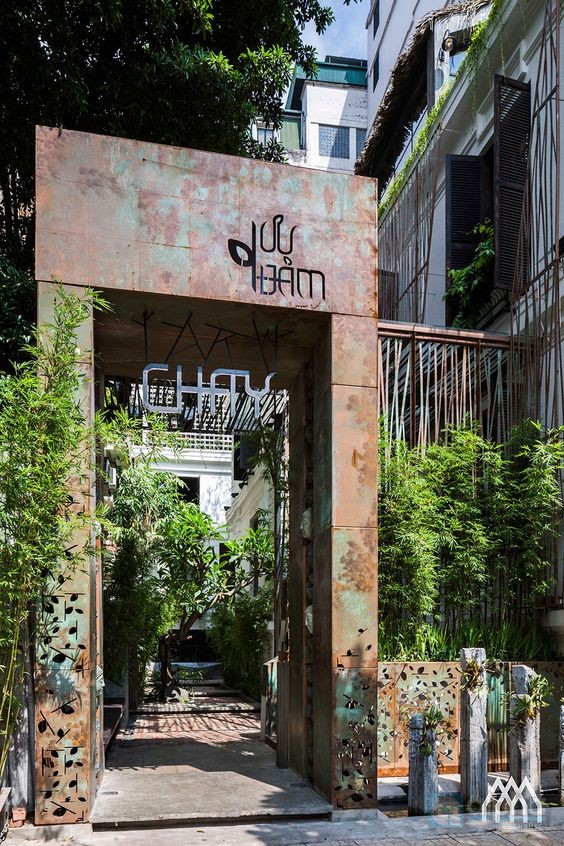 Here are some customer reviews about the restaurant, you can consult and choose:
Highlights:
The space is full of reverence, sacredness, but also peacefulness.
Vegetarian dishes from Asia to Europe are unique with sophisticated decorations.
The food prices are commensurate with the quality, with prices ranging from cheap to expensive.
Limitations:
The space is full of reverence, sacredness, but also peacefulness.
Vegetarian dishes from Asia to Europe are unique with sophisticated decorations.
The food prices are commensurate with the quality, with prices ranging from cheap to expensive.
There is no private room in return, the restaurant has a spacious, quiet and peaceful space
Staff is still slow to load
The majestic atmosphere of the restaurant with pondering Buddha statues, the faint scent also makes diners absolute calm. The restaurant's menu is varied with many vegetarian dishes throughout Europe and Asia. The dishes are delicately decorated, beautiful and natural, such as hand-knit fruit baskets, bamboo tea cups and straws from lemongrass.
In the midst of the bustling Hanoi city, the shady 3-story house of Chay Uu Dam is like a green oasis with nutritious dishes and a Buddha-inspired space waiting for you to enjoy.
2. Loving Hut – famous vegetarian buffet restaurant in Hanoi
Opening hours: 09h00–15h30 & 17h30–22h00
Reference price: 90,000 – 150,000 VND / person
Loving Hut is a delicious Hanoi vegetarian restaurant born with the message "Be vegetarian, live green to save the planet". Understanding the significance of vegetarianism for everyone's health and biological balance, the restaurant attaches great importance to creating beautiful, delicious vegetarian dishes from fresh, clean ingredients. This is also the most loved restaurant by Western customers thanks to Vietnamese dishes and rustic and peaceful space.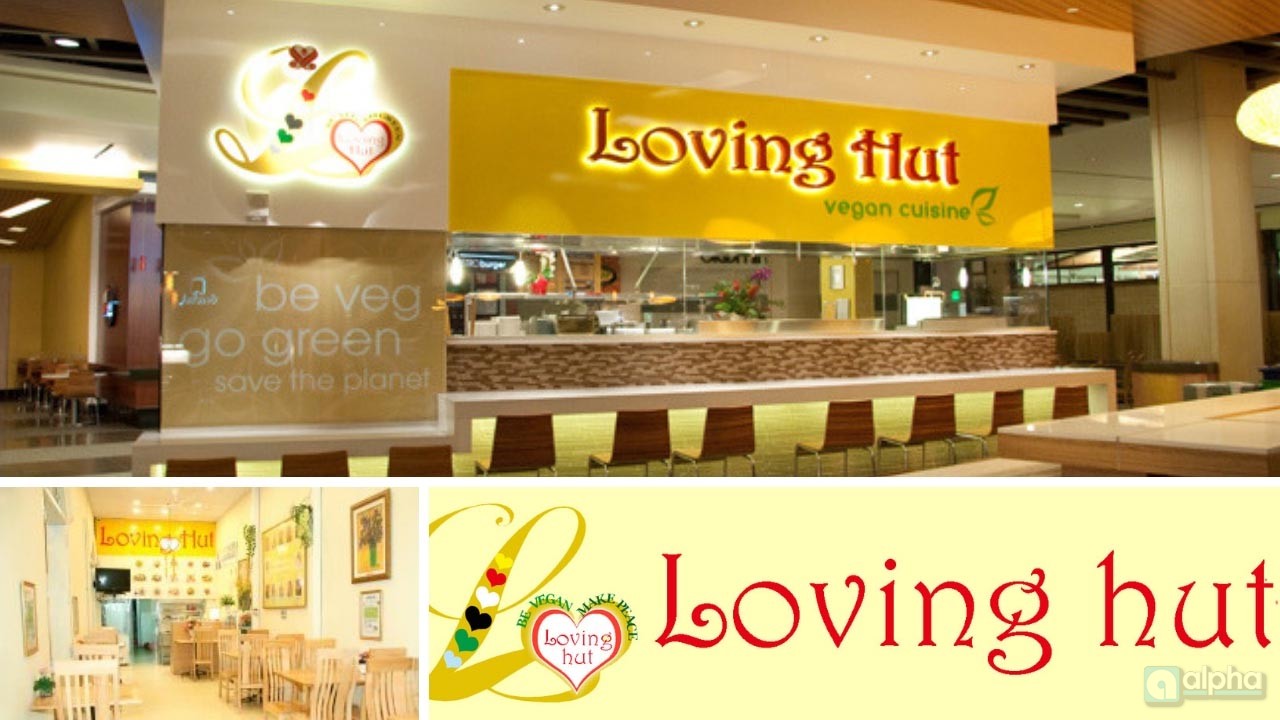 Some of the reviews of customers about the Loving Hut restaurant chain:
The vegetarian buffet restaurant has a variety of menu, authentic vegetarian dishes with typical flavors of 3 regions
The long-standing brand is known to the world.
Affordable price for you to comfortably enjoy
Limitations: The restaurant is a bit cramped, with a lot of customers, so there is often no room.
The restaurant's menu includes many dishes from around the world. But the taste of Vietnam in the 3 regions is the highlight of the countryside. Raw materials for food processing are carefully selected, high-quality organic vegetables, but the price is extremely affordable. Vegetarian rolls, seafood rolls, Beijing roast chicken, dumplings and salads are suggestions for you when you come here.
Before "save the planet", let's join Loving Hut to "live green", satisfying both eyes and mouth and having a healthy menu for long-term health. Loving Hut has many establishments all over Hanoi, you can access to the website to choose for yourself the most convenient address.
3. Restaurant chain Minh Chay Vegan Hanoi is the favorite address of Ha Thanh youth
Opening hours: 10:00 – 22:30
Reference price: 150,000 – 200,000 VND
Minh Chay is a Hanoi vegetarian restaurant with a comfortable natural space suitable for young people. On the side of the green tree, the leaves fall on the simple wooden table, the diners seem to be more calm and gentle to contemplate life and enjoy the serenity and freshness in the ingredients of the dish.
For those who are selfie fanatic, don't forget to bring your camera to take great photos to show off to your friends. From food to scenery, anywhere in Minh Chay is also a great check-in corner.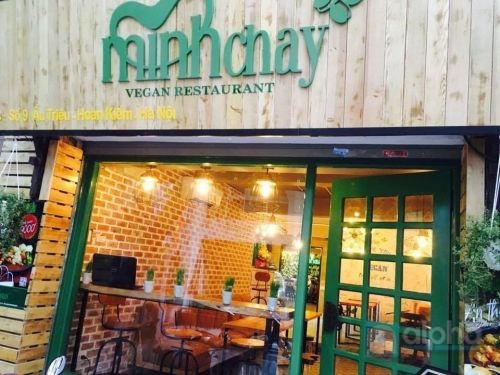 Some guest reviews of Minh Chay Vegan Hanoi:
Delicious, varied and attractive 100% vegan menu on beautiful photos from chefs who have more than 20 years of experience.
The restaurant space is close to nature, with many trees, great check-in.
The restaurant owner is funny, has rich knowledge, is very open to guests.
The price of food is a bit expensive compared to other restaurants
A special thing about Minh Chay is that the restaurant owner with rich knowledge about nursing and vegetarian food. Diners can chat with you and find that this person is like a store of living books, knowing many new things and very interesting. Your suggestions are that the soup such as mushroom soup, lotus seeds, vegetables here are amazingly delicious.
Minh Chay – perhaps when naming that name, the restaurant sent a message about vegetarian cuisine, enjoying the taste, enlightening the soul and enlightening many things in life, living a peaceful and loving life. With its delicious taste, nutrition, fresh and fresh space, Minh Chay really succeeded in conveying that meaningful message.
4. Dong Da Hanoi Vegetarian Restaurant: Huong Thien
Address: 261 Xa Dan, Dong Da, Hanoi
Get directions to Huong Thien restaurant
Opening hours: 11:00 – 14: 00, 18: 00 – 21:00
Reference price: 100,000 – 200,000 VND
Huong Thien is a rare peaceful and quiet Hanoi vegetarian restaurant in the heart of the capital. The dishes to the restaurant design are a delicate blend of the traditional culture of the East and the West, the space of the restaurant is full of green trees, the bamboo gate is particularly impressive and photo-taking. wonderful.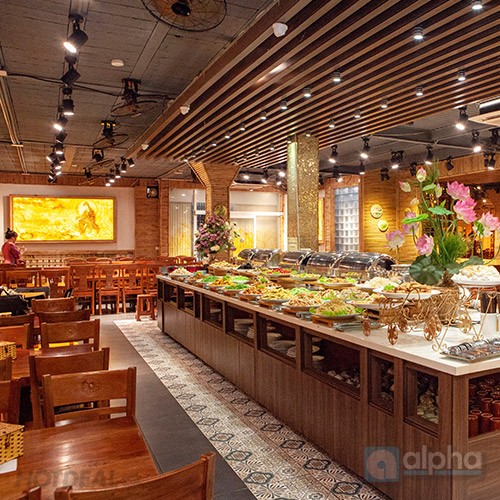 Let's see how diners rate the Huong Thien Vegetarian Restaurant in the table below:
Spacious space has two weeks, natural decoration, soothing music
The vegetarian dish is exotic, nutritious and good for health. The dishes are from clean organic vegetables, with unique shapes.
Professional service staff, always smiling to welcome customers.
The restaurant, where the car is far away, is not convenient
Vegetarian dish but slightly concentrated, using a lot of oils and five flavors
The point of Huong Thien is a rich menu with over 70 vegan dishes representing the culinary quintessence of the country. The dishes are beautifully decorated on bamboo trays and baskets with bold village style.
At Huong Thien, the service staff is professional, always enthusiastic and always smiles on her lips. Lotus leaf rice, lotus leaf salad, chicken drumstick, vegetable spring rolls, stir-fried cabbage with mushroom are the dishes you must try once when coming to Huong Thien
Food with rich flavor, open heart, green and peaceful space, Huong Thieu is the ideal destination for the followers of Hanoi vegetarian food.
5. Hoa Dang Hanoi Vegetarian Restaurant is world-class
Address: 33 Ba Trieu, Trang Tien, Hoan Kiem, Hanoi
Get directions to Hoa Dang restaurant
Opening hours: 10am – 10pm
Reference price: 100,000 – 250,000 VND
Hoa Dang Vegetarian Restaurant is a vegetarian restaurant located in the heart of Hanoi. As the name suggests, the restaurant is like a lantern in the shape of a flower in the heart of the capital at night. The three-story house full of flowers with delicious and absolutely clean vegetarian dishes has satisfied fastidious vegetarian diners for over 20 years.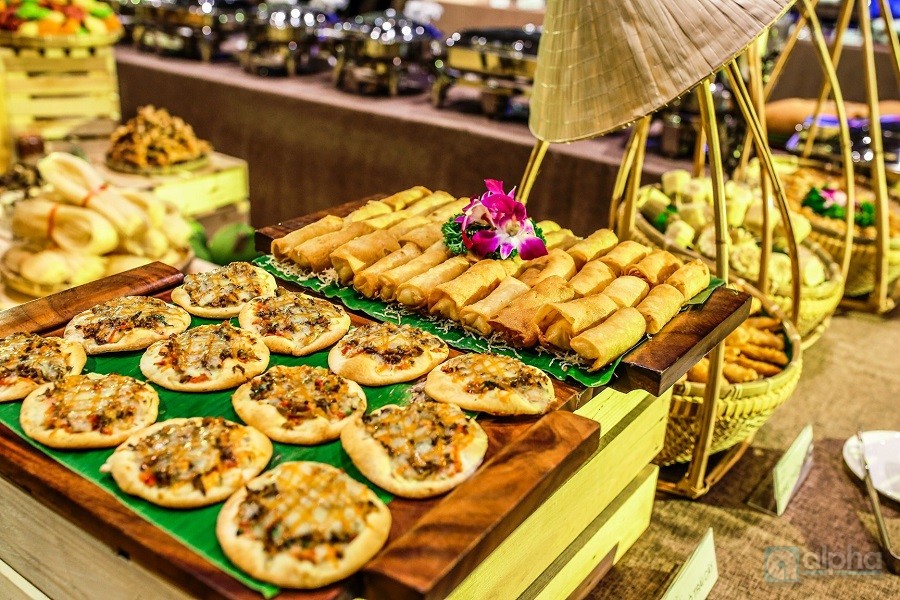 Some reviews of diners about Hoa Dang Hanoi restaurant:
The restaurant is spacious, subtly decorated with French style.
The menu of 100 dishes featuring countries from imported organic vegetables, non-GMO.
The famous brand once voted as the vegetarian restaurant of the year 2014 by the leading world cuisine magazine.
Food prices are more expensive than other restaurants
Food ingredients are carefully selected, imported from countries such as the US and Japan and have full food safety certificates. The special thing about Hoa Dang is that people are open and pure, from customers to staff, everyone has a gentle smile, making those who have just come here for the first time have to tremble.
Looking for a vegetarian restaurant with a rich experience and world-class? Hoa Dang Vegetarian Restaurant is a name that Alphahousing wants to suggest for you
6. Vegetarian Restaurant Bo De Tam Hanoi
Address: 34 Pham Huy Thong, Ngoc Khanh, Ba Dinh, Hanoi
Get directions to Hanoi Bodhi restaurant
Opening hours: 08: 30–14: 00 & 17: 00–21: 00
Reference price: 150,000 – 170,000 VND
Bo De Tam is a delicious vegetarian restaurant in Hanoi with a list of the most delicious and delicious vegetarian dishes. It is not necessary to know whether the food is delicious or not, but looking at the vegetables shaped like a phoenix, lantern, or mountain or hearing names such as "Thap Nhi predestined", "Phoenix bamboo painting", has felt satisfied and happy.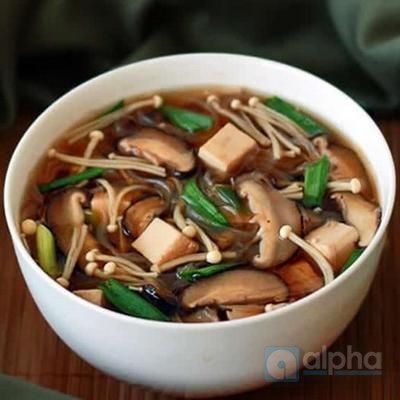 Some customer reviews about Hanoi Bo De Tam Vegetarian Restaurant
Prime location along the lake, tranquil. Peaceful, quiet, rustic decoration but eye-catching.
Fresh ingredients, long experience chef in Vietnam and abroad.
The restaurant has the most sophisticated dishes, the name of the dish is impressive and increases the excitement for customers.
The price is quite expensive compared to other vegetarian restaurants.
The dishes in Bodhicitta crystallize the culinary quintessence of Eastern countries. Rarely does a vegetarian restaurant have such a fine and sophisticated dish as here? Chefs with many years of experience in foreign countries and Vietnam understand that food is not only about taste, but also about art.
Each name, a layout has bold human philosophy and Buddhist colors, making you not simply enjoy the food but also savor the world. Bodhicitta, enjoying the flavor of the dish while meditating on religion and life to have a solid heart like bodhi. Is that what the restaurant is always pursuing?
7. Nang Tam Hoan Kiem vegetarian rice restaurant, Hanoi
Address: 79A Tran Hung Dao, Hoan Kiem, Hanoi
Get directions to Nang Tam restaurant
Opening hours: 09: 00–21: 00
Reference price: 80,000 – 120,000 VND
Ms. Tam Vegetarian Rice does not have the lavish noises of the city but tends to be simple, ingenious and sophisticated in style. Entering the restaurant, we feel like there is a taste here and just wait for Miss Tam to step out to take care of the housework, cook a simple and cozy rice tray. The dishes are not fussy but beautiful, indescribable under the hands of a seasoned chef.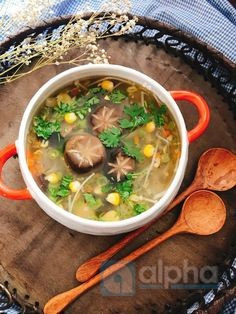 Some customer reviews about Hanoi Nang Tam Vegetarian Restaurant
The restaurant-style is simple, sophisticated and peaceful like a modern fairy region.
The dish is simple but bold, clearly demonstrating the culinary beauty of the Northern Delta region.
The restaurant has an outdoor table for the most nature-friendly experiences.
Service is slow, not really professional.
The fried foods are still oily, not suitable for dieters and the elderly.
What makes Nang Tam vegetarian rice attractive is the dishes with bold flavors of the Northern Delta. New ingredients, nutrients are cleverly combined to create great flavors. You can try top delicacies here such as Fried Bean Curd, Coconut Tofu Salad, Grilled Eggplant, Fish with Five Willow Sauce
If you want to immerse yourself in nature and the rhythm of life, you can choose a small outdoor table and start enjoying a rare peaceful moment of your soul. A simple, rustic space like a fairyland with dishes from home, do you miss Nang Tam or not?
8. Tue Giac Hanoi Vegetarian Restaurant
Address: 15 Tran Quang Dieu, Cho Dua, Dong Da, Hanoi
Get directions to Hanoi Tue Giac restaurant
Opening hours: 7am – 9pm
Reference price: 50,000 – 100,000
Tue Giac is the most special vegetarian restaurant in Hanoi. There are not only delicious and healthy vegetarian dishes here but also a reading room and a meditation room with many meditation courses. Therefore, when going to the most religiously colored vegetarian restaurant, it must be Tue Giac.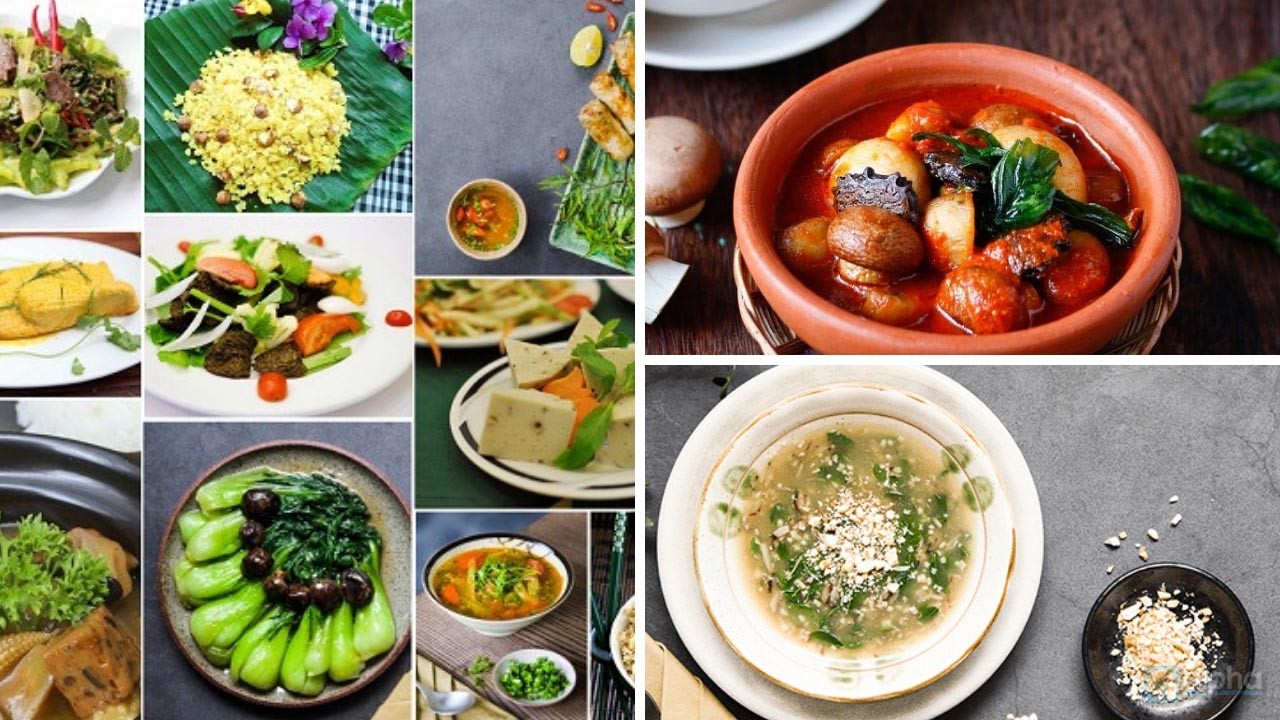 Some customer reviews of Tue Giac vegetarian restaurant
Delicious, vegan food is beautifully decorated.
Decorative space is rustic, pure and polite.
Can be ordered to go home.
The restaurant has a religious reading room and a meditation room
Food is still slow
Tue Giac's bookstore has many religious books, many of which are rare and difficult to find. After finishing the fine vegan dishes here, you can drop by the stalls to order back and take the time to read some books. There are many people participating in the meditation courses in Tue Giac, including many young people.
Reading room, meditation room, various attractive dishes, Tue Giac is a very special restaurant waiting for you to explore.
9. Mandala Hanoi Vegetarian Restaurant
Address: 3rd Floor, Tower A, Building D2, Giang Vo Street, Ba Dinh, Hanoi
Get directions to a Mandala restaurant
Opening hours: 8am – 10pm
Reference price: 50,000 – 200,000 VND
Located in the bustling Giang Vo street, Mandala is like a peaceful and addictive place with the space of the Buddha realm in the midst of a noisy town, decorative motifs with lotus flowers, carp, flowing water, meditation music. melodious gives you a rare sense of calm. Vietnamese vegetarian dishes can be adjusted to taste according to their preferences, which will satisfy customers regardless of whether you come from any part of the country and also visitors from Asia and Europe.
Some customer reviews about the Mandala Vegetarian Restaurant
The restaurant is located on Giang Vo street, close to many entertainment agencies.
The dish is adapted to the taste of most diners.
Clear Buddhist space with delicate decorative motifs, art.
The menu is not really diverse.
Not fussy or lavish, the restaurant is inclined towards a warm and traditional family-style. The menu of the restaurant is not really diverse but focuses on very quality dishes with the strength of stir-fried dishes or radish braised.
Coming to Mandala, you will be amazed at the realistic and lifelike Buddha paintings. Don't forget to come to Mandala to enjoy the rich vegetarian flavor in a cozy atmosphere like your home!
10. Nhat Tam Ba Dinh Vegetarian Restaurant, Hanoi
Address: 2F at the end of lane, 81 Lang Ha, Cho Dua, Ba Dinh, Hanoi
Get directions to the restaurant
Opening hours: 8am – 9:30 pm
Reference price: 100,000 – 150,000 VND
Nhat Tam is a Hanoi vegetarian restaurant with a unique feature from design to food. The dishes here are quite diverse and have their own recipes, especially the famous salad.
Some customer reviews of Nhat Tam Hanoi Vegetarian Restaurant
Spacious three-story space is cozy, with parties for parties and birthday requests
Diverse menu, attractive dishes. The round salad dishes are delicious.
Dedicated and professional service
The price is considered quite expensive
The restaurant at the end of the lane, a bit difficult to find.
The attractions of Nhat Tam are the dishes with exclusive recipes. The restaurant space is very spacious with 3 floors, but each floor is very cozy. At Nhat Tam, there is also a place to organize parties and birthdays at the request of customers.
Enthusiastic, open-minded and pleasing staff are the great plus points that Nhat Tam always keeps his fans. A restaurant located deep in the alley but still attracting unexpected customers, it must be Nhat Tam with excellent vegetarian dishes and a dedicated service style.
III. Some notes when you go to eat at vegetarian restaurants
Vegetarianism has now become a popular culinary trend. To have memorable experiences with attractive vegetarian dishes, Alphahousing.vn reminds you of small notes when eating vegetarian food:
Choose reputable vegetarian restaurants that have food safety certificates to ensure that the ingredients are clean and safe.
Should limit oily, fatty, fried foods to get the best vegetarian results.
Do not eat too much. Vegetarian food is precious in quality, not for quantity. No matter how delicious it is, overeating also affects your health.
The current vegetarian diet is not only for Buddhists, vegetarians. More and more people love the vegetarian diet, healthy food that is equally delicious.
If you are looking for an apartment, house, or villa to live in Hanoi, Alpha Housing will help you to find the best place to be your home.
Your satisfaction is our mission!
Alpha Housing
Address:Room No.809 Vuon Dao Building, 689 Lac Long Quan, Tay Ho, Ha Noi