You are a foreigner in Vietnam and you need to get a work permit in Vietnam or do other purposes, a Vietnam police check is required. You resided in Vietnam and your current work requires a Vietan police check, then you need one.
But what is it actually?, How to get it, etc. All common questions about this type of paper will be addressed below.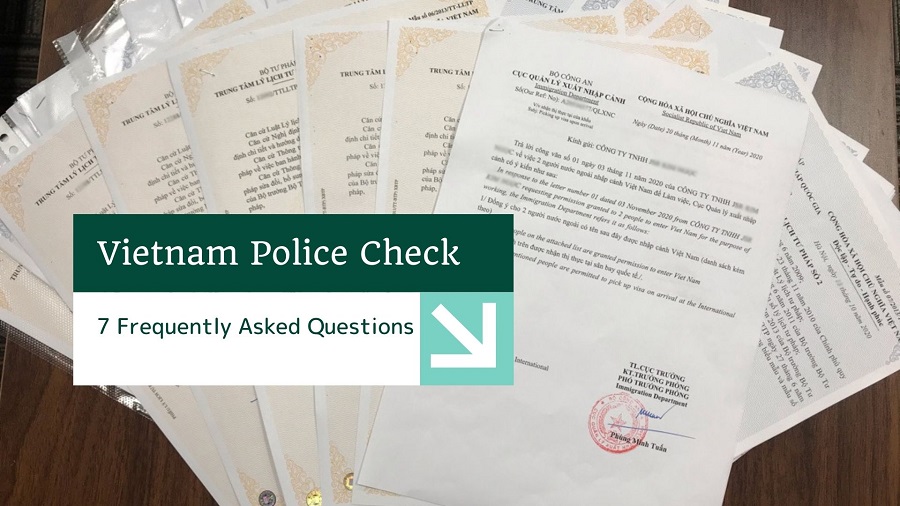 1. What is Police Check in Vietnam?
Vietnam police check (also known as Vietnam police clearance certifciate, criminal record, background check) is a legal document issued by an agency managing the judicial database. In order to release this document, the authorized agency will scan your profile in the national criminal record database. It is valid to prove:
If a person has ever had a criminal conviction
If an individual is banned from holding certain posts, establishing or managing enterprises or organizations where those have gone bankrupt
The certificate of non-criminal record Vietnam is mostly compulsory in any application in Vietnam. For foreigners, it is used as a supplementary document for work permit application, marriage registration, adoption or other procedures regarding residence in Vietnam.
2. Where to get a police check in Vietnam?
At the moment, the following offices have the right to issue a police background check Vietnam to foreigners:
Vietnam National Criminal Record Center: 6th floor, Building A, Judicial Academy, No.9 Tran Vi Street, Mai Dich Ward, Cau Giay District, Hanoi (for those who resided in Vietnam and outside the country currently).
The Department of Justice of residence (for those who are currently residing in Vietnam). Here are just the addresses of its office in 4 large cities:

Department of Justice of Hanoi City – 221 Tran Phu Street, Van Quan Ward, Ha Dong District, Hanoi

Department of Justice of Ho Chi Minh City – 141-143 Pasteur Street, Ward 6, District 3, Ho Chi Minh City

Department of Justice of Da Nang City – 11th Floor, City Administration Center – 24 Tran Phu, Hai Chau District, Da Nang

Department of Justice of Hai Phong City – 7 Lach Tray Street, Ngo Quyen, Hai Phong
3. How much is a Vietnam Police Check?
A criminal record in Vietnam costs VND 200,000 per copy. This excludes any post service fees applied for online submission and notarization fees of required documents in the application dossier.
In case the applicants need more than one copy, an additional of VND 5,000 per copy will be charged.
4. How long does it take to get a police check in Vietnam?
The processing time of getting a police check in Vietnam depends on the agency you approach to get it and case to case profile. Normally, it takes:
From 5 to 7 working days if the Certificate of Vietnam Criminal Record issued by the National Criminal Record Center in Vietnam
From 15 to 20 working days if the Vietnam Criminal Record/ Police Check Certificate issued by the provincial or municipal Department of Justice where the foreigner is residing
5. How to get Vietnam police check?
Vietnam police clearance for foreigners can be obtained by 2 ways: paper application in person and online application.
5.1. Getting police check certificate in person
Step 1: You need to prepare all the documents in advance:
An original copy of the fulfilled application form. Download here
A copy of valid passport with a valid visa and the original passport
A notarized copy of temporary residence confirmation by the ward-level police and the original copy for cross-checking
Step 2: Bring all documents to submit at Provincial Department of Justice or Vietnam National Criminal Record Center and pay the fee. You'd better come in the morning as sometimes the offices don't receive the application in the afternoon.
Step 3: Collect the result by coming to the agency on the appointed date
5.2. Getting police check certificate by online application
Step 1: Complete the online form at: https://lltptructuyen.moj.gov.vn/home?locale=en
*Note:
You should record the application code in order to note on application and check result online later
The address at the bottom is necessary to fill out if you'd like to use post service, so the courier can come to collect your dossier
Bank account information for transaction:

Name of account: TRUNG TAM LY LICH TU PHAP QUOC GIA

Account number: 1410206026336

Bank name: Agriculture and Rural Development Bank of Vietnam, My Dinh branch.

Bank address: A9, The Manor, Me Tri, Tu Liem, Hanoi
Step 2: Print the completed online form out and sign on it (remember to note the application code on a paper and attached to the form). In parallel, you should prepare these documents:
A notarized copy of your valid passport with valid visa
An original copy of the temporary residence confirmation by the ward-level police (notarized copy is acceptable)
Step 3: Handover to the post man who comes to your place to pick the dossier
Step 4: Receive the result sent by post to your provided address
6. Can I get the English version of the Police check Vietnam?
The Vietnam Criminal Record certificate is issued by the Vietnam Government in Vietnamese for all cases, you can't request for a non-Vietnamese version. However, if you need to use it overseas or submit to a foreign agency, it can be translated into English, legalized and notarized in accordance with Vietnam and foreign laws.
7. Validity of Vietnam police check
There's no fixed validity of the police check certificate or regulations on that. It depends on the purpose that this document serves. In other words, it is the requirement by the organization/ authority that requests you to submit the certificate. Therefore, you should acknowledge the procedure and its requirements before application submission. Normally, it can be used within 6 months from the issuance date.