Business people with the intention to do business in Vietnam can be familiar with business visa or investor visa. The Vietnamese Government has continuously improved the process and regulations regarding this administrative procedure to provide the most favorable conditions for investors. The amended Immigration Law taking effect since July 1st, 2020 has some changes regarding investor visa for Vietnam that are worth caring.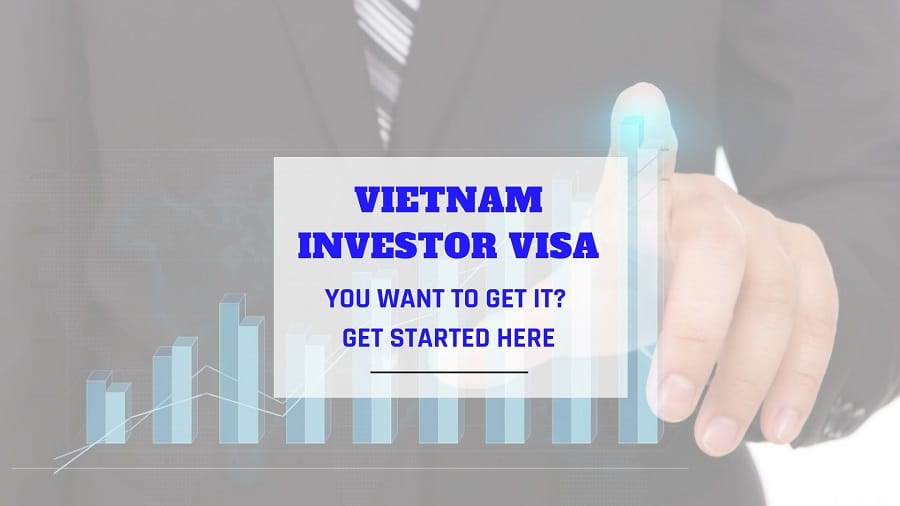 1. What is Vietnam Investor Visa?
Vietnam investor visa (or ĐT visa) is a type of visa granted to foreigners who make investment in Vietnamese companies or lawyers with a license practicing in Vietnam.
2. Benefits of Holding an Investor Visa in Vietnam?
The Vietnam investor visa can be extended if it is about to expire while being in Vietnam. In addition, it is a good basis to obtain a temporary residence card whose validity is up to 10 years (also known as long-term visa).
3. What are the Latest Regulations on Investor Visa for Vietnam?
The Law No. 51/2019/QH14 has been effective since July 2020 added changes and amendments to the previous law articles. Investors should acknowledge the following details:
A Vietnam Investor visa is classified into 4 types based on the investment amount. The validity of each investor visa type also changed:

ĐT1: total investment capital of 100 billion VND and above or investment in sectors and professions with incentives and geographical areas with priorities assigned by the government – Valid for up to 5 years

ĐT2: total investment capital of between 50 billion VND and under 100 billion VND or investment in sectors and professions with incentives and geographical areas with priorities assigned by the government – Valid for up to 3 years

ĐT3: total investment capital of between 3 billion VND and under 50 billion VND – Valid for up to 3 years

ĐT4: total investment capital of less than 3 billion VND – Valid for up to 12 months

A Vietnam Investor visa serves as a good basis to get an Investor TRC as follows:

ĐT1 TRC valid for up to 10 years;

ĐT2 TRC valid for up to 5 years;

ĐT3 TRC valid for up to 3 years;

No TRC available for ĐT4 visa.
4. How to get a Vietnam Investor Visa?
Firstly, the applicants have to grab these documents before starting application process:
Original valid copy of passport
Form NA5 – Application for visa, extension of stay for foreigners in Vietnam
Form NA16 – Registration form for the seal and signature of the legal representative of the invested Vietnamese enterprise
Fulfilled temporary residence registration form
Certified copy of the company's Business Registration Certificate/ Investment Registration Certificate
Certificate of seal specimen registration or a notice on the publication of information on seal specimen of the enterprise on the national enterprise registration portal
There're 2 ways to get the investor visa depending on the location.
4.1. Apply for investor visa in Vietnam
Step 1: After you get all the above documents, you will need to submit to the Vietnam Immigration Department if your enterprise is in Hanoi, Ho Chi Minh City or Da Nang. If it is based out of those cities, you should reach the Immigration Management sections of that province's police office.
Step 2: After 05 working days, you will receive your investor visa for Vietnam stamped on passport if there's no further requirements from the authority.
4.2. Apply for investor visa from outside Vietnam
You can still get the visa if you're currently not in Vietnam. And there are 2 options to choose from:
4.2.1. Get investor visa at Vietnam embassy/consulate office
Step 1: You still need to meet the requirements of the above documents, then submit the dossier to the embassy/consulate office of Vietnam in your country.
Step 2: After the Official will check and verify information in those documents. Then you need to pay the visa fee and get the appointment letter for the result (processing time is from 5 to 7 working days). At this stage, you can request for post service if you don't want to get it in person.
Step 3: The visa result and passport should be picked up on the appointed date or delivered to your requested address.
4.2.2. Get investor visa on arrival
As a normal visa on arrival, you will get your visa stamped upon your arrival in Vietnam international airports. Please refer to the following steps:
Step 1: Your company's staff in Vietnam or a selected agent submits the above documents to the office of Vietnam Immigration Department in Hanoi, Da Nang or Ho Chi Minh City.
Step 2: The visa fee needs to be paid after document submission and your staff/ agent will receive an appointment letter.
Step 3: You need to get the scanned copy of visa approval letter once it is received by your staff/ agent. And print it out, pack with a fulfilled entry and exit form and 2 passport photos and prepare an amount of stamping fee in cash
Step 4: Bring those documents to the visa counter at arrival airports in Vietnam and get your visa stamped.
5. Can a Vietnam Investor Visa be extended?
Yes. Investor visa for Vietnam is extendable without leaving the country. You can do the visa extension yourself at the Immigration Office or by a visa agent.