The best shopping centers in Hanoi are great options when you need to escape the afternoon heat, catch the latest Hollywood movies, and shop for famous international brands. While cramped townhouses, flea markets, and handicraft aplenty shops in downtown Hanoi, modern shopping malls are becoming increasingly popular among locals and wealthy tourists to provide a wide array of dining, shopping, and entertainment options under one roof.
Open daily, Hanoi's most famous shopping center is mostly set up near famous attractions like Hoan Kiem Lake and Keangnam Hanoi Landmark Tower. If you are looking to purchase high quality (and reliable) goods during your stay in the Vietnamese capital, read on to discover the five best shopping centers in Hanoi.
Mipec Long Bien Trade Center
Address: No. 2 Ngoc Lam street, Long Biên, Ha Noi
Opening hours: 07:00 am – 10:00 pm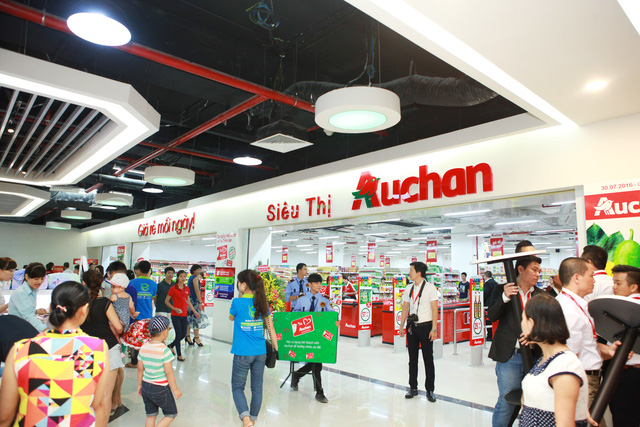 MIPEC Long Bien Trade Center is invested by Military Petrochemical Joint Stock Company (MIPEC), with a convenient transportation position when located right on the Red River, adjacent to Long Bien Bridge and the intersection of many traffic routes artery east of Hanoi.
MIPEC Long Bien is designed in the form of a modern 6-storey commercial complex with an area of ​​over 24,000 m2, providing a wide range of shopping, entertainment and entertainment services, utilities and reasonable prices and professional service style. Here, major brands such as Auchan consumer supermarket, Pico electronics supermarket, Galaxy Cinema cinema system, California Fitness and Yoga Center, Amazing Town Games Center, etc. Auchan – the leading retail brand from France, – owns 2,400 m2 of premises on the first floor, providing up to 12,000 categories of consumer products – household goods, of which 90% are Vietnamese goods.

On the 3rd floor of MIPEC Long Bien is the modern amusement park Amazing Town Long Bien with an area of ​​5,600 m2, divided into 5 play areas: for children; motor games area; vibrant game area; high-tech game area; amusement park …
2. Vincom Mega Mall Royal city
Address: No. 72 Nguyen Trai street, Thanh Xuan, Ha Noi
Opening hours: 09:30 am – 10:00 pm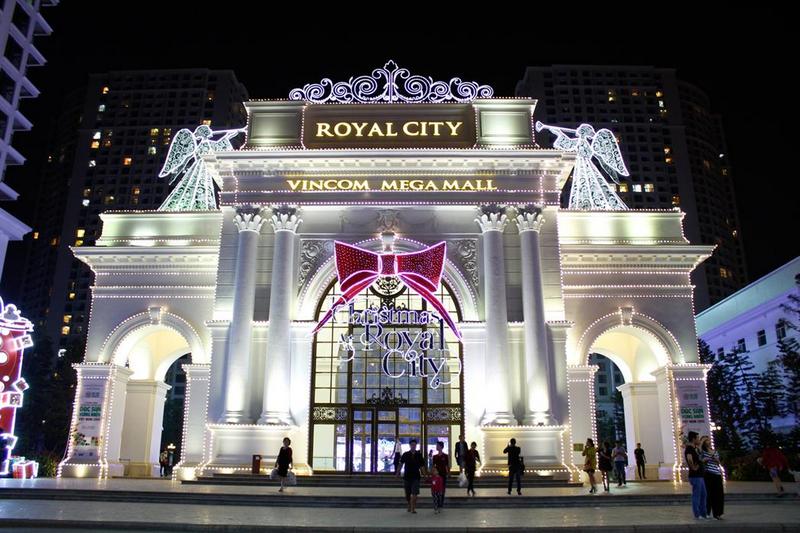 Vincom Mega Mall Royal City Thanh Xuan is a modern and luxurious shopping and entertainment center on the outskirts of Hanoi. It has two underground floors that are home to many retail stores and is also an indoor ice rink, water park and many restaurants. The ground entrance area features attractive fountains, landscaped gardens, sculptures and extensive walking paths surrounded by large apartment buildings, all in a distinctly European style. Shopping center is located about 45 minutes outside the city center.
When you enter Vincom Mega Mall, you will have the opportunity to shop at one of the many international fashion, cosmetics and jewelry stores on the second floor or look at furniture, electronics and equipment on the first floor. All that shopping can develop appetite, fortunately, the restaurant section is home to a variety of dining options. From Vietnamese and Chinese street food, to Japanese, Korean, Thai and European cuisines. Barbecue and seafood restaurants are also available, as well as some cafes and snack bars.
The shopping center is also home to Royal Land Royal City Water Park. With an indoor ice rink, movie theater, children's play center and indoor water park, this can also be a great place to spend the day with kids. The water park is divided into 14 different attractions, such as the family and children's pool, wave pool, wave pool and many water slides.
3. Vincom Mega Mall – Times City
Address: No. 458 Minh Khai street, Hai Ba Trung, Ha Noi
Opening hours: 08:00 am – 10:00 pm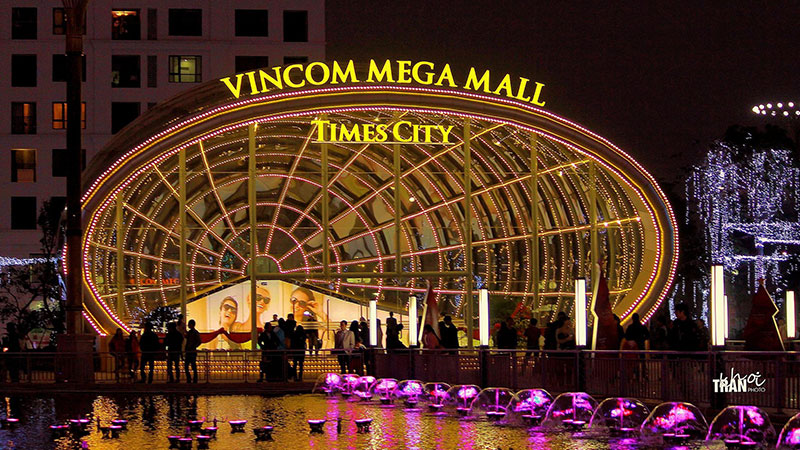 Vincom Mega Mall Times City is known as one of the largest and most modern "shopping paradise" in Vietnam, with hundreds of famous global brands, satisfying the shopping needs of all residents and tourists guests come here.
Opened at the end of 2013, VMM Times City quickly became a tourist, entertainment and entertainment place of Hanoi Capital.
Vincom Mega Mall Times City is the second address of the chain of super-malls in the largest underground basement in Southeast Asia. With the advantage of favorable geographical position located at the main gateway southeast of Hanoi capital, less than 4km from Hoan Kiem Lake to the south, near Vinh Tuy bridge and connected with the western gateway to the center. The city (Nga Tu So), with modern and luxurious infrastructure, unique architectural style, friendly with the environment, has both European and Asian architectural influences. Internationality forms a harmonious beauty, attracting visitors.
Vincom Mega Mall Times City has a total area of ​​over 200,000m2, is planned under the "all in one" model. At the heart of VMM Times City is a large modern shopping area, up to over 82,000 m2, VMM Times City's World of Shopping brings together hundreds of famous brands at home and abroad, visitors will not miss the opportunity to shop for yourself and your family of fashion items, household appliances, furniture … in more than 300 stalls full of luxury.
With the participation of hundreds of fashion brands, jewelry, cosmetics, perfumes, accessories, electronics, furniture … famous domestically and internationally, Vincom Mega Mall – Times City entered. The activity will become the most modern and busiest shopping area in the Southeast of Hanoi Capital in particular and Vietnam in general – where you can experience and satisfy your shopping passion.
4. Vincom Center – Nguyen Chi Thanh
Address: 54A Nguyen Chi Thanh street, Dong Da, Ha noi.
Opening hours: 8:30 am – 10:00 pm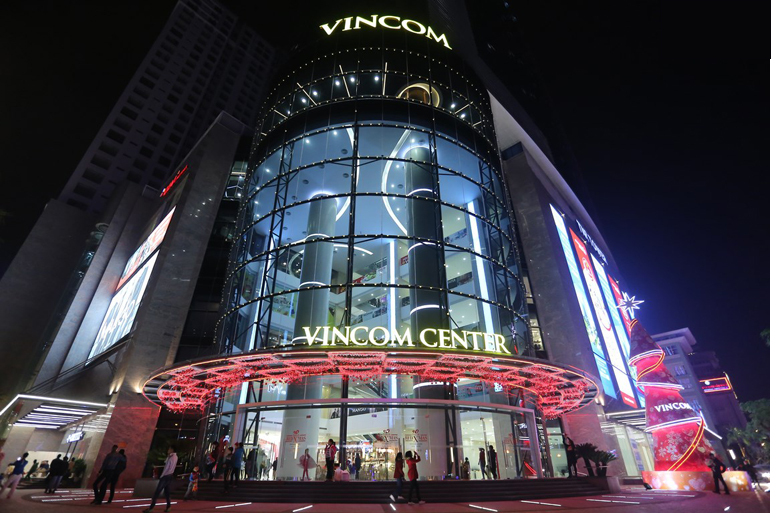 Located on "the most beautiful street in Vietnam", Vincom Center – Nguyen Chi Thanh opened on November 20, 2015 is a new attractive shopping and entertainment paradise in the capital with extremely different highlights. and originality.
As the 5th Vincom trade center in Hanoi, Vincom Center – Nguyen Chi Thanh has made a new mark with luxurious, class and different architecture.
The mall center is designed with impressive soft glass blocks and adorned with natural stone with luxurious patterns often used in Indian royal buildings. Shopping center includes 6 floating floors, 4 underground floors, which is the convergence of 140 brands of Fashion, Entertainment, Cuisine, Interior … prestige, which is popular in the country and internationally. In particular, this place is also attracted by new and unique services and products appearing in the Capital for the first time.
In addition Vincom Center – Nguyen Chi Thanh also has a four-season swimming pool system and an impressive wide view. Along with many areas of sports activities to improve health. It is the first choice of families in the festive season.
5. Vincom Center – Pham Ngoc Thach
Address: No. 2 Pham Ngoc Thach street, Dong Da, Hanoi
Opening hours: 8:30 am – 10:00 pm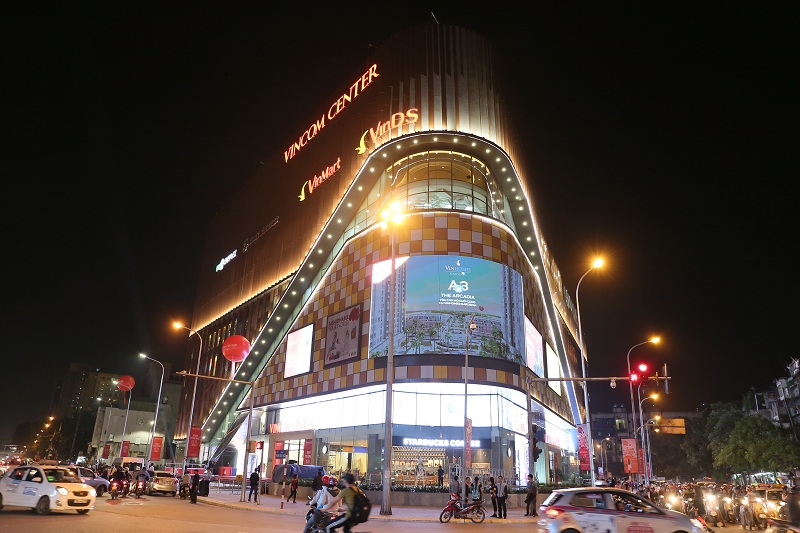 Located at No. 2 at the intersection of Dong Da district, the most vibrant and crowded retail area in Hanoi, Vincom Center – Pham Ngoc Thach stands out with its elegant architecture in the daytime and sparkling like a needle block. Huge outline when night falls. Opened on November 5, 2016, Vincom Center – Pham Ngoc Thach is the 6th shopping center in Hanoi and 28th nationwide, after 12 months of urgent construction of Vincom Center – Pham Ngoc Thach officially came into operation. 8 floors and 3 underground floors, divided into four main subdivisions: the world of shopping; entertainment space; the culinary chain and the health and beauty sector.
As a new shopping center, Vincom Center – Pham Ngoc Thach promises to attract a large number of customers with incentives such as prices, promotions, dedicated service and unique new space, inspiring music. to create beautiful photos.
6. Keangnam Landmark
Address: Area E6 New Urban Areas Cau Giay, Pham Hung, Me Tri, Nam Tu Liem, Hanoi
Opening hours: 8:00 am – 10:00 pm
Known as the tallest building in Vietnam with 72 floors, of which the most popular attraction, the Sky 72 observatory is on the 72nd floor. KeangNam Hanoi is not only an office building but also an integrated entertainment area. decoration, miniature art with art galleries, 3D photography area, 3D technology world, 5D cinema and especially the view from this is extremely attractive.
If you love art, you can't help but drop by the Art Link art gallery here. This exhibition area promises to bring cultural experiences from traditional arts, you will enjoy many types of art in Vietnam or abroad in this very modern and elegant space.
On weekends, enjoying a relaxing feeling from the entertainment with friends or people is a very interesting experience, isn't it? Hopefully the sharing of the leading commercial centers in Hanoi will partly help you have more useful information.
7. Big C Thang Long – Ha Noi
Address: No. 222 Tran Duy Hung, Trung Hoa, Cau Giay, Hanoi.
Opening hours: 8:00 am – 10:00 pm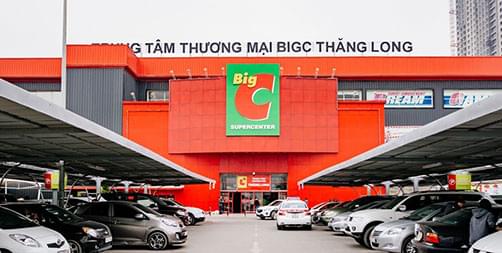 Located quite far from the city center, however, Big C Thang Long – Hanoi is still the choice of many families, especially customers with high-class transportation such as cars that can carry many people and things. Because compared to other shopping centers, Big C Thang Long – Hanoi is a chain of Big C supermarket systems that do not have office buildings, apartments, houses … but promote deep into the business of popular products. Most, there are abundant sales programs with discounts, promotions and regular customer incentives.
Besides, in the system of Big C supermarkets, there are also playground, entertainment and food areas, so it is always a place to attract many customers of different strata in society.
Located at 222 Tran Duy Hung, Big C Thang Long – Hanoi is into a road with a relatively high traffic density and long switches. However, that little obstacle is nothing compared to the convenience of shopping and the price, right?
8. Lotte Shopping Center
Address: 54 Lieu Giai street, Ba Dinh, Hanoi.
Opening hours: 9:30 am – 10:00 pm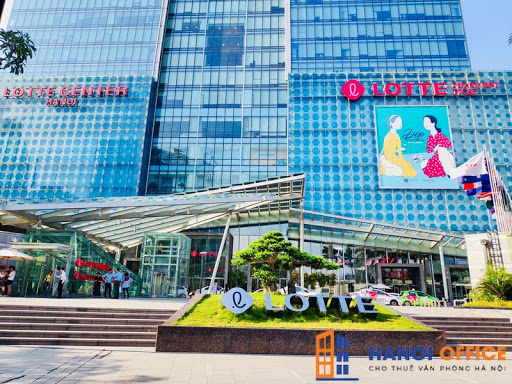 Here, customers are greeted by friendly smiles and bows, families with young children can borrow shopping carts, lounges, phone batteries everywhere … are new features only found in Lotte 54 Lieu Giai, Ba Dinh, Hanoi.
Unlike other shopping centers, Lotte Shopping Center – Lieu Giai creates comfort for guests from small things and is especially interested in customers who come in groups of families where babies need to be top priority.
Lotte Shopping Center – Lieu Giai has a play space on the 5th floor – Play Time, a warm and discreet child care room with 4 beds for babies and a nice small kitchen … This makes many consumers already expressed interest and emotion.
For the best shopping experiences in Hanoi, you should choose a destination that is closest to your interests and desires because Hanoi itself offers a multitude of options and challenges for travelers who want to have a look. insight into the city's art, cuisine, or art. Of course, in terms of shopping, you can choose different shopping ways with carefully selected destinations according to the guide.