The best shopping centers in Hanoi are great options when you need to escape the afternoon heat, catch the latest Hollywood movies, and shop for famous international brands. While cramped townhouses, flea markets, and handicraft aplenty shops in downtown Hanoi, modern shopping malls are becoming increasingly popular among locals and wealthy tourists to provide a wide array of dining, shopping, and entertainment options under one roof.
Open daily, Hanoi's most famous shopping center is mostly set up near famous attractions like Hoan Kiem Lake and Keangnam Hanoi Landmark Tower. If you are looking to purchase high-quality (and reliable) goods during your stay in the Vietnamese capital, read on to discover the five best shopping centers in Hanoi.
1. Shopping Centers in Long Bien District
Long Bien District is a district with rapid urbanization. Long Bien was incorporated as an urban district in 2003 from the northwestern portion of Gia Lâm District adjacent to the city center. With a scale of 60 km2 and surrounded by two rivers are Red River (Song Hong) and Duong River, it is connected with the Fench quarter of Hanoi by two bridges are Chuong Duong and Long Bien Bridge.
Currently, Long Bien has been forming a number of urban areas such as Viet Hung urban area, Bo De urban area, Ngoc Thuy urban area (Khai Son Hill), Thuong Thanh urban area, Thach Ban urban area … along with some ecological urban areas such as Vinhomes Riverside, Vinhomes Symphony, Beriver Long Bien, Rice Home Song Hong, Vinhomes The Harmony, Mipec Riverside Residence…so on.
Along with the development of population and urban areas. Shopping malls in Long Bien are opened to meet the shopping and entertainment needs of Long Bien's residents as;
1.1 Mipec Riverside Trade Center
Address: No. 2 Ngoc Lam street, Long Biên, Hanoi
Opening hours: 07:00 am – 10:00 pm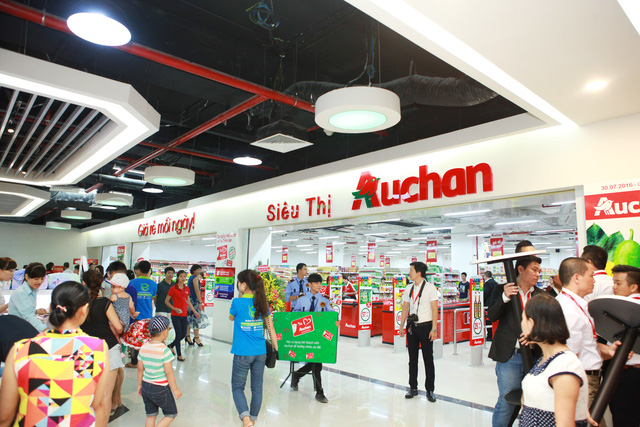 MIPEC RIVERSIDE Trade Center is invested by Military Petrochemical Joint Stock Company (MIPEC), with a convenient transportation position when located right on the Red River, adjacent to Long Bien Bridge and the intersection of many traffic routes artery east of Hanoi.
Mipec Riverside Long Bien is designed in the form of a modern 6-story commercial complex with an area of ​​over 24,000 m2, providing a wide range of shopping, entertainment and entertainment services, utilities, and reasonable prices and professional service style. Here, major brands such as Auchan consumer supermarket, Pico electronics supermarket, Galaxy Cinema cinema system, California Fitness, Yoga Center, Amazing Town Games Center, etc. Auchan – the leading retail brand from France, – owns 2,400 m2 of premises on the first floor, providing up to 12,000 categories of consumer products – household goods, of which 90% are Vietnamese goods.

On the 3rd floor of MIPEC Long Bien is the modern amusement park Amazing Town Long Bien with an area of ​​5,600 m2, divided into 5 play areas: for children; motor games area; vibrant game area; high-tech game area; amusement park …etc.
From the 6th – 35th floor is a high-class apartment area, with 18 typical types of apartments to meet the needs of customers with an area of ​​69 sq.m to 150.49 sq.m arranged from 2 to 3 bedrooms for each apartment. Modern, smart design, making the most of each room, window, balcony and natural light make the apartment area especially airy, flexible and convenient.
Click here for more information about leasing an apartment
1.2 Vincom Plaza Vinhomes Riverside
Vincom Plaza Center located at the center of Vinhomes Riverside (opposite with Symphony Building) – is a high-end commercial center with a series of high-class facilities.
The scale-ups to 45,000 sq.m, Vincom Plaza focus has a very novel and lavish structure, making ideal conditions for you to effectively move or unwind inside. This is viewed as a perfect goal for Vinhomes Riverside home by and large and capital occupants specifically in shopping, diversion, or amusement.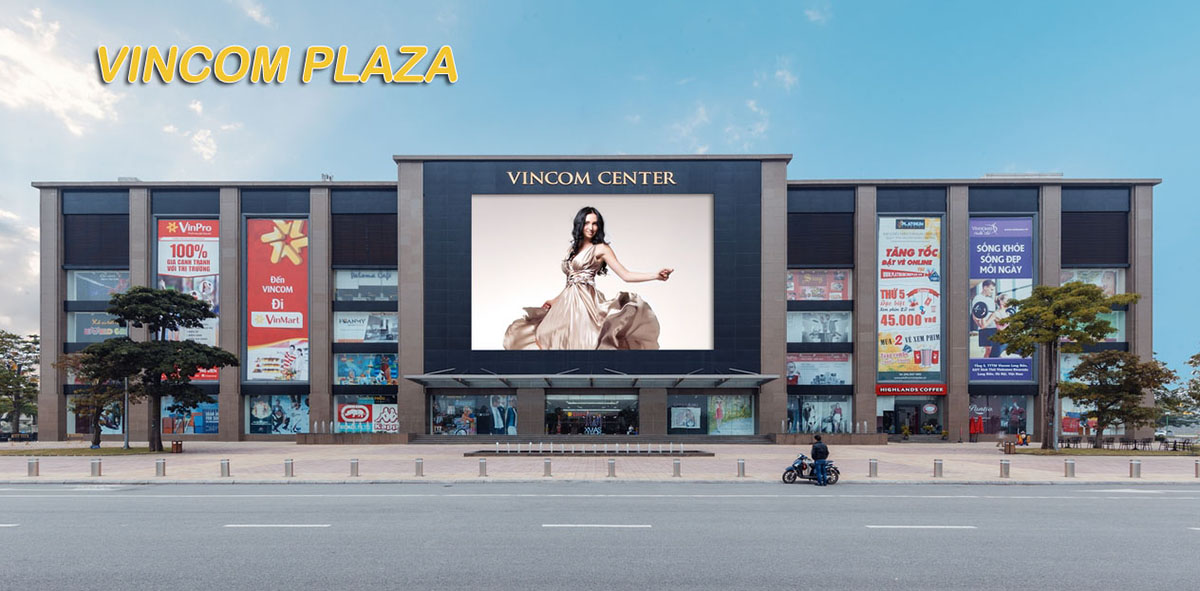 Vinmart
Coming to VinMart general store at Vincom Long Bien Commercial Center, Vinhomes Riverside clients and inhabitants will encounter an energizing current shopping space, savor the experience of picking a large number of items and items. Great claims to fame are imported from both residential and universal.
The ware items in Vinmart Vinhomes Riverside:
Food
Cosmetics
Household appliances, electrical appliances
Fashion
Vincom Long Bien Trade Center has an assortment of merchandise, necessities, or food with clear birthplace, cleanliness and security organized experimentally to help clients effectively discover and pick Choose basic things for day-by-day life.
Vinmart offers an assortment of different advantages to clients, for example, free conveyance inside 5km, unconditional present wrapping administration, card acknowledgment of all banks …
World Games & Fitness Center
It is a space reserved for young guests to discover and play new and exciting games.
Jura Park and little Gym help children enhance intelligence and creativity in "Wisdom Garden", exercise health and physicality at the colorful gym.
Fitness Center on the 5th floor is inclusive of a modern space of Gym, Yoga, sauna, dance and two pools for Vinhomes Riverside Residents.
Food court and Café
Food and espresso zone incorporates in excess of 20 remarkable corners, present-day, youthful and dynamic structure style, separated into numerous kinds: extravagance eateries serving parties, office suppers, cheap food – espresso; A store of beverages, cakes, frozen yogurt … is the perfect spot to assist you with returning to vitality after a charming encounter
The café framework at Vincom Center Long Bien incorporates Jollibee Restaurant; Al Fresco; Sheep hot pot and Sheep; Sing Restaurant; House of Nem and so on … additionally, occupants can have another decision in Almaz convention center
Movie Theater
With present-day offices, a European-style plan, Platinum Cineplex – Vincom Long Bien is one of the most current and quality films in Vietnam – an extraordinary diversion and unwinding place.
Notwithstanding outfitting super-huge screens with top-notch picture quality, Cinemas at Platinum Cineplex – Vincom Long Bien Center have additionally introduced a multidimensional sound framework, which guarantees to bring you satire visual and sound-related feel when watching scenes of exciting activity motion pictures, enthusiastic scenes of feelings.
2. Vincom Mega Mall Royal city
Address: No. 72 Nguyen Trai street, Thanh Xuan, Hanoi
Opening hours: 09:30 am – 10:00 pm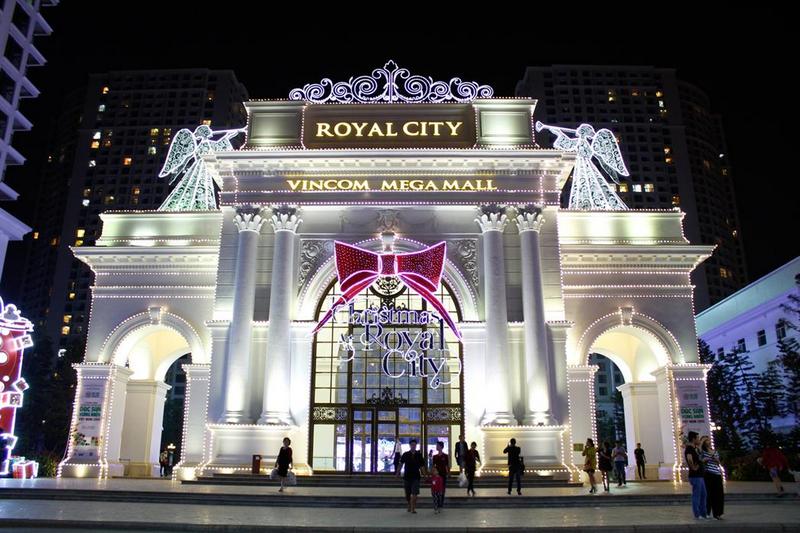 Vincom Mega Mall Royal City Thanh Xuan is a modern and luxurious shopping and entertainment center on the outskirts of Hanoi. It has two underground floors that are home to many retail stores and is also an indoor ice rink, water park, and many restaurants. The ground entrance area features attractive fountains, landscaped gardens, sculptures, and extensive walking paths surrounded by large apartment buildings, all in a distinctly European style. The shopping center is located about 45 minutes outside the city center.
When you enter Vincom Mega Mall, you will have the opportunity to shop at one of the many international fashions, cosmetics, and jewelry stores on the second floor or look at furniture, electronics, and equipment on the first floor. All that shopping can develop an appetite, fortunately, the restaurant section is home to a variety of dining options. From Vietnamese and Chinese street food to Japanese, Korean, Thai and European cuisines. Barbecue and seafood restaurants are also available, as well as some cafes and snack bars.
The shopping center is also home to Royal Land Royal City Water Park. With an indoor ice rink, movie theater, children's play center, and indoor water park, this can also be a great place to spend the day with kids. The water park is divided into 14 different attractions, such as the family and children's pool, wave pool, wave pool, and many water slides.
View more listing apartments in Royal City
Learn more: Nhà hàng tại Royal City
3. Vincom Mega Mall – Times City
Address: No. 458 Minh Khai street, Hai Ba Trung, Hanoi
Opening hours: 08:00 am – 10:00 pm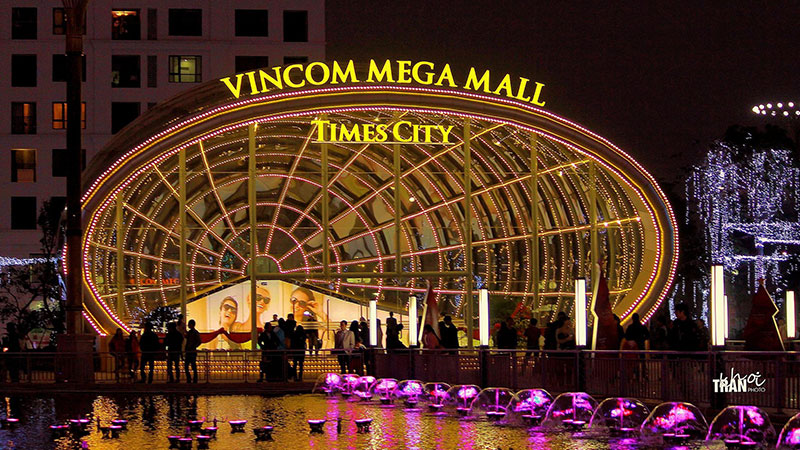 Vincom Mega Mall Times City is known as one of the largest and most modern "shopping paradises" in Vietnam, with hundreds of famous global brands, satisfying the shopping needs of all residents and tourists guests come here.
Opened at the end of 2013, VMM Times City quickly became a tourist, entertainment, and entertainment place in Hanoi Capital.
Vincom Mega Mall Times City is the second address of the chain of super-malls in the largest underground basement in Southeast Asia. With the advantage of favorable geographical position located at the main gateway southeast of Hanoi capital, less than 4km from Hoan Kiem Lake to the south, near Vinh Tuy bridge and connected with the western gateway to the center. The city (Nga Tu So), with modern and luxurious infrastructure, unique architectural style, friendly with the environment, has both European and Asian architectural influences. Internationality forms a harmonious beauty, attracting visitors.
Vincom Mega Mall Times City has a total area of ​​over 200,000m2, is planned under the "all in one" model. At the heart of VMM Times City is a large modern shopping area, up to over 82,000 m2, VMM Times City's World of Shopping brings together hundreds of famous brands at home and abroad, visitors will not miss the opportunity to shop for themselves and your family of fashion items, household appliances, furniture … in more than 300 stalls full of luxury.
With the participation of hundreds of fashion brands, jewelry, cosmetics, perfumes, accessories, electronics, furniture … famous domestically and internationally, Vincom Mega Mall – Times City entered. The activity will become the most modern and busiest shopping area in the Southeast of Hanoi Capital in particular and Vietnam in general – where you can experience and satisfy your shopping passion.
4. Vincom Center – Nguyen Chi Thanh
Address: 54A Nguyen Chi Thanh street, Dong Da, Hanoi.
Opening hours: 8:30 am – 10:00 pm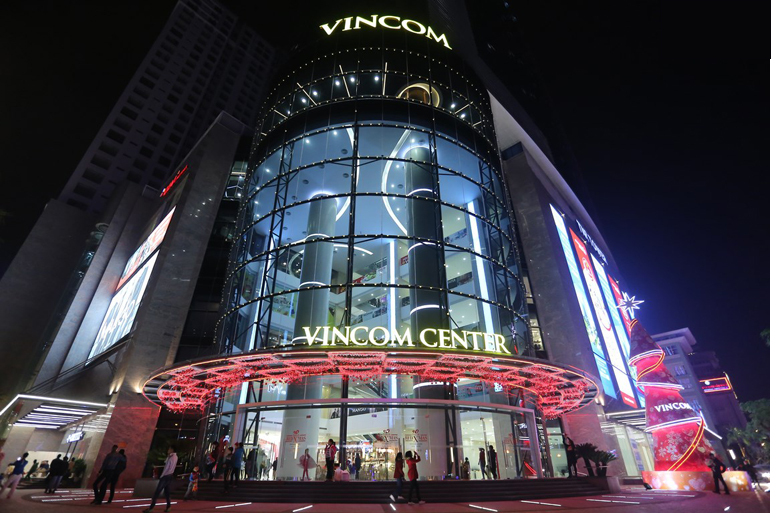 Located on "the most beautiful street in Vietnam", Vincom Center – Nguyen Chi Thanh opened on November 20, 2015, is a new attractive shopping and entertainment paradise in the capital with extremely different highlights. and originality.
As the 5th Vincom trade center in Hanoi, Vincom Center – Nguyen Chi Thanh has made a new mark with luxury, class, and different architecture.
The mall center is designed with impressive soft glass blocks and adorned with natural stone with luxurious patterns often used in Indian royal buildings. The shopping center includes 6 floating floors, 4 underground floors, which is the convergence of 140 brands of Fashion, Entertainment, Cuisine, Interior … prestige, which is popular in the country and internationally. In particular, this place is also attracted by new and unique services and products appearing in the Capital for the first time.
In addition Vincom Center – Nguyen Chi Thanh also has a four-season swimming pool system and an impressive wide view. Along with many areas of sports activities to improve health. It is the first choice of families in the festive season.
View more Vinhomes Nguyen Chi Thanh apartments rental: https://alphahousing.vn/project/vinhomes-nguyen-chi-thanh
5. Vincom Center – Pham Ngoc Thach
Address: No. 2 Pham Ngoc Thach street, Dong Da, Hanoi
Opening hours: 8:30 am – 10:00 pm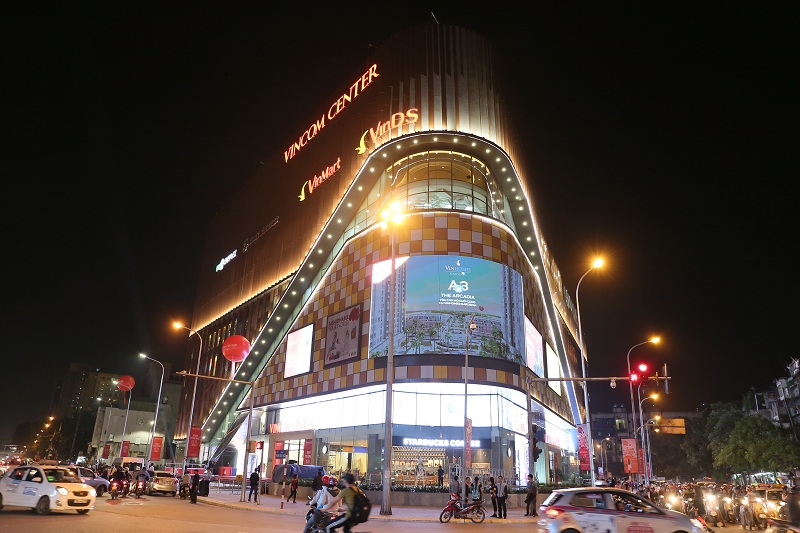 Located at No. 2 at the intersection of Dong Da district, the most vibrant and crowded retail area in Hanoi, Vincom Center – Pham Ngoc Thach stands out with its elegant architecture in the daytime and sparkling like a needle block. Huge outline when night falls. Opened on November 5, 2016, Vincom Center – Pham Ngoc Thach is the 6th shopping center in Hanoi and 28th nationwide, after 12 months of urgent construction Vincom Center – Pham Ngoc Thach officially came into operation. 8 floors and 3 underground floors are divided into four main subdivisions: the world of shopping; entertainment space; the culinary chain, and the health and beauty sector.
As a new shopping center, Vincom Center – Pham Ngoc Thach promises to attract a large number of customers with incentives such as prices, promotions, dedicated service, and unique new space, inspiring music. to create beautiful photos.
6. Keangnam Landmark
Address: Area E6 New Urban Areas Cau Giay, Pham Hung, Me Tri, Nam Tu Liem, Hanoi
Opening hours: 8:00 am – 10:00 pm
Known as the tallest building in Vietnam with 72 floors, of which the most popular attraction, the Sky 72 observatory is on the 72nd floor. Keangnam Landmark Hanoi is not only an office building but also an integrated entertainment area. decoration, miniature art with art galleries, 3D photography area, 3D technology world, 5D cinema, and especially the view from this is extremely attractive.
If you love art, you can't help but drop by the Art Link art gallery here. This exhibition area promises to bring cultural experiences from traditional arts, you will enjoy many types of art in Vietnam or abroad in this very modern and elegant space.
On weekends, enjoying a relaxing feeling from the entertainment with friends or people is a very interesting experience, isn't it? Hopefully, the sharing of the leading commercial centers in Hanoi will partly help you have more useful information.
7. Big C Thang Long – Ha Noi
Address: No. 222 Tran Duy Hung, Trung Hoa, Cau Giay, Hanoi.
Opening hours: 8:00 am – 10:00 pm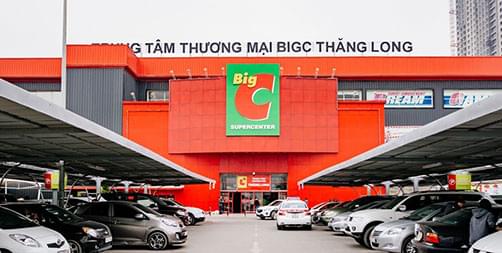 Located quite far from the city center, however, Big C Thang Long – Hanoi is still the choice of many families, especially customers with high-class transportation such as cars that can carry many people and things. Because compared to other shopping centers, Big C Thang Long – Hanoi is a chain of Big C supermarket systems that do not have office buildings, apartments, houses … but promote deep into the business of popular products. Most, there are abundant sales programs with discounts, promotions, and regular customer incentives.
Besides, in the system of Big C supermarkets, there are also playgrounds, entertainment, and food areas, so it is always a place to attract many customers of different strata in society.
Located at 222 Tran Duy Hung, Big C Thang Long – Hanoi is a road with a relatively high traffic density and long switches. However, that little obstacle is nothing compared to the convenience of shopping and the price, right?
If you are interested in this area, Alpha Housing suggests you some good residential projects nearby;
8. Lotte Shopping Center
8.1 Lotte Center Lieu Giai
Address: 54 Lieu Giai street, Ba Dinh, Hanoi.
Opening hours: 9:30 am – 10:00 pm
Prime location: Lotte Shopping Center is nearby Deawoo Hotel, Vinhomes Metropolis Lieu Giai, the Japanese Embassy, and the Westlake area.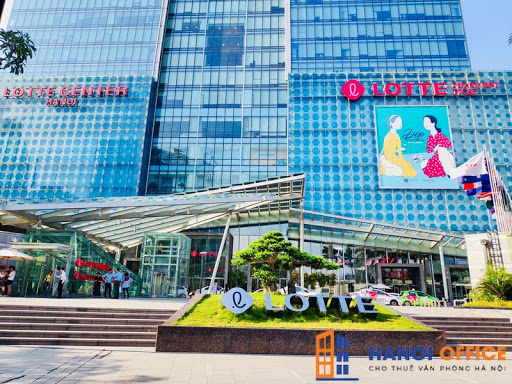 Here, customers are greeted by friendly smiles and bows, families with young children can borrow shopping carts, lounges, phone batteries are new features only found in Lotte 54 Lieu Giai, Ba Dinh, Hanoi.
Unlike other shopping centers, Lotte Shopping Center – Lieu Giai creates comfort for guests from small things and is especially interested in customers who come in groups of families where babies need to be a top priority.
Lotte Shopping Center – Lieu Giai has a play space on the 5th floor – Play Time, a warm and discreet child care room with 4 beds for babies and a nice small kitchen … This makes many consumers already express interest and emotion.
For the best shopping experiences in Hanoi, you should choose a destination that is closest to your interests and desires because Hanoi itself offers a multitude of options and challenges for travelers who want to have a look. insight into the city's art, cuisine, or art. Of course, in terms of shopping, you can choose different shopping ways with carefully selected destinations according to the guide.
8.2. Lotte Ciputra on Vo Chi Cong Street
Lotte Mall Hanoi (also known as Lotte Vo Chi Cong, Lotte Tay Ho, Lotte Mall Ciputra) is a project of commercial centers, supermarkets, cinemas, aquariums, offices, serviced apartments, apartments. , the first-class hotel located in Phu Thuong ward in particular and Tay Ho district in general.
Lotte Tay Ho Hanoi has a scale of 7.3ha with a total investment capital of 600 million USD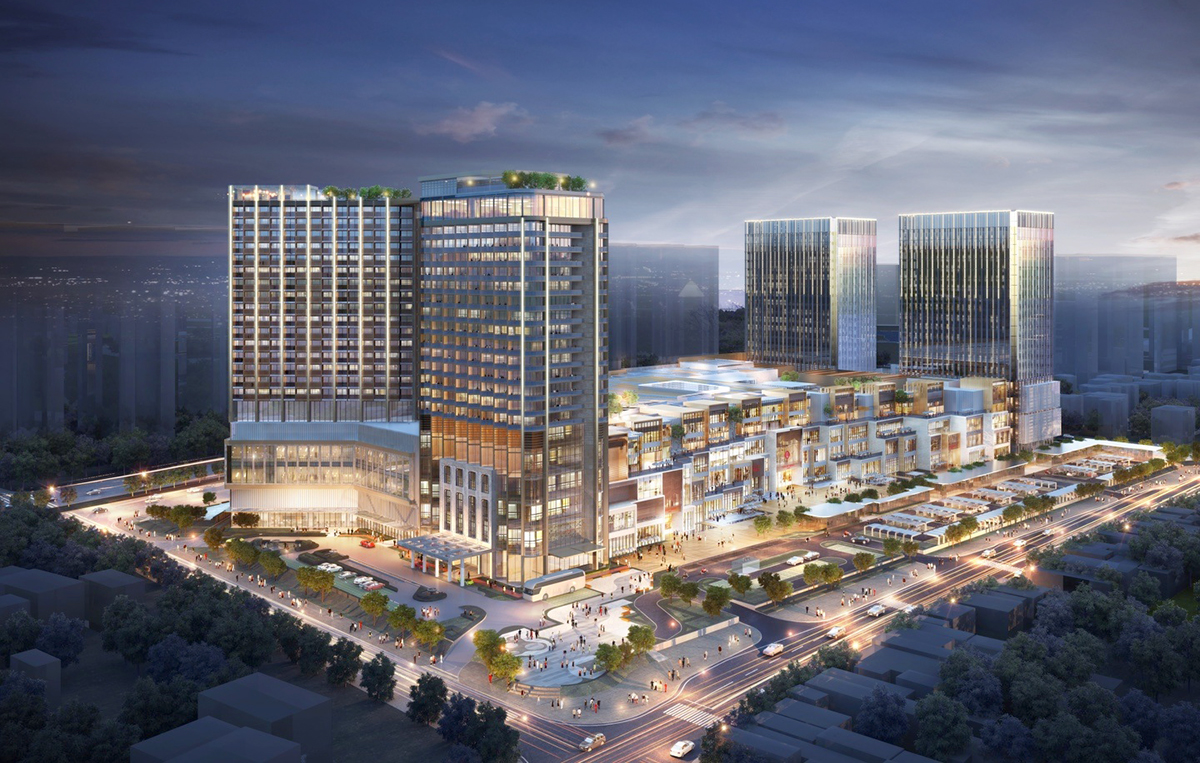 Updating Lotte Mall Ciputra construction progress: Under construction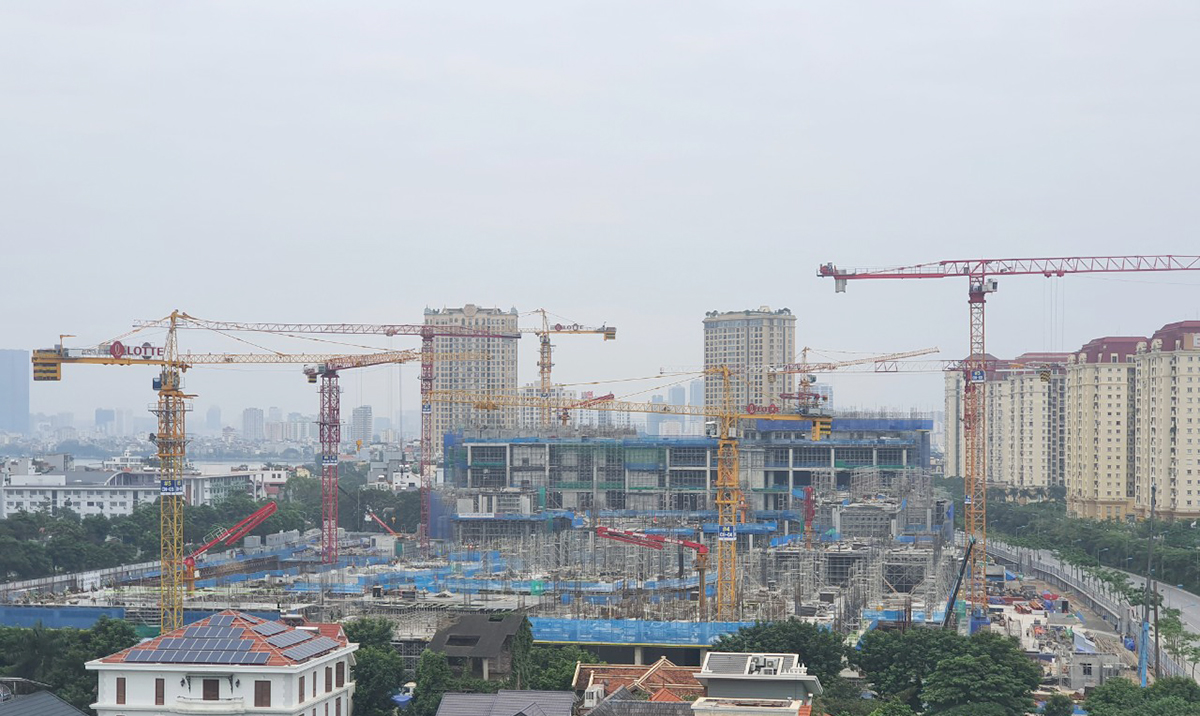 9. Aeon Mall
9.1 Aeon Mall Long Bien
Address: No. 27, Co Linh Street, Long Bien Ward, Long Bien District, Hanoi City
Opening hours: 9:00 am – 10:00 pm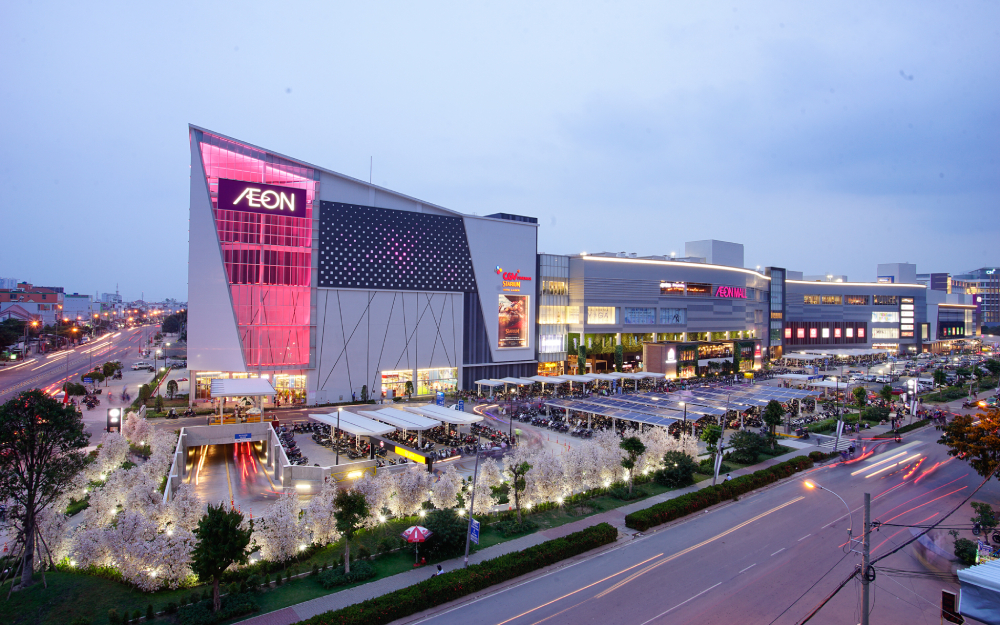 Located on a large area of ​​27 Co Linh Street, Long Bien – Hanoi, Aeon Mall Long Bien is considered a young shopping center when it just started operating in early September 2015.
Aeon Mall Long Bien is under the management of a joint venture with Japan, the largest shopping mall system in the world with 179 domestic and foreign joint ventures scattered in many countries such as Thailand, Singapore, and Myanmar. With the unique design style of Japan. Surrounding the outside of Aeon Mall Long Bien is a poetic landscape because the blooming Cherry gardens are the ideal place for young Japanese lovers without having the opportunity to travel. Inside the central area is a lot of food stalls with lots of items from fast food to the lunch break, long fun meetings.
Not paying attention to the customer class, Aeon Mall Long Bien serves all the essential items for life at reasonable and plentiful prices, so it attracts a lot of shopping visits simply and without simple clamshell Almost when visiting Aeon Mall Long Bien, the customers were surprised and admired by the unique design, large scale and especially with a rare clean toilet.
In addition to the utilities of shopping and playing, Aeon Mall Long Bien leaves customers with an unforgettable impression of the sparkling beauty of each Tet, Christmas … If you do not want to go far and be afraid of winter When you are congested, choose Aeon Mall Long Bien because the new route of Vinh Tuy bridge is quite airy and convenient.
AEON MALL Long Bien Shopping Center is pleased to welcome you and wish you will have a great experience at our one-of-a-kind shopping space!
9.2 Aeon Mall Ha Dong
Address: Duong Noi Ward, Ha Dong District, Hanoi City
Scale area: 98,000 sq.m
Total Floor area: 150,000 sq.m
Vehicle parking capacity: 2,100 cars
Bicycle and motorcycle parking capacity: 9,000 cars
An absolute necessity visit goal directly in the vital rush hour gridlock zone of the Southwest, Eon MALL Ha Dong is the subsequent Japanese strip mall in Hanoi with an all-out territory of about 10 hectares, obliging up to 2,100 vehicles and in excess of 9,000 cruisers. As one of the biggest strip malls in Vietnam, Eon MALL Ha Dong gladly presents a dynamic blend of around 220 stores including Eon GMS and numerous well-known and stylish brands from Vietnam and different nations with administrations and diversion reasonable for all families.
Coming to Eon MALL Ha Dong, clients will have a chance to encounter a shopping space beaten with Japanese style and vitality. Additionally, Eon MALL Ha Dong offers guests incalculable choices going from style, makeup, family unit machines to film and a huge amusement region. With differing food choices from a one-of-a-kind eating region, Eon MALL Ha Dong is without a doubt a popular food goal to fulfill each sense of taste.
In view of the fundamental standards of Eon Group "Seeking after Peace, regarding Humanity, and adding to the nearby network, consistently with the client's perspective as its center", Eon MALL Ha Dong consistently pioneers, partners with clients in the Western of the dynamic city to add to the area, along with Ha Dong residents specifically and Hanoi capital, all in all, to assemble "green" way of life for a reasonable living.
Under the idea "Together Knitting The Future", Eon MALL Ha Dong tries to be something other than a strip mall, yet a green-clean-delightful spot for clients to appreciate and commend life through moving and energizing exercises and occasions.
10. Trang Tien Plaza
Address: 24 Hai Ba Trung, Trang Tien, Hoan Kiem, Hanoi
Opening hour: 9:30 am – 10:00 pm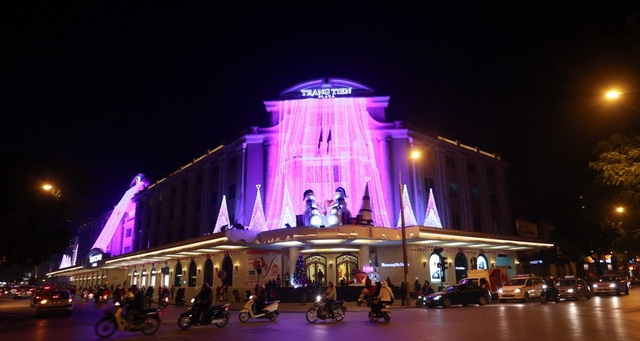 If you live in the same old town, when you mention the shopping center, you will immediately remember Trang Tien Plaza.
According to Toplist, Trang Tien Plaza is probably the "shopping center" with the oldest history in Hanoi capital. Since the 1980s, the current location of Trang Tien Plaza is located on three main streets: Trang Tien with famous dining places such as Trang Tien Ice Cream, Trang Tien Bodega. Hang Bai and Hai Ba Trung streets. Are the common entrance. When not yet built, Trang Tien Plaza is known as the General Department Store with 2 main floors trading all kinds of most popular items for human life such as Books, Soap, household electrical appliances. , baby toys, candies.
Since being completely demolished and newly built in the early 2000s. General Department has been renamed Trang Tien Plaza. Now it has been upgraded to 6 stories, each trading floor trades in certain types of items. Whether it is General Department Store or Trang Tien Plaza, this place is also a popular destination for many capital residents and tourists. Because of its beautiful location, near Hoan Kiem Lake, a historical place associated with many legends of the Vietnamese nation.
With a large, cool space serving many necessities of daily life. Supermarket system level 4 is always the top concern. However, after 2010, Trang Tien Plaza has been upgraded once more. Became the commercial center of the world's high-end fashion brands such as Gucci, Prada, Dior, … And with that modernity, Trang Tien Plaza has become an impressive photo taking place. However, it is no longer suitable for many classes like before.
If you are looking for an apartment, house, or villa to live in Hanoi, Alpha Housing will help you to find the best place to be your home.
Your satisfaction is our mission!
Alpha Housing
Address: Room No.809 Vuon Dao Building, 689 Lac Long Quan, Tay Ho, Ha Noi