Currently, the number of foreigners buying apartments in Vietnam tends to increase, especially foreigners who are Chinese and other countries such as the US, Korea … So, the law stipulates:
How do foreigners buy apartments?
Can foreigners buy an apartment in Vietnam? What are the specific regulations for foreigners to buy apartments in Vietnam?
Procedures for foreigners to buy apartments in Vietnam
What is the time period for foreigners to own an apartment in Vietnam?
Do foreigners have the right to transfer or lease the apartment?
Here are the latest legal advice on foreigners buying apartments in Vietnam to help the condominium buying and selling process run in accordance with the law:
I. Regulations and procedures for foreigners to buy apartments in Vietnam
Can foreigners buy an apartment in Vietnam?
Foreigners who buy an apartment in Vietnam are not a question of many foreigners and also Vietnamese when they want to trade houses with them.
There are cases where foreigners are not allowed to buy houses in Vietnam and cannot buy real estate projects in Vietnam. Because not all foreigners can buy all project houses in Vietnam, there will be a list of specific real estate investment projects that do not allow foreign ownership by the Department of Construction.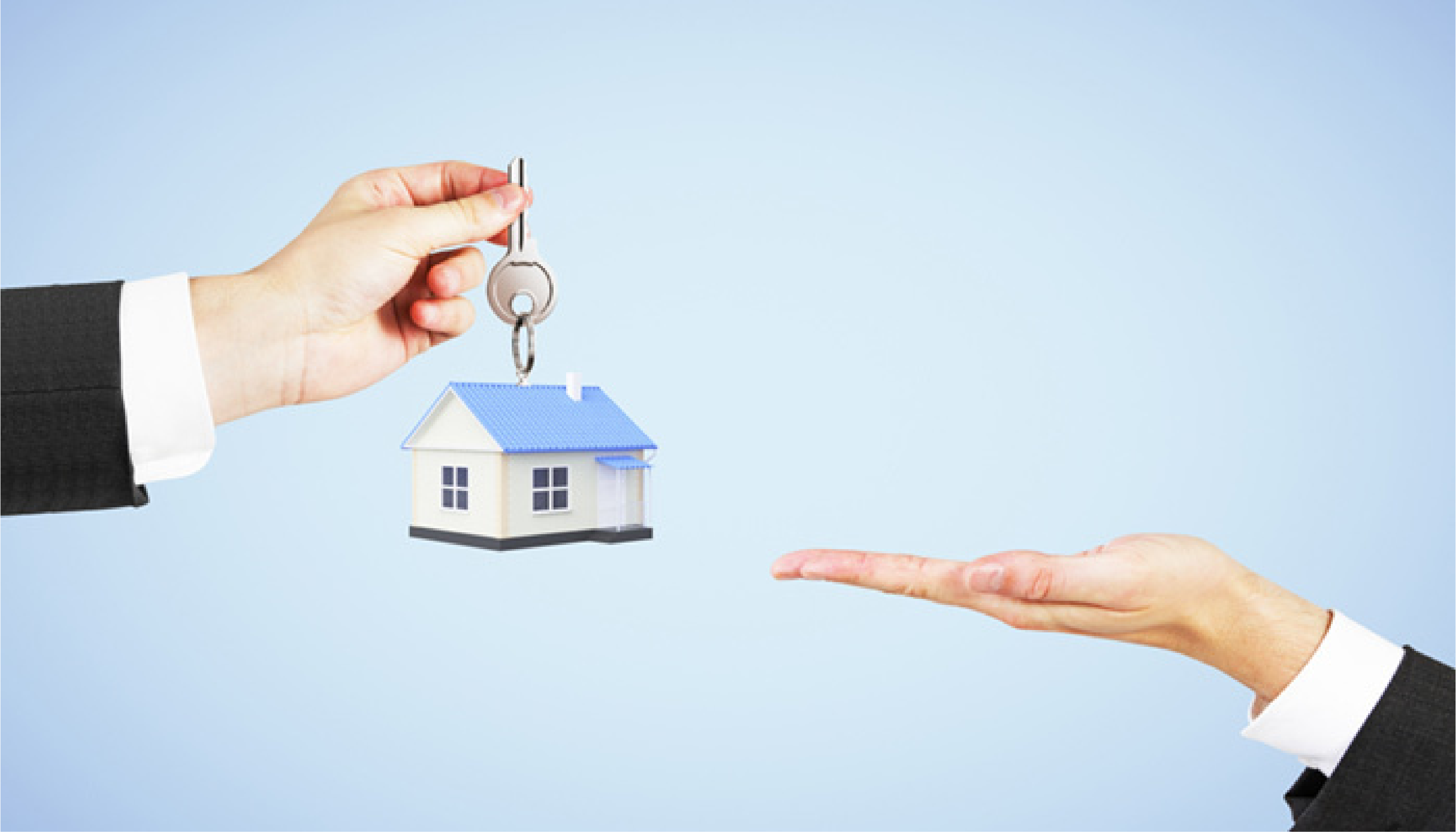 At the same time, foreigners who are allowed to own houses in Vietnam are only allowed to buy, rent and buy houses from investors in housing construction projects, or buy houses from organizations (hereinafter referred to as apartments). Foreign individuals also have restrictions on the right to inherit or donate houses of households or individuals or to receive donations from organizations among the number of houses identified in housing construction projects. allowed to own.
In case of a gift or inheritance, but not eligible for house ownership, it shall be settled according to other regulations.
Form of house ownership by foreigners in Vietnam
Foreigners' regulations on house purchase in Vietnam define the following restrictions on forms of house ownership for foreigners:
Investing in the construction of project-based houses in Vietnam in accordance with this Law and relevant laws.
Purchase, lease-purchase, donation or inheritance of commercial houses including apartments and detached houses in housing construction projects, except for areas under national defense and security regulations. Government regulations.
Therefore, foreigners can buy houses in Vietnam but only have ownership under the two above forms.
Conditions for foreigners to buy houses in Vietnam
With the increasing demand for foreigners to buy houses in Vietnam in major cities such as Hanoi, Ho Chi Minh City, Da Nang, Nha Trang or Phu Quoc, the study of legal regulations on conditions for foreigners to buy houses is increasing. in Vietnam is necessary.
According to the conditions for foreigners to buy houses and apartments in Vietnam 2019 as follows:
First, foreigners must be permitted to enter Vietnam, not subject to diplomatic or consular privileges and immunities.
Second, must have a valid passport with a stamp of entry verification of the immigration authority of Vietnam.
Third, have full capacity for civil acts according to the provisions of Vietnamese law. Note: foreign individuals are not required to register for temporary or permanent residence in the place of transaction house
Fourth, limit the number of houses to be transacted in accordance with Article 76 of Decree 99/2015 / ND-CP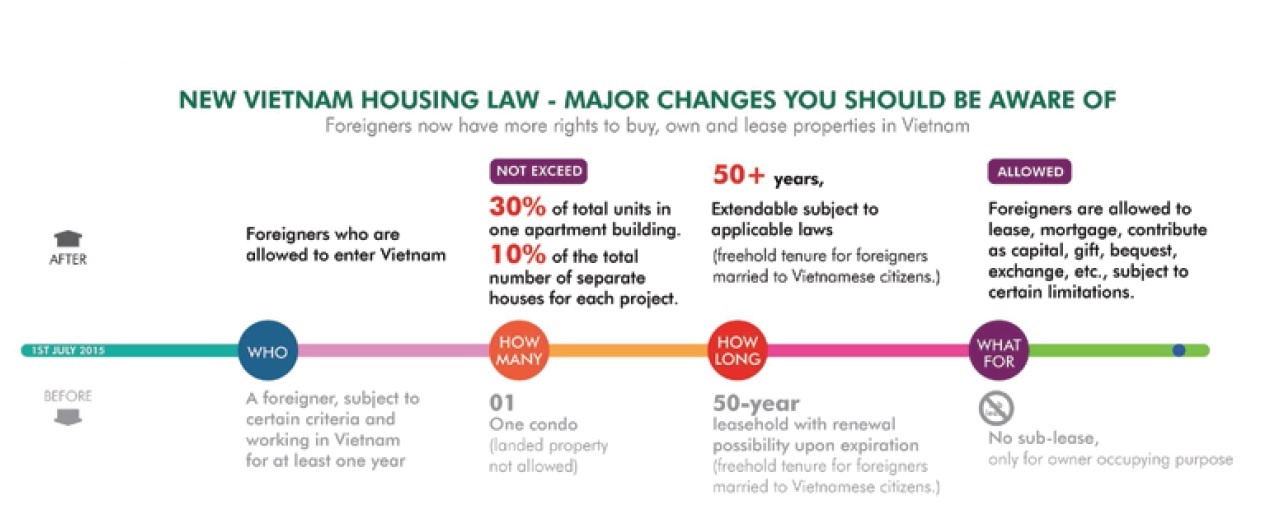 Foreigners own houses in Vietnam no more than 30% of the number of apartments in an apartment building. A single house (villa, adjoining house) in an area with population equivalent to one ward is allowed to buy no more than 250 houses.
In case a project or two projects or more has a number of separate houses of less than 2,500 houses, foreigners can buy and sell houses for no more than 10% (250 houses) of the total number of houses in that project.
Process, procedures, contracts for foreigners to buy houses in Vietnam
When all conditions are met for foreigners to buy houses in Vietnam, they can prepare papers proving their eligibility to carry out house purchase procedures under the guidance in the 2014 Law on Housing:
"1. For foreign individuals, they must have a valid passport with the entry verification seal of the Vietnam immigration and immigration authority and not be entitled to diplomatic privileges and immunities as prescribed. the Ordinance on privileges and immunities for diplomatic missions, consulates and representative offices of international organizations in Vietnam. "
Signing house sale and purchase contract
The house purchase and sale by foreigners must sign a house sale and purchase contract with the contents and form in accordance with the Law on Housing and must be notarized and authenticated.
Procedures for granting house ownership certificates to foreigners:
Apply for a house ownership certificate using form 04 / DK (Circular 23/2014 / TT-BTNMT)
Papers proving foreigners' subjects and conditions to buy houses and own houses in Vietnam
A notarized or authenticated copy of the house transfer contract.
Submit documents at the registration office for land use rights, SH rights in the place where the house is located.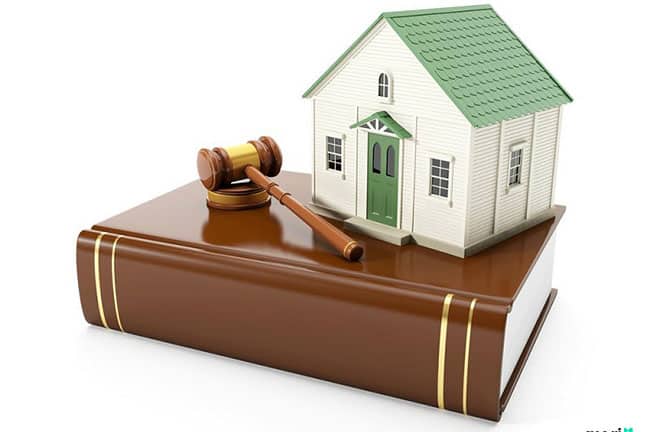 Normally, after completing the handover and finalization of the sale and purchase contract (about 30 days), the investor will make a notice to request the customer to submit the application to make the red book in accordance with the law. .
If valid documents receive and guide the implementation of financial obligations
If the dossier is not valid and complete, after 3 days of receiving the dossier, the competent agency shall notify the refund and provide instructions for additional completion according to regulations.
Step 3: Fulfill financial obligations
Step 4: Issue a certificate of home ownership
The time for investors to carry out procedures for making red books for customers usually lasts for 50 days from the date the customer submits the application according to the notice. The deadline for issuing the red book will depend on the State agency (about 3-6 months from the date of submission).
Term of home ownership of foreigners
Fifth, foreign individuals are entitled to own houses in Vietnam by agreement in sale and purchase contracts but for no more than 50 years from the date of issuance of the certificate and can be extended if required.
If a foreigner gets married to a Vietnamese citizen or an overseas Vietnamese, he / she can own a house in a stable and long-term form like a Vietnamese citizen.
Regarding the time limit for a foreigner to own a house upon receiving the transfer, it must not exceed 50 years from the date of issue of the certificate and clearly stated in the Certificate ". In case of transfer to another foreigner, the transferee has a term of ownership for the remaining term which is not the original 50 years.
If the house ownership period expires without applying for an extension, selling or donating to the subjects of house ownership in Vietnam, this real estate shall belong to the State ownership.
In cases where a foreigner rents a house in Vietnam, he / she will exercise rights and obligations to the investor under the house lease contract, if the foreigner rents a house for business (sublease), the consent is required. of the investor.
II. Do foreigners have the right to transfer or lease the apartment?
About transfer
Foreigners are allowed to transfer purchased apartments and need to complete the following administrative procedures:
First step, make a notarized certificate of marital status and translate it at the registry in your home country. After that, it must be notarized again and translated into Vietnamese at the local notary office. This takes a long time and comes at a cost.
Second step, prepare the deposit contract and the sale contract; Both copies must be notarized and signed by all parties including the owner who sold the property. Because there is no standard contract, the buyer must prepare it himself or seek the help of a consultant.
Third, the contract must be translated, signed and witnessed in Vietnamese by a notary. When the transaction is completed, the buyer will pay tax on the value of the property. Foreigners will not be able to return the investment money back to their home countries if the tax obligation is not fulfilled.
As a final step, by the time the money is transferred to the bank account, the buyer should note that the only way to return the money invested back home through international banks is to ensure compliance with Vietnamese laws. Provide all of the above documents including the red invoice as payment vouchers from the tax department.
Once that is done, the bank will allow the money to be received. In addition, the buyer is also required to pay a fee to the owner to complete the transfer.
About rental
Foreigners are entitled to lease their apartments and need the following requirements:
When the rent is paid monthly, the investor should remember that tax rules, return of investment back home and invoices will apply.
If the investor cannot come to the tax office on a monthly basis, it is possible to negotiate to receive the rental quarterly, monthly or for a more convenient period and be sure to have a plan for this.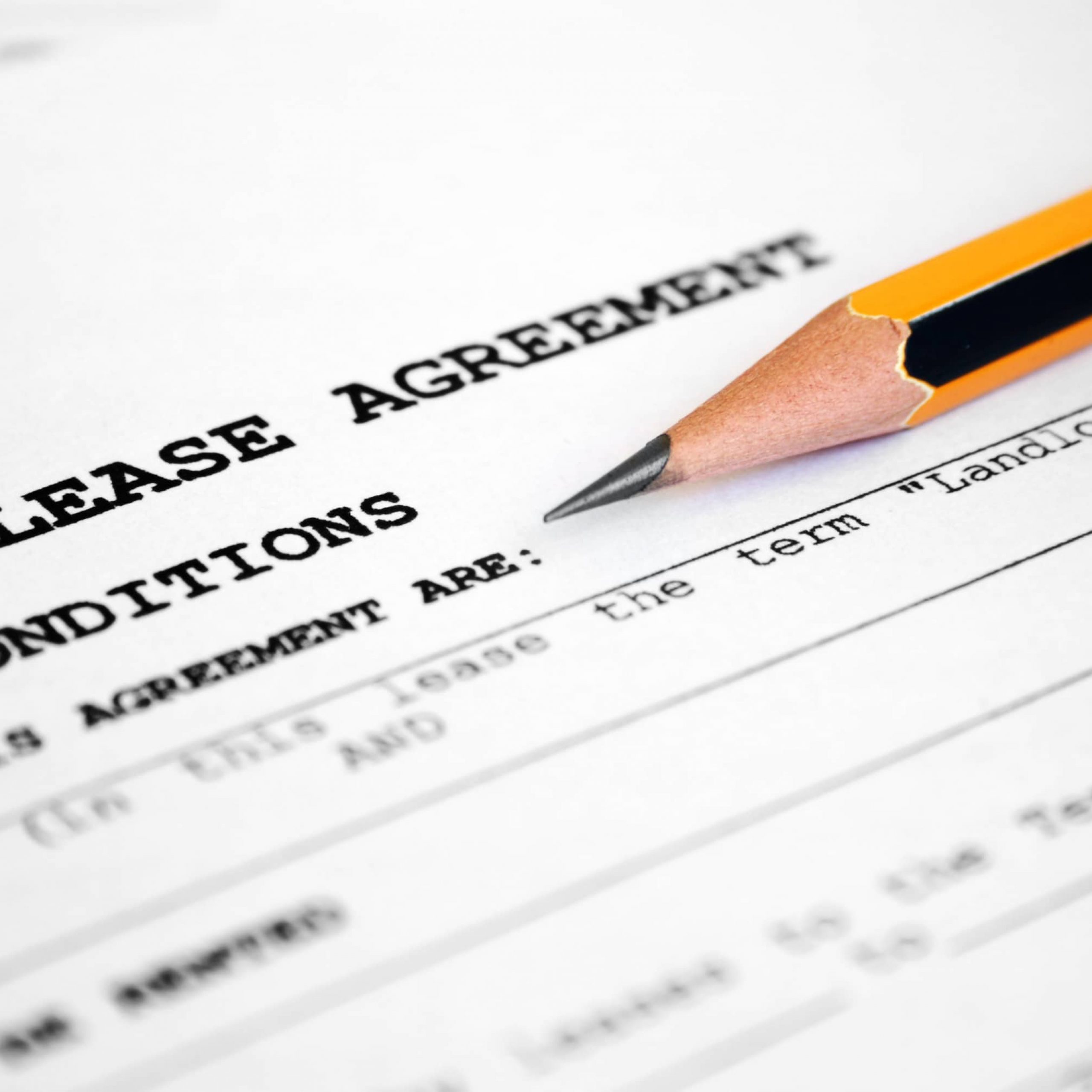 III. How to rent out your apartment in Vietnam
The housing market is slumping, you can't find buyers and you're stuck. Your best option is to rent your house, at least to help cover other expenses for the apartment alone such as: management fees, parking or monthly bank money. You are about to become the "reluctant landlord".
When you can't sell and decide to rent out but don't know what to do, it's important to let the agent know. To advise on the basics of the operational leasing process.
Here's how to rent out a house to ensure your financially smart and risky investment.
Step 1: Learn about tenancy laws in Vietnam
As we showed you in section II, scroll up and read again.
Step 2: Appropriate rental rates
Make sure the rental is correct for the local market, the timing of the rental and the location of the apartment.
You better bid lower than the market price. You'll rent out your apartment faster, have a larger number of tenants to choose from, and you'll have a better chance of signing a lease for a longer period.
It would be much better if the unit is left vacant for a month or longer, or if the apartment has to be repaired for 12 months when the current tenant leaves in search of a better deal.
Step 3: Advertise the apartment Search for tenants through all of the following methods:
Word of mouth: email all your friends and let them know you have a rental location. Because if you're lucky, your friends will be the tenants.
Online advertising: You can place a free ad at the best advertising sites in your area so that your potential tenants can see the unit.
Intermediaries: in Hanoi, you can easily find real estate brokers in your area, with just a little service fee for them you will not need to do anything.
Fees are charged primarily for two services: finding tenants, including advertising and background checks, and property management. The annual rent is only from 100% of the monthly rent. They will manage monthly including collecting rent, charging deferred fee, handling repairs and handling local problems, …
If you hire a real estate manager, look for a licensed professional. To find a manager in your area, visit the Alphahousing.vn website and enter your details. This real estate agent can also provide property management services.
A great advantage of hiring an intermediary company is that you do not spend too much time searching for customers, advertising, … until you hire. And they will take good care of the tenant to make sure the tenant won't break the contract ahead of time or even extend the contract. Ultimately, their job is to make sure the owner receives the rent. "
Building management: They are there 24/7, so it often happens that tenants come in randomly. That is also an advantage.
Step 4: Meet and screen potential tenants.
Usually, the first thing a tenant will want to do is go see an apartment. This is also a great opportunity for homeowners. You will get to meet each person and feel like they are a responsible and respectful tenant.
Check before the meeting: Call your home subscriber and ask them simple questions like "How long ago did you apply for?", "Where are you working?" And "How many people are there in your family?" This is also a good test so that homeowners can understand what their customers need.
When the customer is satisfied and wants to talk more about your unit to make a decision, you can ask them the following important questions:
How long do you plan to stay?
What will you do in the next few years: work, go to school?
What type of job or school?
What do you like about my position compared to other places you've seen?
Why did you move out of your current residence?
Will you sign a one-year lease?
Do you like frequent people?
How many months can you pay the rent at a time?
After you hear the answers to these questions, you will choose a tenant. Once you have selected your new tenant, ask them to complete the lease and collect your first deposit.
Once you have signed a new tenant agreement, you will need to let your other potential tenants know that the apartment is rented. If a potential tenant asks why they didn't get it, never tell them it's because of their age, race, gender or because they have or don't have children. Whatever your reasons for choosing one tenant over another, you cannot choose to discriminate. Probably safest is to say "I found the right tenant and quickly."
And finally, don't forget to tell them the current contract term
Above are shares from Alphahousing.vn about foreign laws on buying and selling real estate, owning houses and investing in real estate in Vietnam. We hope that these regulations synthesize will bring the most basic perspectives when having the most useful real estate transactions for foreigners.