Vietnam e-visa now makes the procedure to come to Vietnam simple since it took effect in 2017. The following article will address all of your concerns about Vietnam evisa.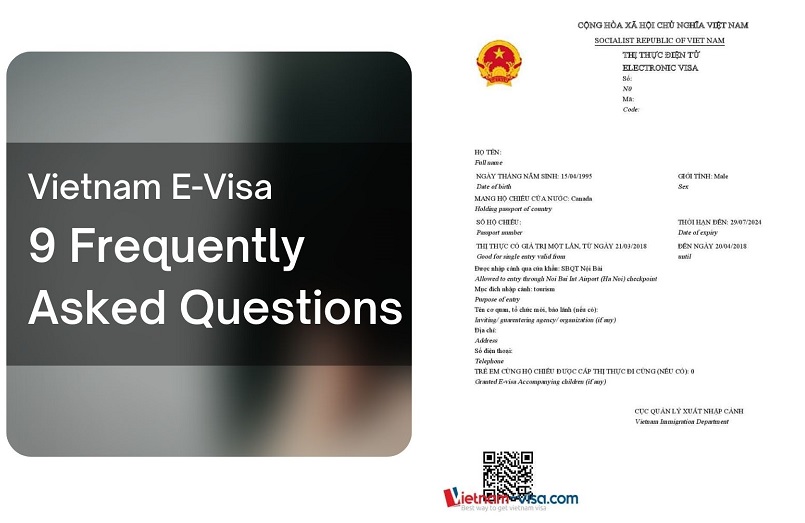 1. What is Vietnam e-visa?
Vietnamese e-visa is one of many types of visa granted by Vietnamese Immigration Department to foreigners to travel to and enter Vietnam.
It is a PDF authorization issued via electronic system; therefore, there's no stamp in the passport even though its validity is equivalent to a normal visa.
This is a Vietnam e-visa sample: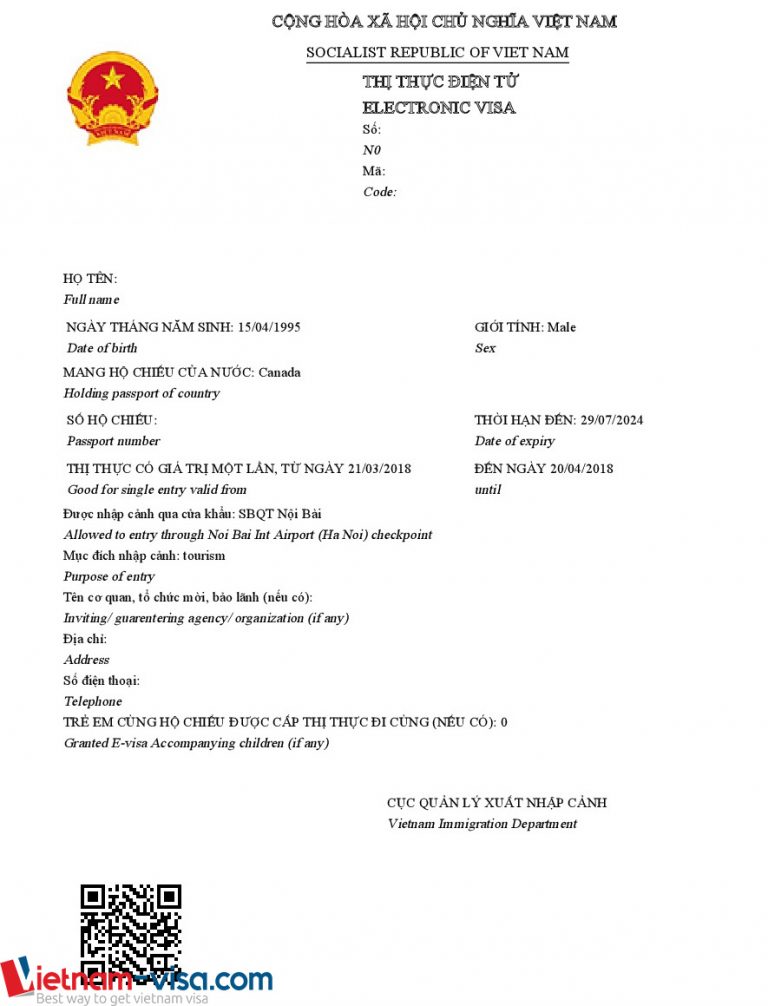 2. Who is eligible for a visa to Vietnam?
In order to get a Vietnam e visa online, you must:
Be non-Vietnamese citizens
Hold a passport that is still valid in the next 6 months
Be not in the list of entry suspension of Vietnamese Law
As of July 2020, e-visa for Vietnam is applied to nationals of 80 countries travelling to and within Vietnam for any of the following reasons:
Tourism
Business
Official Visit
Investment
Visiting relatives/friends
Journalism
Labor, Employment
Study
Office, Organization of Economy, Culture, Technology, Non-Government
Summit
Other
Check out Vietnam e visa country list to see if yours is applicable:Andorra, Armenia, Argentina, Australia, Azerbaijan, Austria, Belarus, Bosnia and Herzegovina, Belgium, Brazil, Brunei Darussalam, Bulgaria, Chile, Canada, China (including Hong Kong SAR and Macau SAR passport holders, not applicable to Chinese e-passport holders), Colombia, Croatia, Cyprus, Cuba, Czech Republic, Denmark, Fiji, Estonia, Finland, France, Georgia, Greece, Germany, Hungary, Iceland, India, Italy, Ireland, Japan, Kazakhstan, Latvia, Liechtenstein, Luxembourg, Lithuania, Macedonia, Malta, Marshall Islands, Micronesia, Mexico, Moldova, Montenegro, Monaco, Mongolia, Myanmar, Nauru, Netherlands, New Zealand, Norway, Palau, Panama, Philippines, Poland, Portugal, Qatar, Russia, Republic of Korea, Romania, Salomons Islands, San Marino, Slovenia, Serbia, Slovakia, Spain, Switzerland, Sweden, Timor Leste, United Arab Emirates, United Kingdom of Great Britain and Northern Ireland, Uruguay, United States of America, Venezuela, Vanuatu, and Western Samoa.
3. Which entry & exit checkpoints allow e-visa holders to enter and exit Vietnam?
E-visa is accepted at all international airports, some land ports and seaports. Qualified Vietnam e visa entry points are issued by the Vietnam Immigration Department:
Vietnam e visa international airports:
Noi Bai Int Airport (Ha Noi)
Cat Bi International Airport (Hai Phong)
Cam Ranh International Airport (Khanh Hoa)
Da Nang International Airport
Can Tho International Airport
Phu Bai International Airport
Tan Son Nhat International Airport (Ho Chi Minh City)
Phu Quoc International Airport
Vietnam e visa land crossing ports:
Huu Nghi Landport
Ha Tien Landport
Bo Y Landport
Cha Lo Landport
Lao Bao Landport
Cau Treo Landport
La Lay Landport
Lao Cai Landport
Nam Can Landport
Mong Cai Landport
Na Meo Landport
Song Tien Landport
Xa Mat Landport
Tinh Bien Landport
Tay Trang Landport
Vietnam e visa seaports:
Da Nang Seaport
Hai Phong Seaport
Chan May Seaport
Ho Chi Minh City Seaport
Hon Gai Seaport
Vung Tau Seaport
Quy Nhon Seaport
4. How long does it take to obtain an e-Visa?
The e-visa can be obtained in maximum 3 working days when the Vietnam Immigration Department gets your Vietnam e visa online application and full visa fee.
5. How much is the e-Visa fee?
The e visa for Vietnam currently costs US$25. Payment is required to be made online upon your submission of e-visa application form and accepted by either international credit or debit card. Please note that this fee will be not refunded if your application is rejected.
6. How long is Vietnam e-visa good for?
Vietnam e-visa is a single entry and its maximum validity is 30 consecutive days since the entry date on visa application. You can enter and exit on any date within the period stated on your visa. After 30 days, you can extend your e-visa for further 1 month.
7. How to get Vietnam e-visa?
First of all, in order to do Vietnam e visa registration, you need to prepare some information and papers in soft copies. Vietnam e visa requirements are below:
Passport with at least 6-month validity

Photos of your full passport

An international credit or debit card for payment

An address in Vietnam where you will stay during your trip
Some of Vietnam e-visa photo requirements should be noticed like: photos are in .jpg format, portrait photos must be on in white background and without glasses. Plus, Vietnam e-visa photo size is 4x6cm.
After that, you follow these steps to start your e-visa application:
Step 1: Visit the official website for Vietnam's e-Visa Application at: https://evisa.xuatnhapcanh.gov.vn/web/guest/khai-thi-thuc-dien-tu/cap-thi-thuc-dien-tu
Step 2: Upload .jpg images of your passport photo and passport pages
Step 3: Fill out required information according to your passport data page
Step 4: Fill up all true information of your trip plan
Step 5: Pay the e-Visa fee of 25 USD by any listed payment methods
Step 6: Get your registration code and carefully save that number for future tracking
8. How can I check my e-Visa result?
The result will not be sent to your email. However, after 1-3 working days of submission, you can easily check your application status by this instruction:
It is advised for you to save that result file to your electronic devices and print it out in some copies to bring along when you go on board.
9. If I use my e-Visa to enter or exit Vietnam, what do I have to do at the checkpoint?
With Vietnam e-visa, there's no need to queue at Visa on Arrival counters, submit documents and pay for an additional stamp. All you have to do is to bring your printed e-visa copy and valid passport directly to the Immigration counter at the checkpoint and show the officer those 2 papers. That's how you can enter Vietnam legally.
Above are the guidelines for those planning to come to Vietnam for the first time or who have not done Vietnam e-visa before. This electronic procedure definitely shortens your preparation time and eases your effort to enter Vietnam.