In the current era, when the economic conditions are improving, life is growing, parents pay more and more attention to their children's learning, international schools always have an attraction. Especially by the quality of good training, opens up many opportunities for learners. In order to help parents, students and students learn about the international standard educational environment in Hanoi, we have compiled a list of international schools under the management of the Hanoi Department of Education and Training.
1. BRITISH – VIETNAMESE INTERNATIONAL SCHOOL
Contact Info
• Address: Royal City, 72A Nguyen Trai Street, Thanh Xuan District, Hanoi
• Phone: (84-4) 6266 8800
• Website: http://www.nordangliaeducation.com/en/our-schools/vietnam/hanoi/bvis
• Average tuition: 489.9 million / year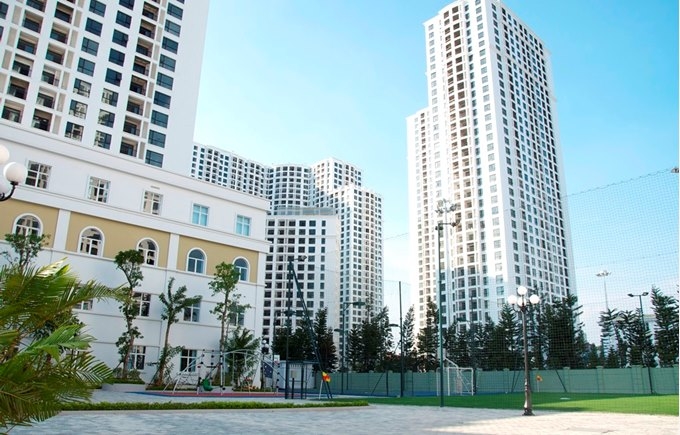 Anh Viet International School is one of the leading international schools in Hanoi. The school was founded in 2013 and is located in Royal City Hanoi. The school's curriculum is based on the British National Education Program, combined with a number of subjects in Vietnamese to give them the quintessence of both English and Vietnamese education.
After graduation, students will receive an International Baccalaureate Certificate, which will help them be recognized and the key to bringing them to prestigious universities in the world. Coming to Anh Viet, students will be well prepared to become the future leaders of the country in all fields they choose. With a unique international education program, students will be able to think globally and uphold the values ​​of their nation.
BVIS tuition fee includes:
Tuition fees Language support (English / Vietnamese)
Learning materials (textbooks, notebooks, stationery)
Excursions / excursions,
Extracurricular Activities Program (*)
– Lunch
Compulsory medical insurance
Examination fee for international certificates
Costs may arise:
– Car transport
Extracurricular clubs charge a fee
– Volunteer trips
2. Hanoi ACADEMY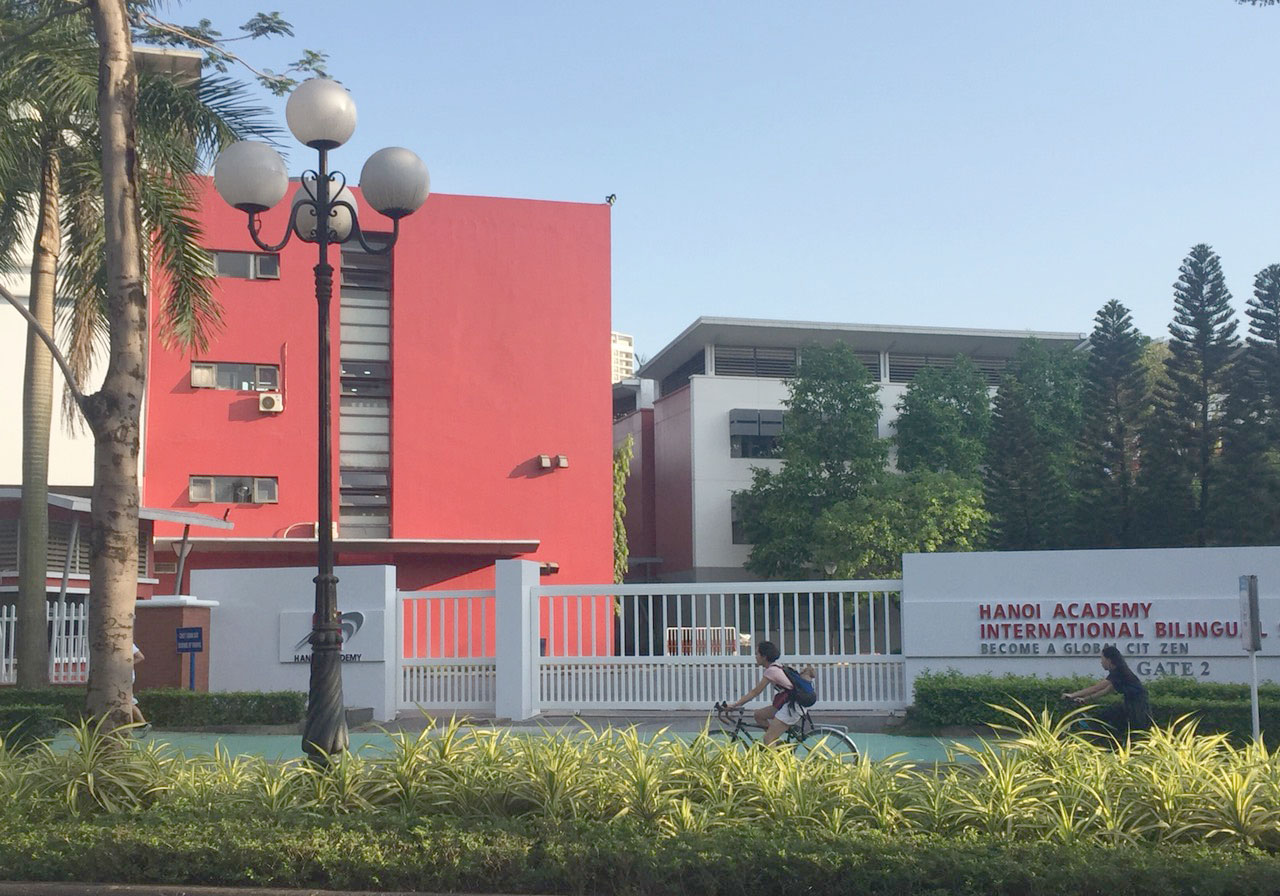 Contact Info
Address: D45 – D46 Nam Thang Long International Urban Area – Ciputra, Phu Thuong, Tay Ho, Hanoi
Phone: +84 (4) 3 743-0135 / 36/37
Fax: +84 (4) 3 758-9469
Email: [email protected]
Web: http://hanoiacademy.edu.vn
Average tuition fee: 260 million / year
Hanoi ACADEMY is the first international bilingual school in Hanoi, which has been in operation since 2009. This is a system of multi-level schools from preschool to high school, with the educational goal being "creating public global people ".
Coming to Hanoi ACADEMY, students have the opportunity to immerse themselves in a new bilingual learning environment: Vietnam and International, together with the program of the Ministry of Education and Training of Vietnam, Hanoi ACADEMY develops an international curriculum based on the UK's copyrighted curriculum to guarantee global standards of knowledge, skills and thinking for students.
Besides, as an official testing center of Edexcel, Hanoi Academy organizes exams and awards recognized worldwide, helping open up many transition opportunities in the future.
3. SINGAPORE INTERNATIONAL SCHOOL – SIS
Contact Info
• Address: Street No.2, Gamuda Gardens Urban Area, Km 4.4 Phap Van, Hoang Mai District, Hanoi
• Phone: +84 24 6666 1818
• Website: http://gamudagardens.sis.edu.vn/en/
• Average tuition: 315 million / year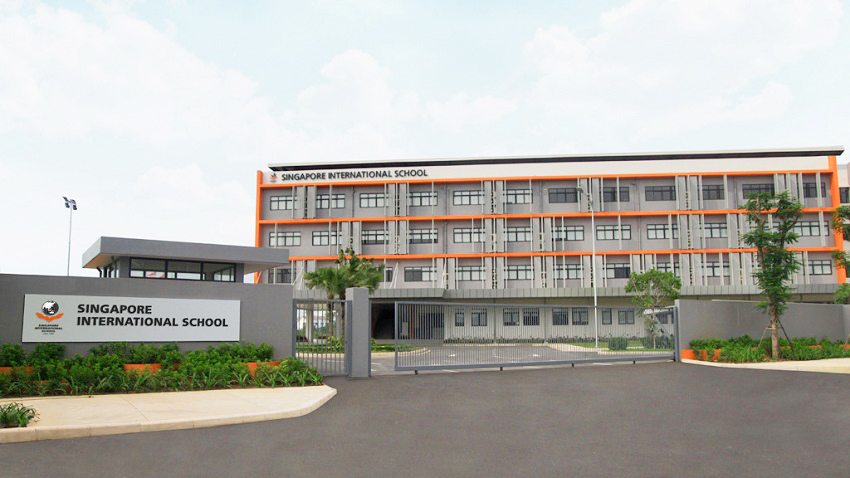 Singapore International School (SIS) is a subsidiary of KinderWorld Education Group (Singapore) with over 30 years of experience in education and operating the system of 16 international schools in Vietnam. The curriculum at SIS is optimized by combining advanced Singapore and Western educational programs to equip students with the necessary knowledge and skills of global citizens.
SIS is proud of 5 strengths:
• Curriculum of Ministry of Education of Singapore and Cambridge University (UK), with strengths in Math, English and Science.
• Internationally recognized qualifications (iPSLE, IGCSE, A-level, GAC)
• Singapore students are the world leader in the International Student Assessment Program (PISA)
• Certifications from well-known educational organizations in the world (WASC Association of Western Universities and Colleges, American ACT Education Organization)
• Complete a semester at Elmhurst College USA and earn credits accepted by American Universities.
By focusing on an educational program that combines Eastern values ​​and Western education, we aim to train students for independence, confidence, creativity, problem-solving skills, effective communication methods to become socially responsible citizens in the 21st century.
4. UNITED NATIONS INTERNATIONAL SCHOOL OF HANOI- UNIS Hanoi
Contact Info
• Address: G9 Ciputra, Lac Long Quan, Tay Ho, Hanoi
• Phone: (84 24) 7300 4500
• Website: https://www.unishanoi.org/
• Tuition:
– Primary school: 24,340 USD
– Junior high school: 25,890 – 27,770 USD
– High school: 27,770 – 29,690 USD
• Website: https://www.unishanoi.org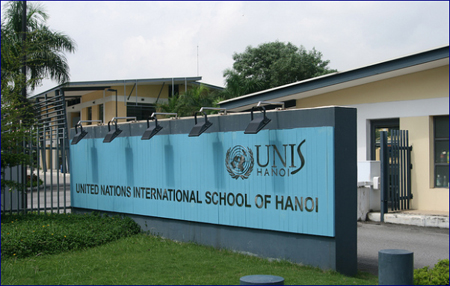 With a rich thirty-year history and guided by UN principles, UNIS Hanoi provides a unique, high-quality educational experience committed to inspiring and equipping students, building A better world.
The school has come a long way since its opening in 1988 when it was the first international school in Vietnam with 13 students. Today, serving more than 1100 students from nearly sixty countries, UNIS Hanoi provides a shared vision, mission, and set of fundamental values ​​of the learning community.
Focusing on learning, UNIS Hanoi students come into contact with the learning environment, challenge them to think critically, use and apply their knowledge in the classroom and engage in meaningful issues. local and global.
A professional, thoughtful, and dedicated staff of more than 300 teachers with the sole purpose of providing an outstanding educational experience every day.
If guests let their children study at UNIS and want to rent a property at Ciputra Hanoi, please refer to here: https://alphahousing.vn/project/ciputra
5. Lycée Français Alexandre Yersin
Contact Info
Address: 36 lane 476 Ngoc Thuy, Long Bien district, Hà Nội, Việt Nam
Phone: +84 (0) 24 38 436 779
Website: https://www.lfay.com.vn/
Tuition:
– Preschool: 3,500 – 5,000USD
– Primary school: 4,250 – 5,900USD
– Junior high school: 4,950 – 6,850USD
– High school: 5,400 – 7,250USD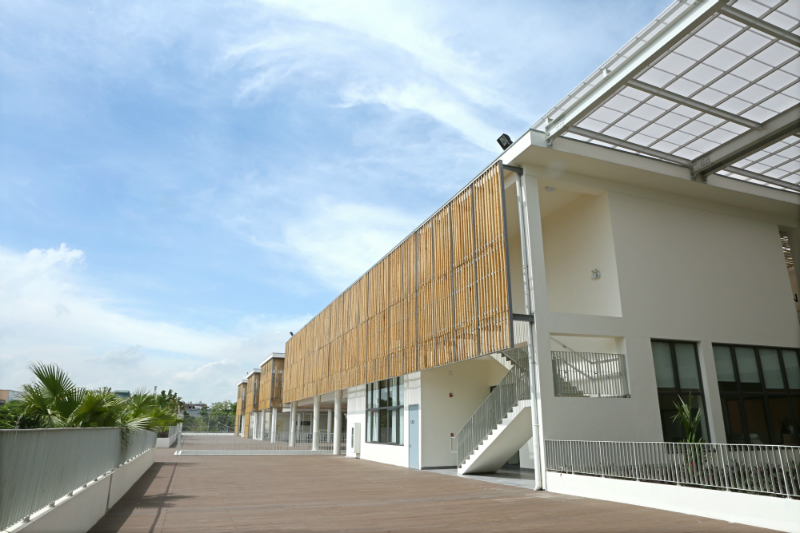 Started in 2016 in Long Bien district, the construction of a new school was completed in the first half of 2018.
This newly built school, where the Vietnamese and French culture meets, is located on an area of ​​2.8 hectares, just a few hundred meters from Long Bien Bridge. The school has 4 separate areas: sports area (accounting for 1/3 of the total land area), elementary area, secondary school and common function area: Conference hall, Multimedia Library – Computer Center, House Eat, Priests.
These areas are connected together through an internal road designed by architects like the small streets of Hanoi, allowing to connect the areas of the school together on all floors. The walkways are shaded by elegant bamboo screens. In the spaces interspersed between gaps and spaces are gardens, yards, covered gardens, and play areas.
The French Embassy in Vietnam said that this is one of the most beautiful French high schools in Asia.
Accordingly, Alexandre Yersin French High School is a school under the direct management of the French Education Agency abroad. This unique school network in the world includes 492 schools, welcoming nearly 350 000 students from kindergarten to high school in 137 countries. The curriculum at these schools is based on the French educational program
6. INTERNATIONAL SCHOOL PARK CITY HANOI (ISPH)
Contact Info
Address: ParkCity Hanoi, Le Trong Tan Road, Ha Dong District, Hanoi, Vietnam
Phone: +84 93 44 55 228
Website: https://www.isph.edu.vn/
Email:

[email protected]

Tuition fee: 400 million – 600 million / year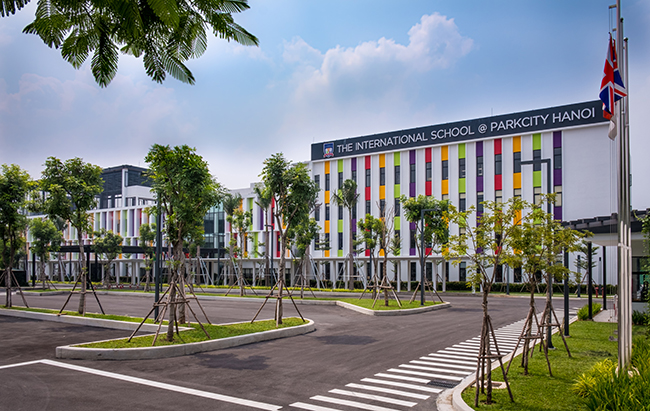 International School ParkCity Hanoi (ISPH), located in the high-end urban area of ​​ParkCity Hanoi, offers a comprehensive learning program for students aged 3 to 18 years. Our mission is to provide good quality education with high and appropriate expectations and to create a safe learning environment where every student is happy and deserving of care. ParkCity Kuala Lumpur International School (ISPKL), the same school system with us, has been rated as an "Excellent School" by the Education Development Trust Commission and certified Gold Standard. in accordance with its International School Quality Accreditation Framework. ParkCity International School Hanoi (ISPH) will be built and developed with similar quality standards.
The school's infrastructure system includes:
The classrooms are fully equipped with learning facilities
Science Laboratory
Art classArt class
Practice rooms for Music, Dance and Drama
Modern library
International standard canteen
Information Technology Classroom
Multipurpose hall
Warm indoor swimming pool
Artificial grass sports ground
Artificial grass playground
Tennis course
Gym room
7. BRITISH INTERNATIONAL SCHOOL HANOI (BIS Hanoi)
Contact Info
Address: Hoa Lan Street, Vinhomes Riverside, Long Bien, Hanoi
Tuition:
– Primary school: VND 369,000,000 – VND 347,400,000
– High school: 431,500,000 – 489,900,000 VND
Website: https://www.nordangliaeducation.com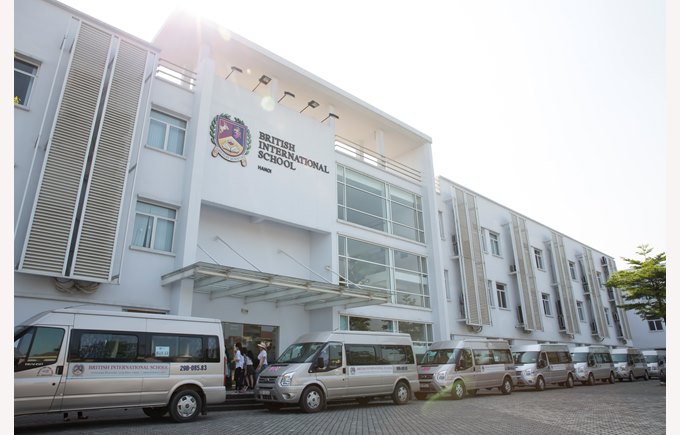 British International School Hanoi (BIS) Hanoi is an international school located in Vinhomes Riverside Hanoi urban area. It is also a part of the Nord Anglia Education, and one of four British International schools in Vietnam. The school provides an English education model for children aged two to eighteen years old. The school is registered with the Cambridge Assessment International Education Council.
The primary stage is based on the British National Curriculum and the International Primary Curriculum. The high school period follows the National Curriculum taught to students in England, Wales, and Northern Ireland. Students prepare for the International Secondary Education Certificate in their 10th and 11th years. In Years 12 and 13, students attend the IB Diploma program.
The school is part of the IB International School system, authorized to provide an IB certificate (IB Diploma Program). It is a member of the Federation of British International Schools in Asia and is accredited by the Council of International Schools and the Association of Western Universities and Colleges.
The school offers the Duke of Edinburgh award and hosts an annual international festival.
Recently Vinhomes Riverside Residence is launching a brand-new resident project named Vinhomes Symphony that comes with more than 1000 apartments.
Located nearby Vincom Plaza shopping mall, Jura Park and Vinfast office. Apartment size Vinhomes Symphony as below
Vinhomes Symphony Riverside is developed with 7 towers from 10 – 15 floors: S1, S2, S3, S5, S6.A, S6.B, an office tower.
S5 Building and office tower with the same podium opposite Vincom Plaza Long Bien shopping center.
Building S6.A and building S6.B share the same podium, located on Hoi Xa Street.
Building S1, S2, S3 is located inside, towards the dinosaur park and Vinhomes Riverside villas.
8. WELLSPRING HANOI BILINGUAL SCHOOL
Contact Info
• Address: No. 95 Ai Mo St., Bo De Ward, Long Bien District, Hanoi
• Phone: +84 24 7305 8668 | +84 24 730 22 555
• Hotline: 09 73 75 9229
• Email: [email protected]
• Website: www.wellspring.edu.vn
• Average tuition: 175 million / year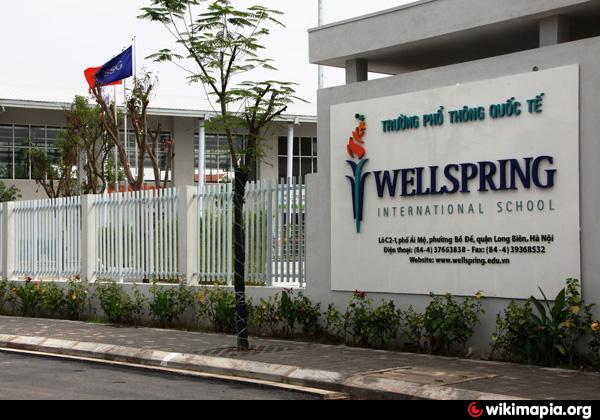 Wellspring Hanoi Inter-Level Bilingual School is the first school recognized by the International Examinations Council of Cambridge University to meet Cambridge standards for all three levels: Primary, Secondary, and High School.
Besides, it is also a member of international organizations such as NCC, ERB, Cambridge ESOL, ETS, and College Board Test Site.
Wellspring is proud to be one of the most modern facilities, teaching and learning equipment in Vietnam today.
With the goal of providing students with a comprehensive learning environment, Wellspring has invested in building a modern school system, with an optimal design suitable for each teaching activity. In particular, children studying at Wellspring will be able to take part in international standard examinations and be assessed and awarded globally valid degrees.
9. VIETNAM – AUSTRALIA HIGH SCHOOL HANOI
Contact Info
• Address: My Dinh 1 Urban Area, Hanoi
• Phone: (84-4) 6287-2869 / 6287-8889;
• Fax: (84-4) 6287-2023
• Email: [email protected]
• Website: http://www.vashanoi.edu.vn/
• Average tuition fee: 110 million / year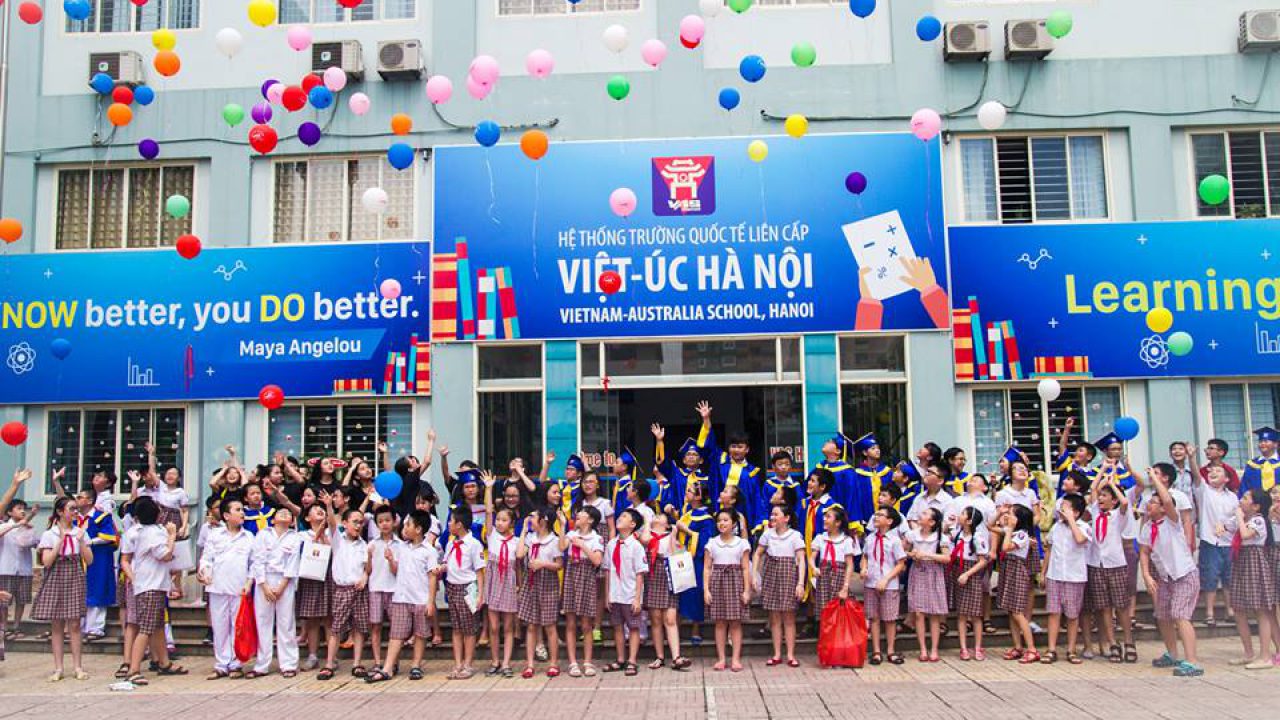 Vietnam – Australia High School Hanoi is an international school, established under the Decision dated 13/4/2007 of the Hanoi People's Committee.
The school implements teaching and learning under the curriculum issued by the Ministry of Education and Training, integrated with the Cambridge general education program issued by the British Council.
After 12 years of establishment, VAS Hanoi has built a great reputation and is recognized by international partners. In 2013, VAS Hanoi was one of the first two schools in Hanoi which was recognized as Cambridge Cambridge International School (A Cambridge International School) VN235.
In 2019, VAS Hanoi continues to be recognized as a Partner School of the Cambridge Assessment English Partnership School.
Students studying here enjoy the same benefits as studying abroad while still receiving care from their families. The school has modern facilities, a team of highly qualified and enthusiastic teachers, students will be given the best conditions to develop knowledge, perfect personality and skills to meet the requirements of the next level of study at home and abroad.
In particular, AISC (Australian International Schools' Certificate) of the Global Program and high school diploma will help Vietnamese – Australian students go straight to the first year of some famous universities in the world as well as some schools. International University in Vietnam.
As a semi-international school including 3 levels: Primary, Secondary and High School with outstanding features such as
• Conduct teaching and learning according to the curriculum issued by the Ministry of Education and Training and study according to the staffing time of the Ministry.
• Simultaneous implementation of the curriculum in English taught by native teachers with experience in teaching high school
Two goals that the school aims to
• Sufficient IELTS score to study abroad or to be admitted to international universities in Vietnam
• Ability to use English well in studying and living in a learning environment similar to overseas.
10. VIETNAM INTERNATIONAL HIGH SCHOOL
Contact Info
• Address: Duong Noi Urban Area, Ha Dong district, Hanoi
• Phone: 04. 3358.1717
• Website: http://www.vis.edu.vn
• Average tuition fee: 210 million / year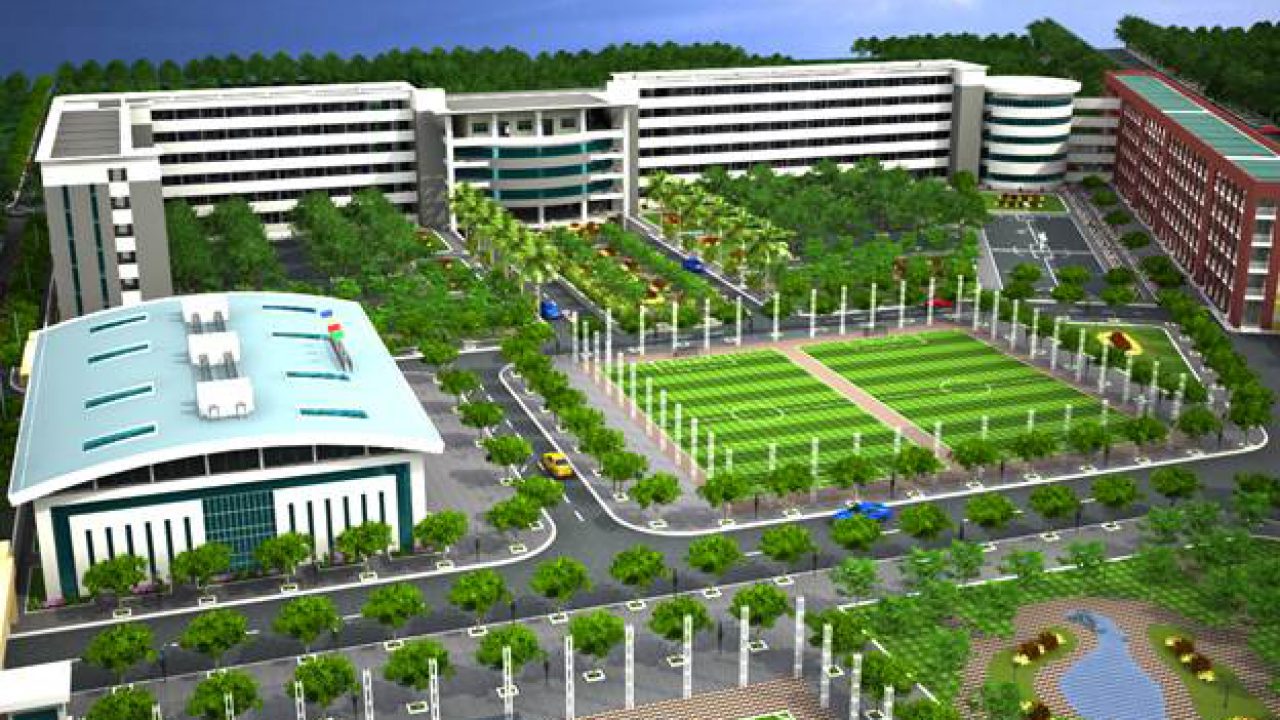 According to the evaluation of many parents, Vietnam International School has a standard school system for each grade. Managed by a team of professionals, highly qualified, love the job, dedicated to the job.
• With the motto "With you – we conscientiously. With knowledge – we treasure", the school leadership is constantly affirming the position of teaching and learning quality in the current educational trend. Modern facilities will surely "lift the dream", giving students a bright future.
• International school in Hanoi has a standard school system for each level from Kindergarten – Primary – Secondary to High School. The school's goal is to build a young generation with health, morality, knowledge, confidence and creativity.
• Head of the school is an excellent teacher, a master of mathematics Nguyen Hai Khoat – former Principal of Nguyen Truong To Secondary School is a famous specialized school in Dong Da District, Hanoi.
11. JAPANESE INTERNATIONAL SCHOOL
Contact Info
• Address: No.36 To Huu, Van Phuc Ward, Ha Dong District, Ha Noi
• Phone: +84 868 541 200
• Fax: +84 (04) 73010062
• Hotline: +84979860088
• Email: [email protected]
• Website: http://www.jis.edu.vn/
• Average tuition: 160 million / year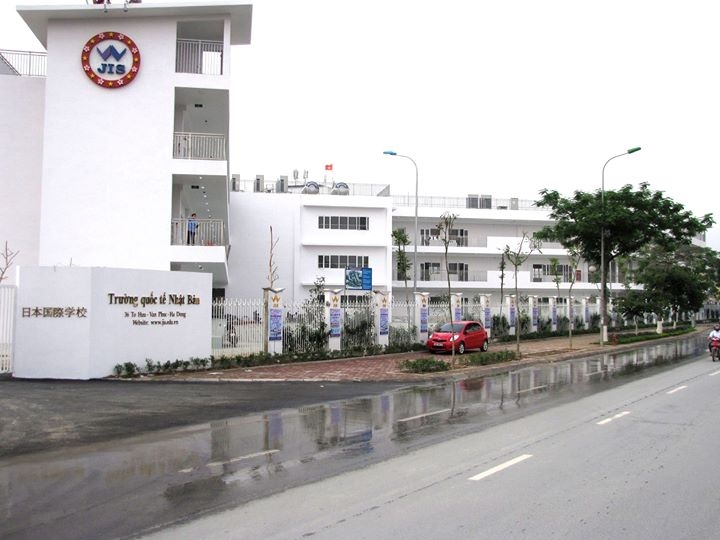 Japanese International School is a multi-level education system from pre-school to high school that follows the Japanese model, an advanced model in Hanoi capital. Implementing a comprehensive education, focusing on ethics, teaching students to be kind, tolerant and build people with knowledge, confidence, self-respect, discipline and international standards.
With modern facilities, with a team of teachers who are mainly Japanese, Americans and some Vietnamese who are enthusiastic, with high professional qualifications and experience. Certainly, it will bring students the best learning environment, ensure they develop comprehensively.
Objectives of the Japanese International School towards:
• Kindness, tolerance, inner depth and sense of community
• Training people who are honest, confident, self-respect and able to work independently and creatively
• Full capacity and quality to become an elite citizen, an international standard student
12. NEWTON INTERNATIONAL BILINGUAL SCHOOL
Contact Info
• Address: Hoang Quoc Viet New Urban Area, Co Nhue, Tu Liem, Hanoi (Lane 234, Hoang Quoc Viet Street)
• Phone: 024 66 592 888
• Email: [email protected]
• Web: http://ngs.edu.vn
• Average tuition fee: 240 million / year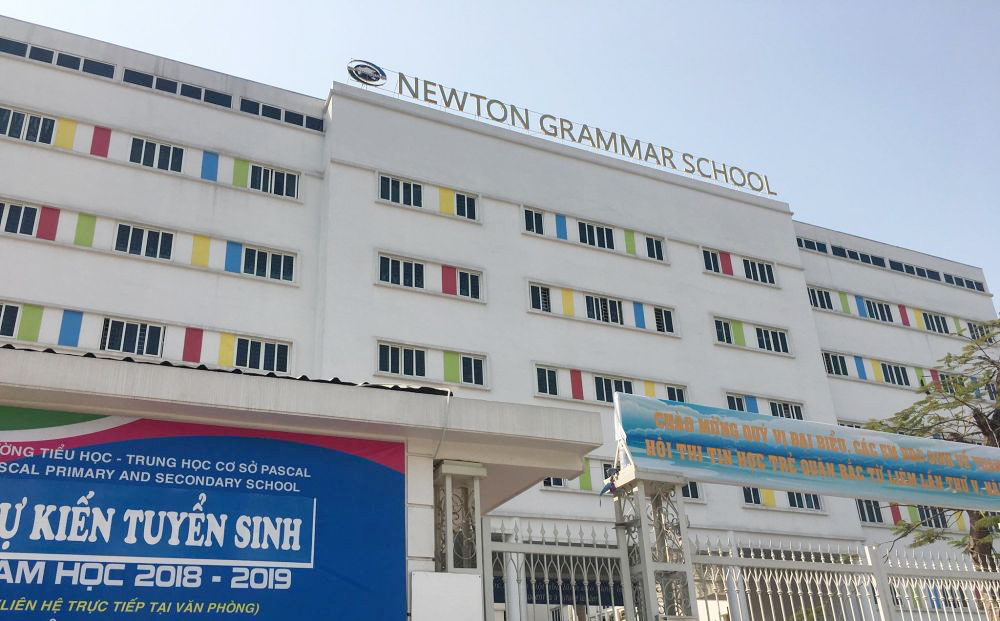 Newton International Bilingual School is a school with close links and links with prestigious schools in the United Kingdom, USA, Australia, Canada … appraised and licensed by the Hanoi Department of Education and Training.
Here, students learn subjects under "GW PROGRAM" which is a program that includes the subjects of the Ministry of Education of Vietnam. Integrating with subjects in English according to American curriculum: Math, Science, Literature taught by teachers of GW (USA).
At the same time, every year students will be certified by both Newton and GW (USA) schools. When you reach 24 certificates, you will be granted a high school diploma from GW (USA), or students transferring to the United States will take some credits in Vietnam and continue to complete some credits in America.
Training objectives of the school:
• Equip life skills for all students
• Striving to achieve 100% of high school graduates and achieve high results in the university entrance exam in Vietnam
• Can study foundation program, IB or A level to be able to transfer to foreign university programs
• Students are fluent in English
13. ALFRED NOBEL INTER-SCHOOL HIGH SCHOOL
Contact Info
• Address: Lane 14, Fortress Lang, Dong Da, Hanoi.
• Phone: (84-4) 6687 2691
• Email: [email protected]
• Web: http://ans.edu.vn/
• Average tuition fee: 185 million / year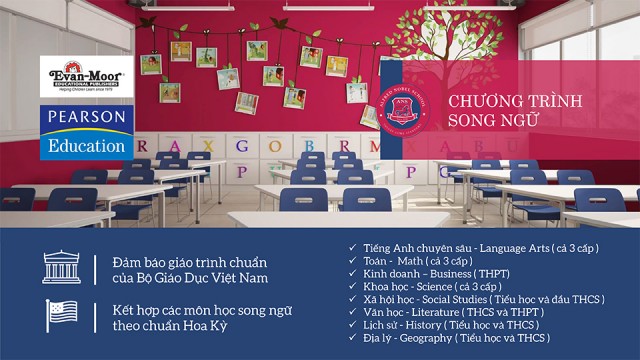 • Alfred Nobel High School is based on the modern Western educational philosophy, which is a convergence of the brave, talented, experienced in education, and modern facilities. It will be a great choice for students to develop their abilities here.
• When entering high school, the school will provide an International program in addition to a bilingual program to help students take the South Australian Certificate of Education (South Australian Certificate of Education) of South Australia with a value equivalent to A level and IB certificates, can be used to study at some universities of English-speaking countries. In particular, the admission process here is very tight, flexible, consistent with the needs of each level of education.
• Alfred Nobel High School System School Board is a convergence of talented people, bravery, and educational experience. The admission process of this International High School in Hanoi is extremely tight, flexible and suitable for learners' needs.
14. HANOI INTERNATIONAL SCHOOL
Contact Info
• Address: 48 Lieu Giai, Ba Dinh, Hanoi, it is quite near the Japanese Embassy and Vinhomes Metropolis Residence
• Phone: (84 4) 3832 8140 – 3832 7379
• Fax: (8424) 37624184
• Web: http://www.hisvietnam.com/index.php/en/
• Average tuition: 168 million / year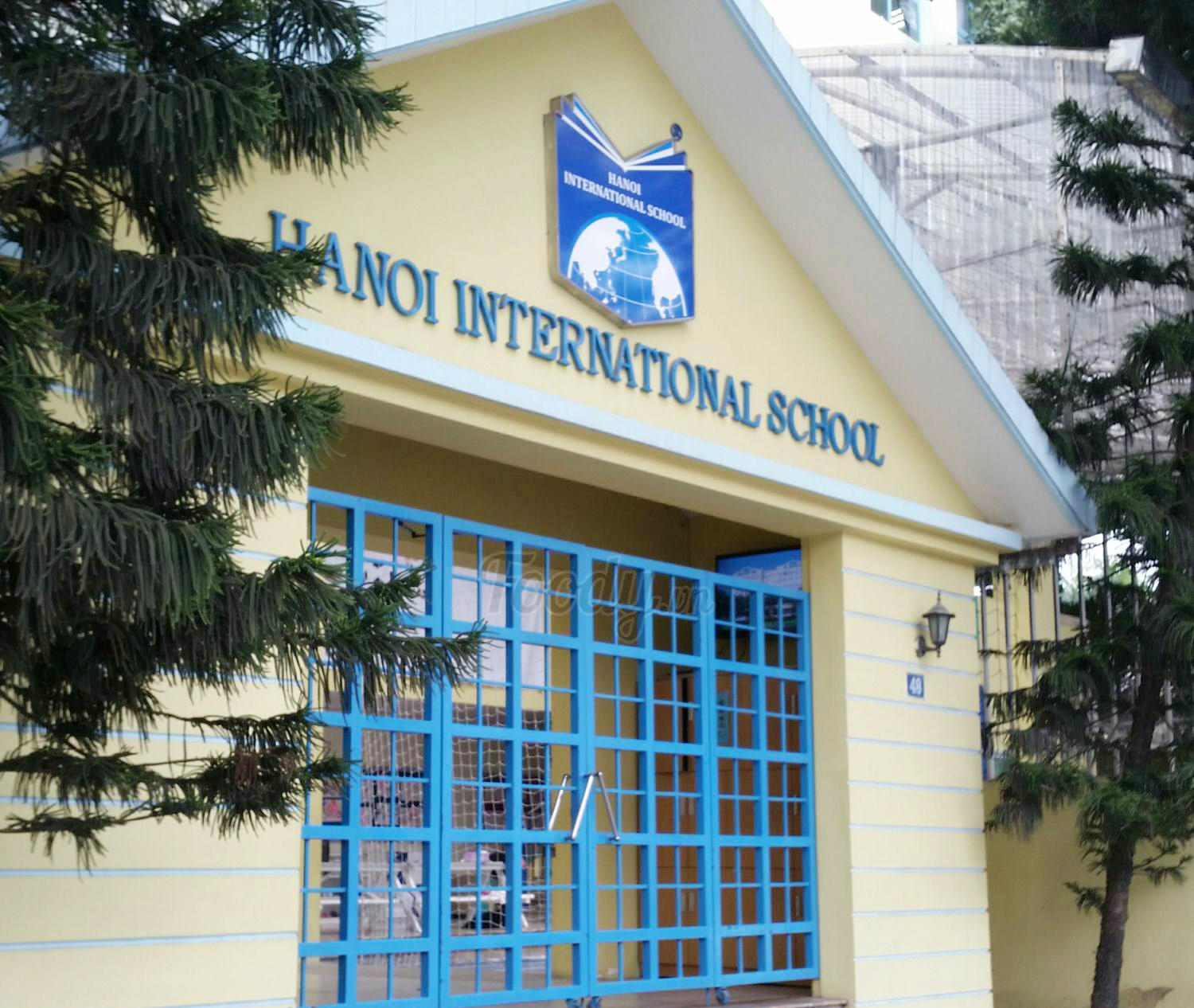 • Hanoi International School is a project of cooperation between the Center for Educational Technology and the United States International School Development Company. Towards providing an international general education program in English for students in grades kindergarten through 12.
• The school helps all students realize their potential in a caring and positive learning environment. Applying a broad international curriculum and balanced education, helping children develop and become global-conscious citizens.
• The total number of students is between 270 and 300, from 35 different countries.
• Above are 11 international high schools that Aland would like to recommend to parents. These are all prestigious schools, which have been recognized and confirmed by the Ministry of Education and Training after many years of training. Hope to help parents choose the most appropriate language for their children.
15. JUNIOR HIGH SCHOOL – THANG LONG INTERNATIONAL HIGH SCHOOL BILL GATES EDUCATION SYSTEM
Contact Info
• Address: Lot X1, Urban Area of ​​Bac Linh Dam, Hoang Mai, Hanoi
• Phone: (844) 35401588
• Fax: (844) 3540 1589
• Email: [email protected]
• Web: http://billgatesschool.edu.vn/site/contact
• Average tuition: 245 million / year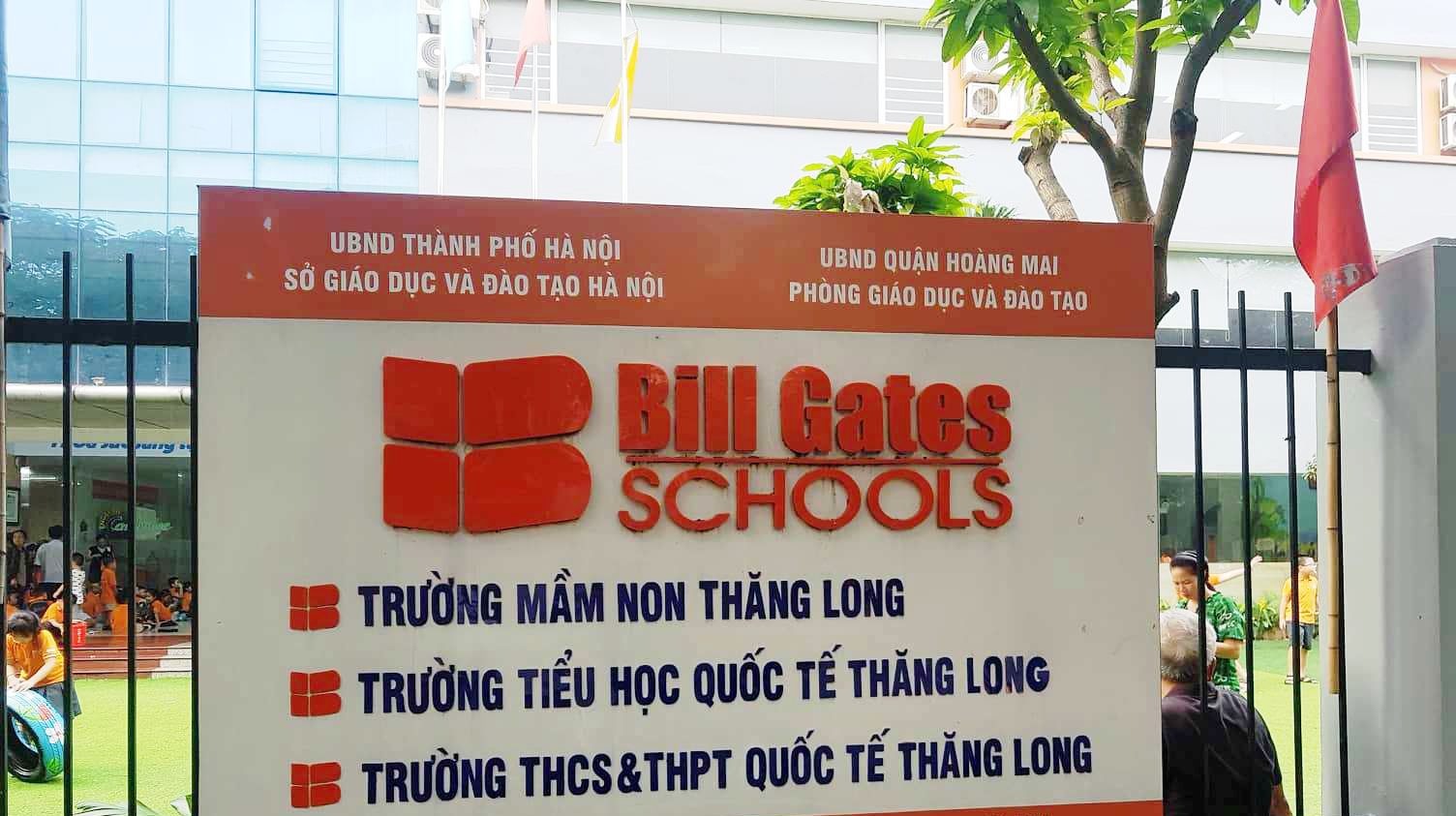 • Thang Long International Secondary School – High School was born in 2010. With the goal of training towards a young generation of Vietnam with a comprehensive, civilized, dynamic and healthy development both physically and mentally. Maximize the capacity of students.
• At the same time, building a Friendly – Modern – Confident – Integration educational environment, where the School – Family – Society are closely linked, forming a strong educational community.
• The school has 3 levels of education including Thang Long Kindergarten, Thang Long Primary School, Secondary School – Thang Long International High School.
• The school has an advanced training program, in addition to fully implementing the plan of the Ministry of Education and Training, the school also builds an international program, focusing on developing individual talents. The staff of teachers are carefully selected, have specialized expertise, love the job.
If you are a foreigner who living and working in Hanoi, it is very important to find out a good school for your children as well as a good home to rent. Please visit our site https://alphahousing.vn to explore the list of rental properties