You are a foreigner, owning a lovely dog, but because of work and just arrived in Hanoi, sometimes you don't have time to take care of it. Therefore, to help remove the worry for many friends about pet care when away from home, the following pet care services in Hanoi shared by Alpha Housing will help you solve that concern!
1. AZPET SPA
Azpet Spa is a place where every pet is well received and cared for by a team of experienced, loving professionals who always understand the needs of children. With a professional working process, dedicated service attitude, Azpet Spa is a place where you can completely trust your baby to receive the best care.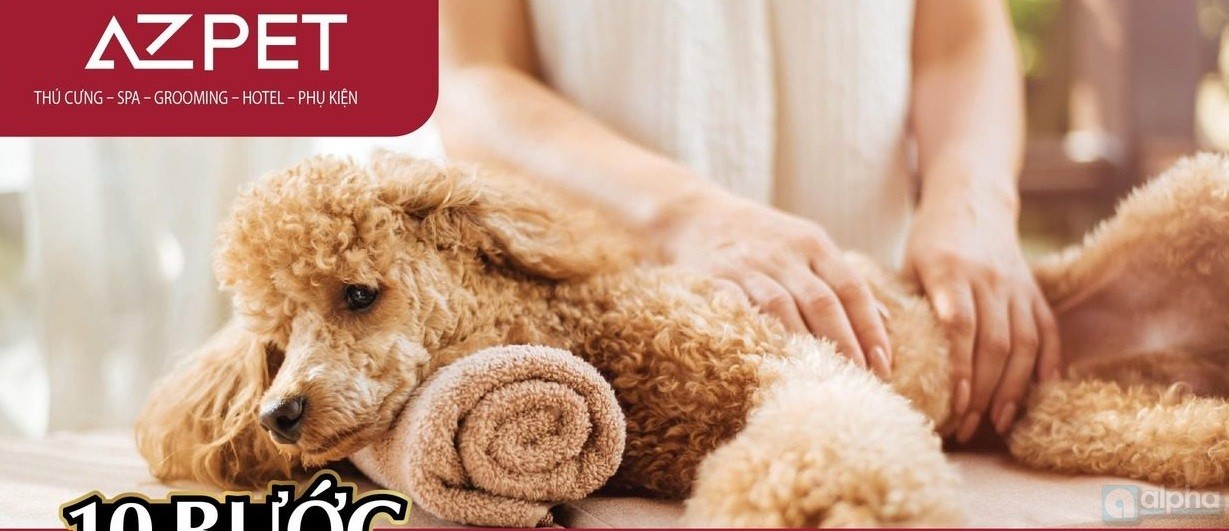 With Combo 10 Steps Spa Package:
Ear hygiene; Cut and sharpen nails; Whipping drying; Hair conditioner; Hygiene of sweat glands; Relaxing massage.; Hair removal; Drying; Trimming as required; Apply hair oil.
Azpet Spa Commitment:
Using high-class care products combined with bathing and shaping techniques – Unique hair dyeing brings real class to your baby.
Classy Stylist & Groomer team is trained from the world's leading experts.
Equipped with modern machinery, the waiting room system is always clean.
Free home pick up (Applicable within a radius of 3km).
Reasonable cost + Service attitude dedicated, considerate, thoughtful.
In addition, Azpet spa also has a hotel service to take care of pets when the owner has to go away from home, especially during the holidays. The hotel room system with 2 classes of Premium & Deluxe rooms meets the needs from basic to the most advanced, bringing a sense of security and warmth to pets as if they were living in their own home.

If you are having a headache because you cannot find a place to take care of your pet with reputable and professional services, then AZPET is the place that you should not ignore.
AZPET Joint Stock Company.
Head office: No. 59, Van Cao Street, Lieu Giai, Ba Dinh, Hanoi.
Hotline: 0888 083 388 VND
Fanpage: Facebook.com/azdogshop
Website: https://azpet.com.vn
2. PETCITY
PetCity provides all package products for pets, dogs and cats: from food, clothing, utensils, nutritional food, toys, cosmetics, cages, mattresses and other accessories… to from reputable manufacturers in the world such as: Forcans, Royal Canin, Whiskas, Davis, Virbac, PetAg, Fido's, Pedigree, PetCity, ABC, CityZoo, Me-o, Catsan, Fidos, Fancy Feast, Pet Naturals…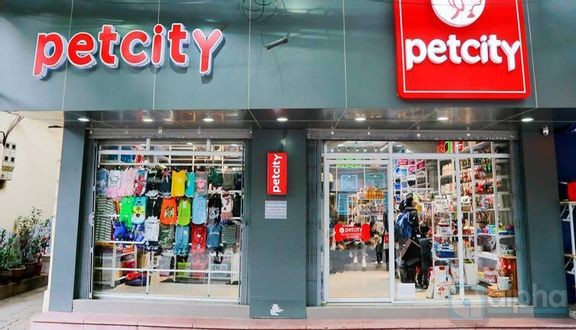 PetCity clearly defines its mission is to serve your pets healthy and lovely, making customers really satisfied with the quality of products and services.
Some care services at PetCity:
Bathing treatment to deodorize, soften conditioner; Ear hygiene; Drying and combing the hair; Nail cutting; Hair removal and brushing service
Reasons you should choose services at PetCity:
You can sit outside, to watch the Spa staff take care of your "beloved friends"
The cost is cheaper than other times you've used it
The "step by step" or "package" route is your choice
Very modern equipment, high capacity hair dryer without noise… friendly to the most demanding guests
Feed back table – customer feedback right in the waiting room to receive all your questions and requests.
Address:
Facility 2: 174 Kim Ma, Ba Dinh District, Hanoi
Hotline: 0987 612727
Email: [email protected]
Website: https://www.petcity.vn/
Fanpage: https://www.facebook.com/PetCity.vn/
3. Kimi Pet
Kimi Pet provides all kinds of food, utensils, functional foods, medicines… necessary for your dogs and cats.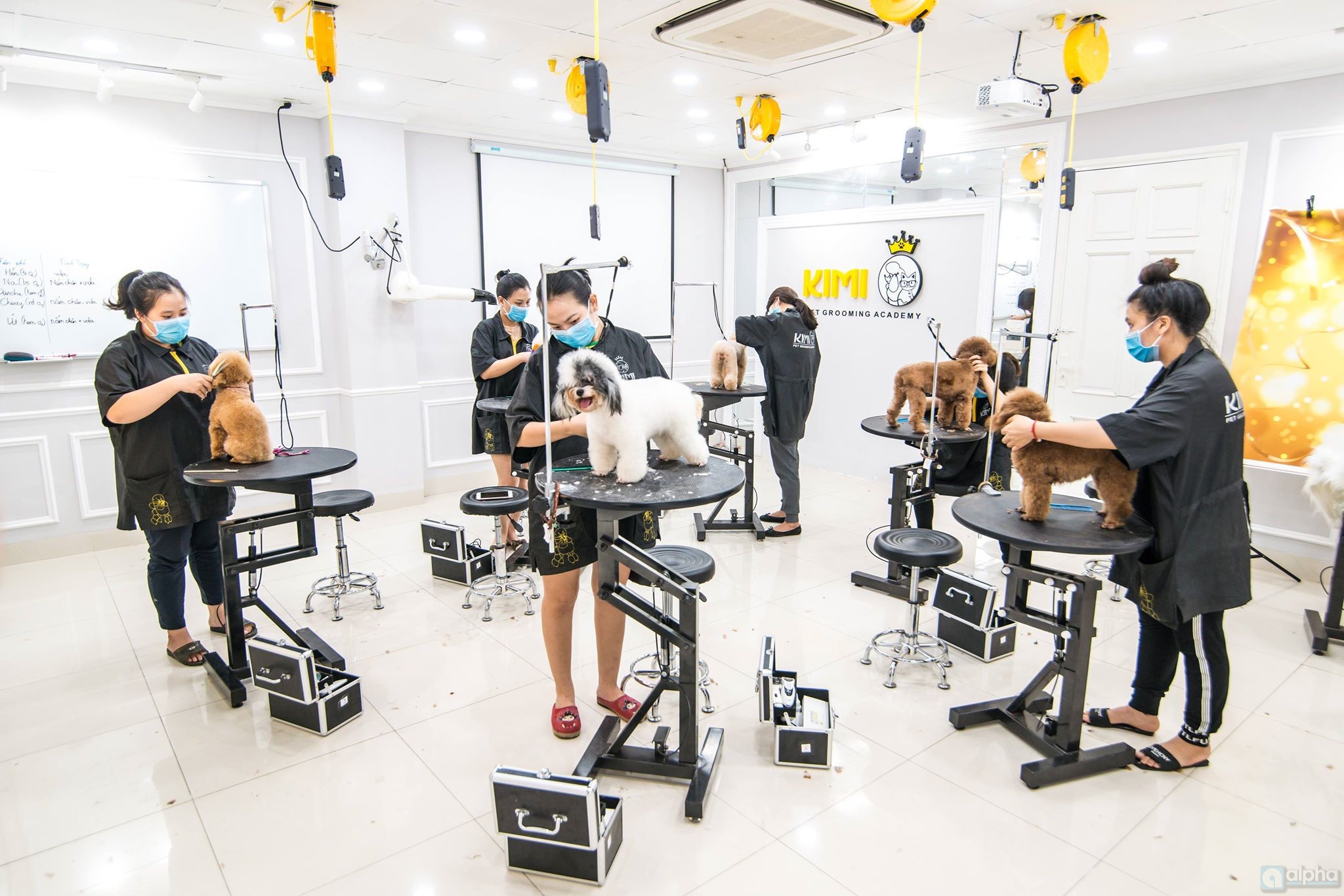 Kimi Pet has leading modern equipment such as ozone jacuzzi tub, noiseless dryer, deodorizing system imported from Italy, sterilization equipment,… Specialized shower gel products in spa are all reputable and top 10 products classified for each pet skin type, coat color, coat quality – the most suitable.
In addition, Kimi Pet also has a pet pick-up service to your home, providing a full range of training tools, toys, food, cosmetics… for your pet to choose from. Here is everything you need for your pet.
Address:
Facility 1: 46 Kim Ma, Ba Dinh, Hanoi
Hotline: 08 36305555
Email: [email protected]
Website: https://kimipet.vn
Facebook: https://www.facebook.com/kimipetspa/
4. Pet Gold
Pet Gold is a professional care service and enthusiastic and dedicated staff to bring relaxation and comfort to pets. In addition, Pet Gold also provides food, functional foods, medicines, tools, beauty products for pets,… It has everything you need for your pet.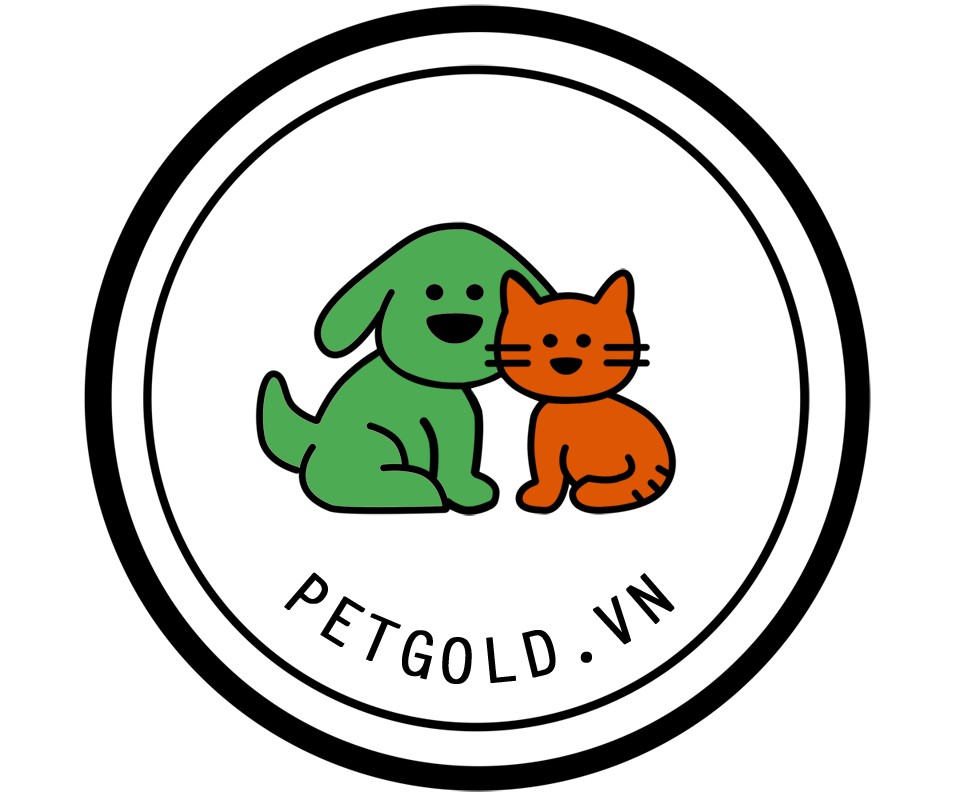 Reasons you should choose pet care services at Pet Gold:
Pet Gold has over 10 years of experience in raising and caring for pets.
The hotel for cats and dogs at Pet Gold is fully equipped with an ozone deodorizing system and direct oxygen supply along with light and comfortable conditions to ensure the best hygiene conditions.
All areas in the hotel are monitored by a camera system.
Diet: ensure adequate and necessary nutritional balance
Cleaning & bathing mode: Pets can bathe for free when registering at the hotel for 3 days or more.
In case of sending dogs over 10 days, Pet Gold has a 10% discount policy.
The staff at Pet Gold are all highly qualified, professional and caring doctors. Pet Gold has been receiving a lot of trust and positive feedback from customers.
Address: 32 Ong Ich Khiem, Ba Dinh, Hanoi
Phone: 097.752.9898
Email: [email protected]
Website: www.petgold.vn
Facebook: https://www.facebook.com/petgold.vn/
5. Nai Pet
Nai Pet is the leading prestigious pet care address in Hanoi. At Nai Pet, your pet can live in a friendly environment just like at home, here providing professional services, modern facilities (surveillance camera, 100% stainless steel cage). , clean, airy plastic floor with good ventilation, good light, automatic water system, with air conditioning to ensure your pet the best living environment) will make you really satisfied when Come learn about this place.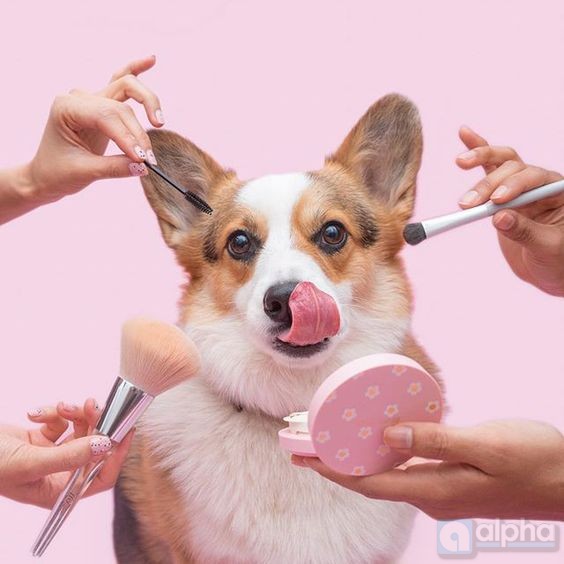 In particular, Nai Pet has a large yard space for your pet to freely play, eat according to a special diet, and pay special attention to health care.
Address: No. 17 Alley 110/10 Nguyen Hoang Ton, Tay Ho, Hanoi
Phone: 098 935 50 03
Email: [email protected]
Website: http://naipet.com
Facebook: https://www.facebook.com/naipet88/
6. J & Pet
J & Pet offers all-inclusive pet products, anything you need for your pet J & Pet can help you. From foods, drinks, cages, ropes, training tools, claw plants to medicines to treat some common problems such as tick treatment, hygiene, deodorant or shower gel and cosmetics. all have.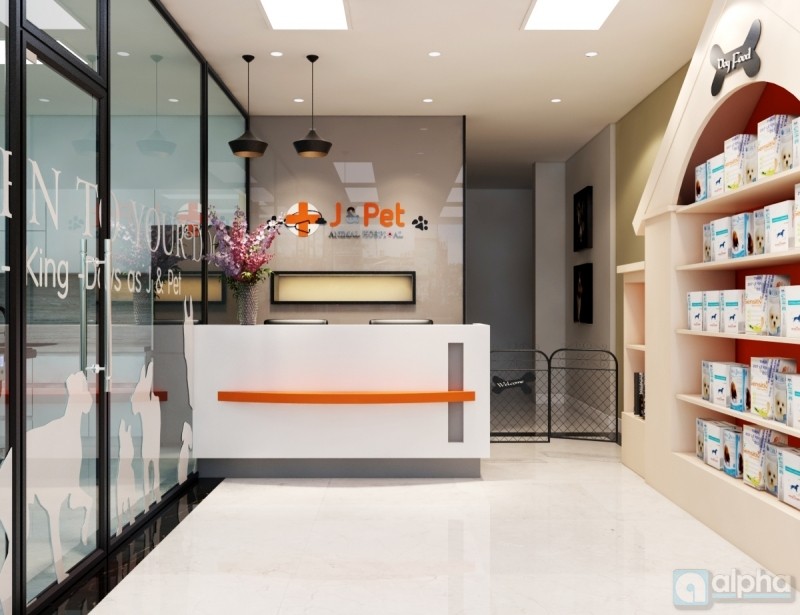 Coming to J & Pet, you can be completely assured of the quality of service as well as the quality of products here, with a team of professional, skilled and dedicated staff. The quality of service and the attitude of the staff and doctors are also highly appreciated by many people.
In addition to bathing, hair trimming, and nail clipping services, J & Pet also has hair coloring services. If you are planning to change the appearance of your pet, visit J & Pet, you will surely be satisfied with the quality here.
Address:
25 To Ngoc Van, Quang An, Tay Ho, Hanoi. Tel: 0965.426.120 & 0944.555.881
Hotline: 0944.555.881
Website: http://jandpet.com.vn
Fanpage: https://www.facebook.com/jandpet.com.vn
7. Animal Care
Animal Care has been in operation for more than 5 years, with professional and experienced veterinarians who are passionate about their profession and above all love animals. With the motto of treating pets like children, dedicated to healing. Animal Care is proud to be veterinarians who love their profession and earnestly want to stick with puppies and little cats!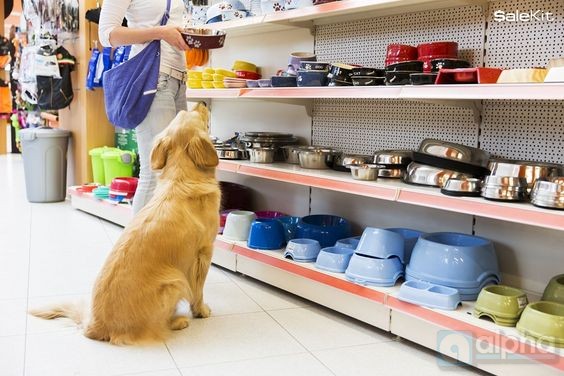 Coming to Animal Care, your pet will be taken care of with services such as:
Shower, trim hair, cut nails, clean sweat glands,…
Ultrasound for dogs and cats, tartar for dogs and cats
Medical examination and treatment for dogs and cats at the clinic and at home
Vaccinations for cats and dogs
Treatment of skin diseases, surgical procedures such as castration, caesarean section, sterilization…
In addition, Animal Care also has a pet care service at home, you just need to contact Animal Care in advance, the staff here will advise specific information so that your pet can get the best care.
Address: No. 20 lane 424 Thuy Khue Hanoi
Hotline: 0978.776,099 VND
Facebook: https://www.facebook.com/phongkhamthuyanimalcarethuykhue/
8. Hanoi Pet Care
The company's fields of activity include:
Services of care, treatment, vaccination, surgery… for cats and dogs.
Sale of veterinary drugs for cats and dogs.
Sale of premium food for cats and dogs
Trade in other items such as bath oils, cosmetics, accessories, utensils, toys for dogs and cats,…
Hanoi Pet Care Company is proud to be one of the prestigious addresses for owners to trust and choose for their pets.
Address: No. 106 Lane 19, Tran Quang Dieu, Dong Da, Hanoi
Hotline: 097 731 17 12
Email: [email protected]
Website: http://www.hanoipetcare.com/
Facebook: https://www.facebook.com/chienvetclinic/
9. Dog&Cat Store
Dog&Cat Store is a shop dealing in services of keeping, breeding, buying and selling dogs and cats, providing the most prestigious pet food and items today in Hanoi. Shop guarantees to always bring the best for your pet!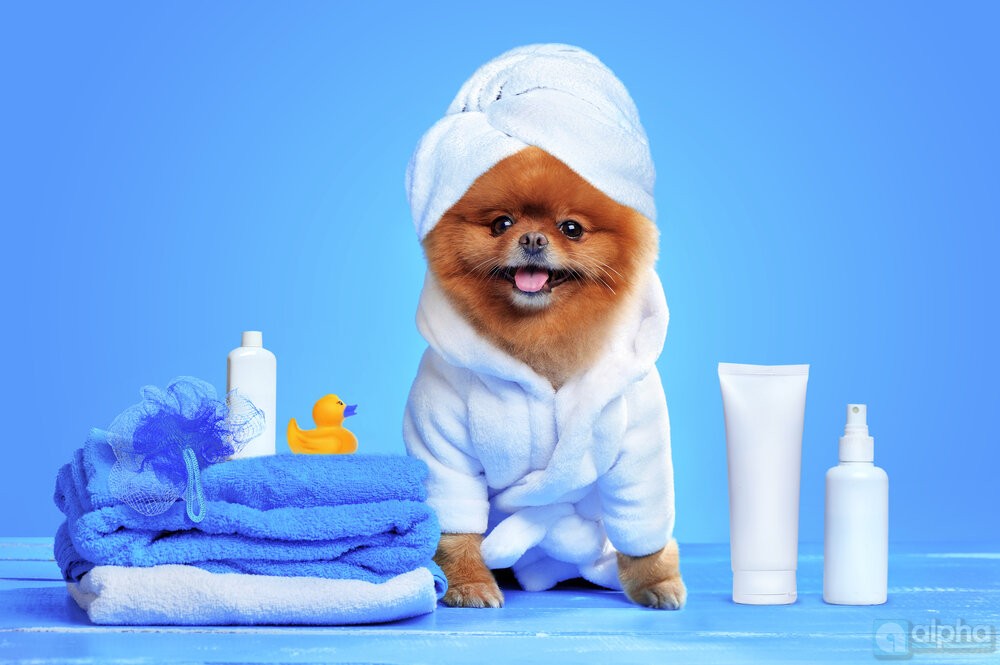 After being brought to the shop, the dog will be marked and put in a separate cage for easy monitoring and care. Depending on the requirements of the customer, the dog will be cared for in 2 different modes:
Usual care regimen:
Eat 2-3 meals a day according to the portion that the Shop chooses.
Bath at the request of guests 30,000 VND/bath. Guests who send more than 5 days get a free bath once.
Sunbathe and have fun in the Shop.
Special care mode (care at Customer's request):
Eat 3 meals a day according to the diet requested by the Guest.
Bath at the request of guests 30,000 VND/bath. Guests who send more than 5 days get a free bath once.
Sunbathe and have fun in the Shop.
Address: No. 103 Nguyen Van Cu, Gia Lam, Hanoi
Hotline: 0912266468
Email: [email protected]
Fanpage: https://www.facebook.com/storedogcat
10. Lolipet
Lolipet is considered a "pet paradise", born a long time ago, those who love cats and dogs for a long time in Hanoi will know this place. Lolipet specializes in providing the most prestigious dog and cat products in Hanoi with a wide variety, affordable prices, and dog and cat care services.
Lolipet is committed to bringing the best and most quality services to customers. In addition, Lolipet also has spa services – pet hair trimming or prestigious medical examination and treatment services for you to choose for your pet.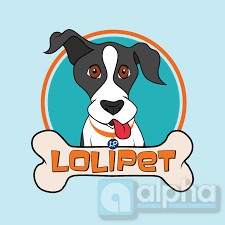 Address: No. 10 Alley 45 Nguyen Hong, Dong Da, Hanoi
Phone: 097.405.1990
Email: [email protected]
Website: www.lolipet.net
Alphahousing is the leading real estate leasing agent in Hanoi. We are a dedicated team of truly passionate, property professionals who understand our clients' needs and wants.