Cau Giay is an urban district of Hanoi. The region is named after the noteworthy scaffold where the popular nineteenth-century Battle of Cầu Giấy (Paper Bridge) was battled.
Numerous new urban improvements are situated in Cầu Giấy. Among them, The enormous Keangnam Hanoi Landmark Tower, the tallest structure in Vietnam. Currently, Cau Giay District has many residential projects like Vinhomes Skylake, Vinhomes D'Capitale, Indochina Plaza, Discovery Complex…so on. Here we would like to refer to a building called the Star Tower Hanoi located next to Cau Giay Park.
Overview of the Star Tower Hanoi project
The versatile Star Tower project is located at 6 Duong Dinh Nghe Street, Cau Giay District, Hanoi. Including a 27-story tower with high-class housing space and offices for individuals and organizations at home and abroad.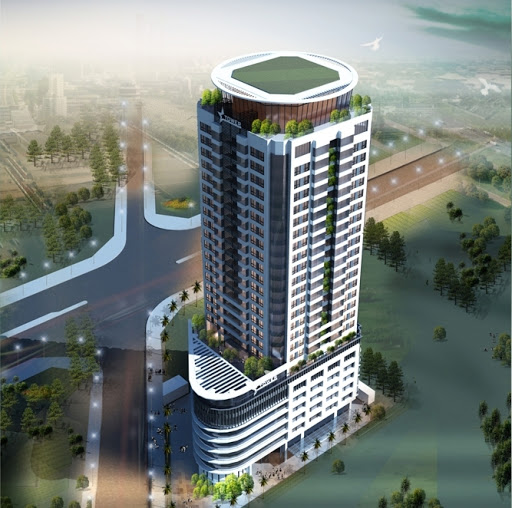 SCALE OF STAR TOWER HANOI
Tall of construction: 25 floors for residential, functional and office areas.
Basement No 2 basements for parking to serve the needs of residents of the building.
From the 1st floor to the 7th floor is the space for office area with a modern and spacious design, taking advantage of smart space, bringing modern and dynamic.
Unit No.: 140 apartments are arranged rationally from the 8th to 25th floors
Type of area: Apartment for rent in Star Tower has area ranges from 98.5m2 to 152.5m2, from 8th floor to 24th floor
Construction density: 8 units per floor, particularly on the 25th floor, there are only 4 penthouses with large areas from 257m2 to 258m2 which are suitable for large families.
LOCATION & UTILITIES
PRIME LOCATION
Prime location in Cau Giay District, Hanoi. Located next to the epidemic park, with a very conservative traffic location, high population area, stable planning infrastructure, many large urban and commercial projects are being implemented in the future.
Duong Dinh Nghe Star Tower project has emerged as a star in the western area of ​​the city. Within a radius of 2km, there are all essential public facilities to meet the needs of residents: Yen Hoa Park, My Dinh Bus Station, Amsterdam Hanoi Specialized School, Doan Thi Diem Tourist Center, Convention Center National, urban areas, office complexes – modern hotels… so on.
At No. 6 Duong Dinh Nghe is also very easy to connect with important roads: Pham Hung, Xuan Thuy, Me Tri, Tran Duy Hung, …
Owning a convenient transportation location, Star Tower deserves to become an ideal place to live and work.
Utilities at Star Tower
25 functional floors are built thanks to the most advanced technology in the world today, ensuring the safety and accuracy of every detail in the construction process. The high-tech solar power system saves energy and is very environmentally friendly. 2bedroom/3bedroom/4bedoom apartment for rent design is focused by the construction unit on a large balcony to make the most of light, wind, natural air into the house.
2 basements using the Japanese automatic parking system can double the usable area.
Star Tower is fully equipped with fire protection and security systems to ensure international standards, 6 high-speed elevators help residents easily move.
The system of culinary restaurants – fashion shopping malls – modern and luxurious gyms is invested with the most advanced equipment. Residents can fully experience, relax at the bar, cafe, sauna Jacuzzi room, … on the 7th floor of the building without going anywhere.
With children, residents can feel secure because their children have the space to develop both physically and intellectually. Multifunctional rooms, children's play area, a reading room located in the attic will be interesting places after school for children.
How much to rent an apartment in Star Tower?
Alpha Housing offers the latest rental list of apartments in Star Tower, No. 6 Duong Dinh Nghe, Cau Giay district, Hanoi. Rent depends on the living area, the direction of view, the interior design of each… so on. The average rental will fluctuate as follows;
2-bedroom apartment (80 – 100 m2): Price from $ 600 – $ 1000 / month (view more)
3-bedroom apartment (129 – 144 m2): Price from $ 1100 – $ 1400 / month (click here)
4-bedroom apartment (155 -158m2): Price from $ 15000 / month (learn more)
Penthouse apartment for rent in Star Tower (243 – 258m2): Price from $ 2000 – $ 2,200 / month
Information and office rental price list
Floor height: 25 floors & 2 basements
Offices from floors 1 – 6
Ceiling height: 2.7m
Floor area: 1200sqm
Parking: Area 2 basements and around the building
Elevator: 4 high-speed elevators
Air conditioner: Semi-central air conditioner
Backup power 100% of the building capacity
Working hours: From Monday – Friday: 8:00 – 18 Saturday: 8am – 12:30.
DETAILED RENTAL PRICE AND AREA
Gross rent (Rental price + Service fee) From 13 usd / sqm / month
Service fee: Included in the rent
Rental area: Flexible area from 80sqm
Air conditioning electricity bill: Calculated according to the actual electricity consumption
Motorbike parking is 110.000 VND / vehicle / month
Car parking: 1.650.000 VND / car / month
Electricity bill in the office.
Lear more; Foreigners buying property in Vietnam is possible in some ways, according to the Vietnamese Law on Residential Housing.