Hanoi is an ideal destination for many foreigners due to the large employment opportunities and many industrial zones of international enterprises. Foreigners who come to Hanoi always have to wonder about finding ideal Hanoi housing at reasonable prices, they even have to worry about choosing a roommate, which is a very difficult issue because there are there may be personality differences. However, many people choose to keep pets for entertainment and care. So how can these expats find a place to rent a house with pets? and how can they ensure that the apartment you rent is not damaged?
I. Be prepared of extra fees and deposits
The number of properties for rent in Hanoi that allow expats to pet is not much, firstly due to the landlords' apprehension about the damage your pet may cause. These damages may come from your pet's toilet. Although you can try very hard to keep the apartment clean, it is possible that your pet will leave a bad smell, which can be left for a long time, affecting the apartment's ability to be rented. Secondly, not only the smell but your pet can also cause sound pollution, typical for dogs and cat, which can be really díturbing to the neighbors and the landlord doesn't want this at all.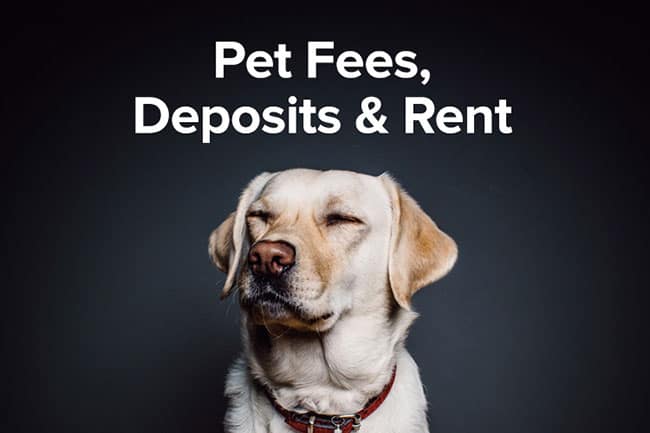 As a result, when you want to rent a place with your pet, the landlord will usually ask you for a pet deposit, which will be used to pay for repair and cleaning services. This deposit is refundable, but there is an additional fee called a pet fee and they are not refundable. Initially, the landlord will be a little hesitant when you mention about having a pet, but you can proactively mention a pet fee to live with your pet. If the landlord does not agree, you should try to convince them or the last solution is to ask real estate agents to negotiate for you.
What to prepare for your pet
When you start having a pet, you have to be responsible for them and at the same time have the obligation to provide them with a good space and habitat. Places that are cramped and humid are not suitable for your pet at all, so you should find apartment for rent in Hanoi with high quality, which can greatly affect their mood. Besides that, in order not to disturb your neighbors, you also need to train your pets well to limit the smell and noise. Funny enough,  pets love to make noise at night and early in the morning, so make sure you train your pets so they don't bother anyone.
II. What should be prepared for your pet
When you start to keep pets, you are responsible for them, and also to provide them with a good environment and space. Cramped, humid places are absolutely not suitable for your pets, so you should look for high quality Hanoi apartment for rent, which can greatly affect their mood.
1. First try to choose an apartment with good furniture, salt resistant
No matter how much you love your adorable furry friend, seeing how they gnaw things can be frustrating. It is normal for puppies to chew on objects as they explore the world and entertain them. For puppies, it's also a good way to relieve pain from an erupting tooth. For older dogs, it's the natural way to keep their jaws strong and teeth clean. The idea is to use anti-wear materials for your furniture, such as metal, chromium.
If you cannot find an apartment with good furniture, use scratch resistant cover
2. Equip as minimal as possible
Because your pets will lose their hair for most of the day and they have to. Try to avoid hardwood as it is prone to dipping and scratching. Consider ceramic or laminate tiles. In addition, the minimalist decoration style has no carpet, one-sided carpet helps less cleaning, and makes it easier to organize and rearrange everything in the house. On the other hand, you are making your own living space more spacious.
3. Choose bright colors
It seems that a dark surface will hide stains better but surprisingly it makes fur and expected stains stand out even more. Scratches on a pet's paw are also more likely to appear on dark, hardwoods. Scratches from a chair or toy dragged across the floor can also be uncomfortable. A lighter glossy deck will help blend those inevitable traces better than you might think. And you can easily see the dirt to do the cleaning of the apartment. So, your apartment is always clean.
4. Pretty pets area
The root cause of the problem is the owner's lack of play and attention, so playing every day is extremely important to them. They need to dance, run, show affection, enjoy life in order to sniff around, etc. Making space for your pets with toys will give them all the stimulation they need and keep them entertained.
5. Leave them clean every day
Loving your pet does not mean you have more time to play and give your adorable pets hugs, kisses, and massages. Those things promote bonding, healing, and relaxation. You will be surprised that simplicity can improve a pet's happiness index along with their quality of life. And do not forget to bathe them every day so that you are assured of their health, their health and those around you.
6. Pet training
In order not to disturb your neighbors, you also need to thoroughly train your pet to limit odors and noise. Funny, pets love to make noise at night and early in the morning, so make sure you train your pet so they don't disturb anyone. That way, you can stay longer than your favorite home.
When you have already sign the lease contract with the landlord or the real estate agent, the landlord may ask you to present pet resume or pet references. A pet resume can give the landlord any information that will show your pet in the best possible light, including proof of spaying or neutering, vaccinations and flea/heartworm control records. If you have a dog who has been to obedience school, documentation of that may help as well.
In general, the number of apartments for rent in Hanoi that allow pets is not much, but with careful preparation of documents and pet training, you can still rent a good property for yourself and your companion. If the search is too hard, you can seek help from Alphahousing, where professional staff and product listings are available for expats with pets.