Expats coming to settle in Hanoi not only have a headache to think about Hanoi housing, but also what to choose among many different types of property, typically among 3 types of apartments, houses and villas. At Alphahousing we will point out characteristics, locations and prices for you.
Apartment
For apartments for rent in Hanoi, expats often gather in central districts such as Tay Ho district, Ba Dinh district, Dong Da district (for westerners). Although Hoan Kiem District is the central district with many entertainment activities and is the most popular tourist destination in Hanoi, the rental price here is quite expensive, only suitable for travelers, not for long-term tenants. Another strange point is that more and more foreigners are coming to Nam Tu Liem district, especially Koreans and Japanese people. This is because Keangnam office building for lease is there, consisting of many Korean and Japanese companies. People from these countries who work here always want to rent a property close to work, so this is a big neighborhood to stay for expats
The rental locations of Hanoi apartments are mostly in Tay Ho with many quality buildings accompanied by extremely convenient services, creating the best possible environment for residents. In general, apartments for rent  in Hanoi have 2 to 4 bedrooms, which can be suitable for a group of friends or a small family for between $ 800-2000, depending on different buildings.
House
Vietnam's concept of house is slightly different from that of western countries. Specifically, houses in Vietnam often have extremely small floor area, only about 40-50 square meters per floor in rectangular form. The houses usually have a large number of floors, from 4-6 floors, there is a stairway connecting the floors and usually there is no back door. Each floor will usually have 2 rooms and 1 shared toilet, quite suitable for families to rent.
Rental rates in Hanoi are also quite high for foreigners because of the risks of contract continuity. Often the houses here have rental prices from $1000-2500, depending on the area and the number of floors of each apartment. Houses for rent in Hanoi are in Cau Giay, Ba Dinh or Dong Da district. These districts are planned with many major roads connecting key points to large office areas and industrial zones, which are extremely convenient for those who come to Vietnam to work. In these districts, there are many English schools, which are the  workplaces of many foreigners in Vietnam.
Villa
In Hanoi, the number of villas is also relatively high and the demand for rent is also very high, creating the opportunity to rent beautiful properties at a reasonable price for renters. The villas in Hanoi are mainly concentrated in suburban areas such as An Khanh and Long Bien thanks to large land fund and cheaper land prices compared to central Hanoi. In fact, in Cau Giay district, there is also an area with many villas, but these are built for a long time with old furniture.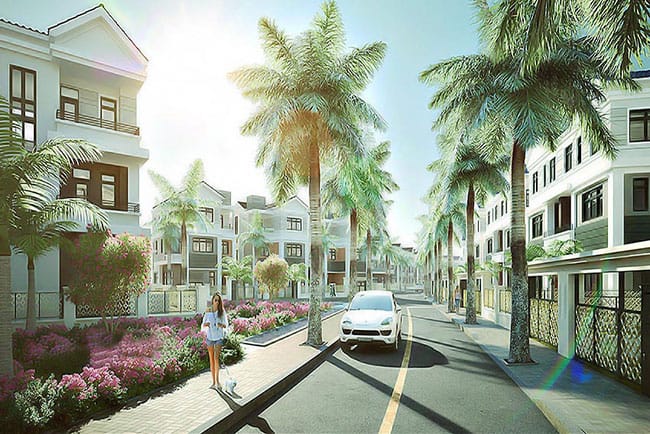 Living in villas of Hanoi, you will see the variety of products in the interior or utility. In particular, villas for rent in Hanoi are designed according to modern architecture or neoclassical architecture. This is the perfect combination between traditional beauty and western sophistication. The rent of these villas is quite high, suitable for those with large budgets for renting.
In general, each type of accommodation has different characteristics and prices, suitable for different tenants. To find the most suitable product, please contact the staff of Alphahousing for the best support.