Together with local foods and amenities around, accommodations also take so much time to look for. Specially, kinds of apartment sometimes confuse you a lot. However, with some outstanding features, 2 bedroom apartments for rent in Tay Ho are going to be ideal choice for expats in Hanoi, Vietnam.
Some outstanding points of 2 bedroom apartments in Tay Ho
Tay Ho is one of Hanoi's districts and attracts most of expat's community. There are many restaurants with almost region dishes around the world, international schools, convenient shops, fresh atmosphere and quiet space… All things could make a good life for the expat and some families. So that, recently, a blooming of serviced apartment buildings that have from 1 to 2 bedrooms has appeared to meet demands of the expats increasing in Hanoi. However, lots of advantages of 2 bedroom apartments for rent in Tay Ho could make you change your mind.
+ Suitable for family, group: Obviously, if you choose 2 bedroom house or apartment, you and your family will have more living space: 2 private bedrooms, 1 kitchen, bathrooms (may be from 1 to 2) and 1 living room. It's the best choice for family or group who can share common living spaces. And for a person, who first arrives in Hanoi, should look for one or two roommates to share the apartment for rent and occupy the second bedroom.
+ Bonus Room Use: Otherwise, if you want to stay alone in a large apartment, you can also take it into consideration. It would be a great idea for you to design 1 bedroom for sleeping and another room for working space/study room. Or you also make the other bedroom become your storage. In Hanoi, it's easy to open an online shop first and then, your apartment for rent in Tay Ho will be perfect place to set up a shop and store a lot of products.
It can't be denied that 2 bedroom apartment is useful in some cases. Especially, you are going to welcome expecting guests and they decide to stay here few days. Give them a room to themselves, and everyone will be happy.
+ Usually fully furnished: Most 2-bedroom apartments for rent in Tay Ho are quite new and still in a good condition. They are fully furnished, modernly designed and managed by experienced landlords and investors.
+ Saving money: At the first thought, 2 bedroom apartments in Tay Ho may be expensive but surprisingly, they are much cheaper than 1 bedroom apartment. For example, 1 bedroom apartment costs $600/month and 2 bedroom apartment cost $900. If you want to rent apartment for group or your family, choosing 2 bedroom apartment will save $300/month in comparison with renting 1 bedroom apartment.
And disavantage of it in comparison between 1 and 2 bedroom apartments in Tay Ho
+ Waste money: Nevertheless, renting 2-bedroom apartments has some disadvantages in some cases. For example, it wastes money if you just stay alone unless you have a really good budget.
+ Difficulty in searching for: Furthermore, the number of 2-bed apartments is less than 1-bed apartment and the number of tenants who are looking for 2-bed apartments is increasing year by year. That's why it will take more time to search for a nice 2-bed place for lease.
Some ideal two bedroom apartments for rent in Tay Ho
Alphahousing is a professional agency which specializes in apartments for rent in Tay Ho in particular and Hanoi in general. Here are some ideal 2 bedroom apartments for rent you can take into account:
This service apartment is on To Ngoc Van Street and has 90m2 in total area. There are 2 bedrooms, 2 bathrooms, 1 kitchen and 1 living room. It has full furniture and professional services.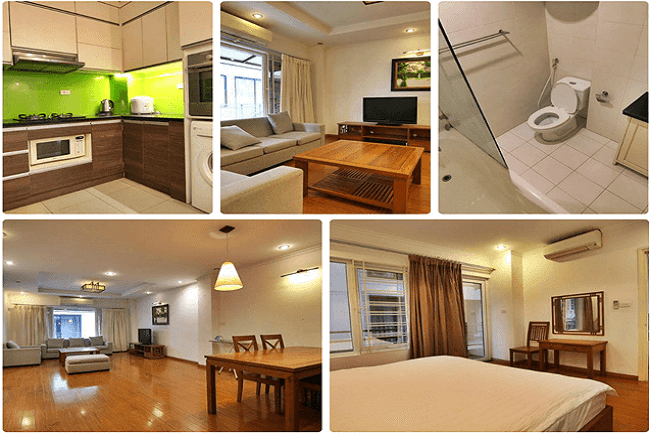 This two bedroom apartment is on Vong Thi Street, fully furnished and well services.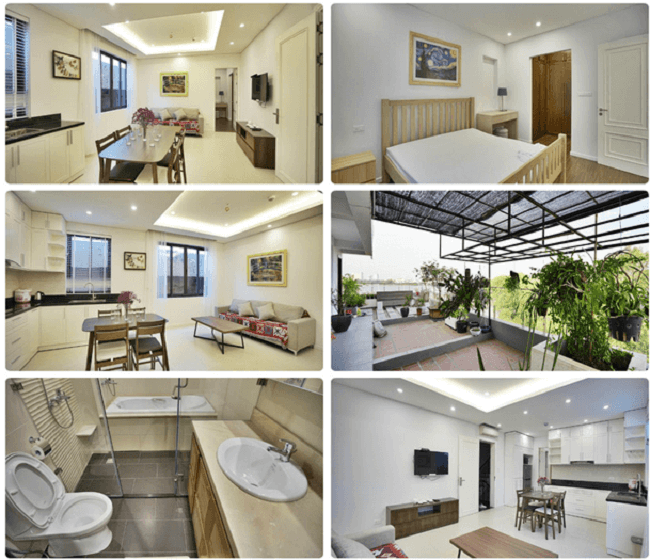 Those are some pros and cons of 2 bedroom apartment in Tay Ho. Hope this article will be useful for you. And to learn more about our available listings or schedule a tour, please contact us via hotline: 0934363998